Who's Playing Out Brought To You By Hall Around Town Radio — August 18th 2022
Image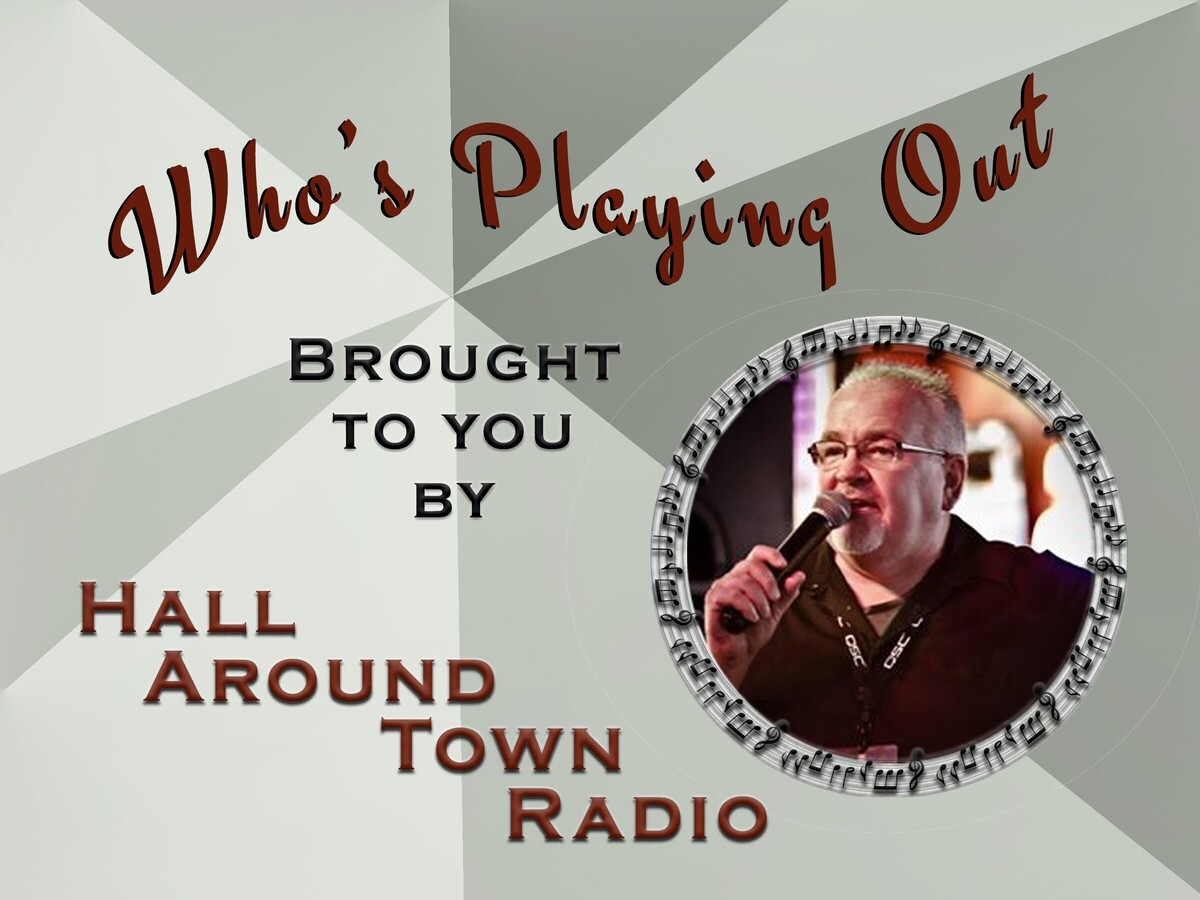 Brought to you by Scott Hall from "Hall Around Town Radio"
A little live music can turn an ordinary day into a memorable experience. The area's top musicians take center stage at some of the tri-states best restaurants and nightspots, bringing live music to our region nearly every night of the week. Make your first stop here weekly to find out "Who's Playing Out" at one of our live local music venues.
Bands and solos brought to you by our friends at Froggy's in Monroe, Ohio and Hall Around Town Radio (follow the on Facebook)
Froggy's in Monroe – Sponsor of our Thursday LIVE show on Facebook
Friday at 9pm – Social Chemist
Saturday at 9pm Black Water Voodoo
Tuesday 6-9pm Chris Lee
Wed 6-9pm - Jordan Wood
Wednesday - 8pm Karaoke with DJ Songz
Online seating reservations / tickets at www.gotofroggys.com
---
Heathers Café
Thursday – Tyler VanB at 6:30pm
Friday – The Homegrown Band 7pm
Saturday – Jay Clark Band 7pm
Tuesday – Open Mic Night with Junior 7pm + the Queen of Hearts Drawing at 8
Wednesday – Name That Tune with Scott. 7pm Call for reservations
---
Mr. Boro's Tavern Springboro 
Thursday – Sarah Beth Terry 7 to 10 pm
Friday – James and Justin Duo – 8 to 11pm
Saturday – Until Rust - 8 to 11
Sunday –– Last Call and Jamie Combs - 2 to 5 pm
Tuesday – "Quiztastic" Q&A Trivia with Scott at 7pm
Wednesday – Queen of Hearts Drawing. 8pm over 10K
---
The Belle & The Bear (Montgomery)
Thursday "The Jam" 8ish
Friday Top That Band at 9pm
Saturday - Johnny Fink and The Intrusion at 9 PM
Sunday – Six String Hustle 2pm
Monday Game Night - 6pm
Tuesday – Jamie Combs Acoustic Jam 7pm
---
Crooked Handle Brewing Co.
Thursday – Cory Breath at 7pm
Friday – Joe Jordan at 7pm
---
Sorg Opera House
No Live Music Shows this Weekend Future Show Tickets available at Cincyticket.com
---
Pohlman Lanes & Scott's Bar & Grill (Hamilton Ohio)
Family Entertainment Complex 954 Pyramid Hill Blvd., Hamilton Ohio
Friday at 7pm - Dj Krutch
Saturday at 7pm - Dj Hubbs
Monday at 7pm After Hours Big Band
Wednesday normally at 1pm The Standard Country Time Band – off this week
---
Lebanon Grand Opry House
Saturday – Stage and Dinner Show featuring Kyle Boreing, Marty Dunn and Jessie Lyn and the TNT Band Doors open at 6pm for dinner Show - 7pm
Reservations by calling 513-850-1770
---
Little River Bar and Grill (Oregonia)
Thursday –– DJ Songz Patioke Party at 7pm
Friday – Reeking Havoc 7pm
Saturday – American Rebels at 7pm
Tuesday – Bike Night with music
---
The Blue Note Harrison
Saturday – Richie Kotzen & his band are coming to the Blue Note! Opening the show it's Cincinnati's own Flatline and Sweet Sister Mercy! Rocking on the other stage it's White Mass! Doors at 6pm
Tickets are available at …. CincyTicket.com
---
Hidden Gem Music Club
Friday – Soul Express – 8pm
Saturday – The Hathaways 7pm
Sunday – Dayton Jazz Orchestra 7pm
Tuesday – Open Mic Night 7PM
---
Lori's Roadhouse
Thursday – Service Industry Night 9pm
Friday – Six String Hustle 6pm
Friday – Jake Taylor Band at 9:30pm
Saturday: 90 Proof Twang 9pm
Tuesday – Line Dancing 7pm
Wednesday – Rob Benton 8pm
---
Miami Valley Gaming
Friday- Audio Graffiti – 9pm Center Bar
Saturday – Soul Pocket – 9:00pm Center Bar
---
Rex Patrick and the Country Legends Show in Germantown
Saturday – Butch Jones and The Standard Country Time Band Doors 5:30 Music at 7 Reservations by calling 513- 594-1282
---
Brick Tap Tavern
Thursday – Open Mic Night with Scott Houchens 7:00pm
Friday – Cross River Junction 8:30pm
Saturday – The Termites at 8:30pm
---
Soft Rock Café
Karaoke – Thursday 7pm - Friday 8pm - Saturday 8:30 pm.
Scott Hall – Hall Around Town Radio
Saturday – JJGrey and Mofro – Lawrenceburg Indiana
Tuesday Trivia at Mr. Boros Tavern 7pm
Wednesday – "Name That Tune" at Heathers Café on the patio 7pm "Call for Reservations"
---
Live Monday to Thursday On Hall Around Town Radio
Scotty Long / DJ Songz
Thursdays - at Little River Bar and Grill 7pm PatiOKE Party.
Tuesday - The Barrel 7pm Karaoke obSESSION.
Wednesday- Froggys 8pm Karaoke Xperience.
Bands, Solos, Duos and Events
Bellbrook Lions Club – Summer Festival
Friday 5 to 11p, and Saturday 4 to 11pm in downtown Bellbrook - Food, Games, Rides and Live Music from the Fries Band on Friday at 7pm plus Jackson Tate on Saturday at 5pm and the 24 / 7 Band at 7pm
---
Nick Mitchell
Thursday at Dublin Pub 7 to 10pm
Friday from 8:00-11:00, Chappys Social House
---
The Whammies
Friday at Kriemer's Bier Haus in Miamitown from 7-11
Saturday at St. Mary's FunFest Festival in Hyde Park from 7-11
---
Lil Heat
Saturday at Foleys Irish Pub 7 to 11pm
---
Sweet Sister Mercy
Saturday opening for Richie Kotzen at the Blue Note.
---
Liars for Hire
Friday at Phone Booth. Lounge in Kettering Friday 8/19 at 8p. !
---
---
Donna Kennedy Band
Saturday from 7 to 11 Amvets Post 464 Huber Heights
---
The Weekend Effiect
Saturday at Wings Vandalia 9-1am
---
Tyler VanB
Thursday - Aug 18th - Heather's Cafe in Springboro 630 to 930
Friday - Aug 19th - TinCap in Wilmington - 7 to 10
---
Chris Lee Acoustic
Thursday, Aug. 17 and Friday, Aug. 18 Chris Lee Instrumental Music Western & Southern Open Mason, OH. 4:30pm-5:15pm
Saturday, Aug. 20 The Hangar Bar and Grill West Chester, OH. 8pm-Midnight
Sunday, Aug. 21 Treasure Aisles Flea Market Monroe, OH. 11:30am-2:30pm
Tuesday, Aug. 23 Froggys Monroe, OH. 6pm-9pm
Wednesday, Aug. 24 Greenhills Summer Concerts on the Commons Greenhills, OH. 7pm-9pm.
Thursday, Aug. 25 Railyard Bar & Grille Sunman, IN. 6pm-9pm
---
Joe Lipinski
Friday - jersey joe at Dingle House Irish Pub in West Chester from 7 - 10 PM.
---
Don't tell Steve
Saturday at Club Trio 8-11
---
Spungewurthy
Thursday 7 to 9 West Carrollton Bands n Sand Summer Concert Series
Friday Wings Vandalia 9 to 1 on the patio...
---
Michelle Robinson
Thursday Vandalia Concert Series 6-8
Friday The Barn at Helm tickets are available for purchase 6:30-9:30
---
The HomeGrown Band
Friday Aug 19 Heathers 7-11pm
Saturday Aug 20 Germantown Saturday night out and car show 4-8pm
---
Ben & Pete
Thursday, August 18 at Submarine House in Kettering, 7 to 9 PM
---
Heath Bowling Music
Thursday 8/18 Foleys Irish Pub 6-10p Reading, OH
Friday 8/19 FigLeaf Brewing 7-10p West Chester, OH
Saturday 8/20 Good Time Charlies 9-1230 Miamisburg, OH
Sunday 8/21 Open Mic(GTC) 5-9p Miamisburg, OH
---
Jay Clark Band
Saturday at Heathers 7-11pm
---
Benny Bodine
Wednesday 8/24 Milano's Miami Township, OH 7-10
---
Truk - full band
Saturday, Aug 20 Kettering VFW. 7pm
---
VCU
Thur 8/18 Wings sports bar and grill Vandalia, oh 7-10
Friday 8/19 Wright station - city event Springboro, oh 6-8
---
Velvet Crush
Saturday 8/20 Benefit Cleveland, oh 8-11pm
---
Until Rust
Saturday 8/20 at Mr. Boro's Tavern Springboro, Oh 8-11
---
Shane deMoss
Monday 8/22 Maggie's Place Dayton, Oh 7-10
---
Shawn Bell
Thursday - Full band Bike night 1572 BBQ Waynesville OH 6:30 -9:30pm
Tuesday - Bike night at Little River Bar and Grill Orgoniea Ohio 6-10pm
---
Six String Hustle
Friday from 6-9pm at Lori's Roadhouse West Chester, Ohio
Saturday from 7-10pm Putters Sports Grill Liberty, Township
Sunday from 2-5 at The Belle & The Bear Cincinnati, Ohio
---
Linus Tate
Thursday August 18 at Madtree Brewing Cincinnati, OH 7PM
Sunday August 21 at Northern Row Brewery OTR Cincinnati 2PM
---
Billy Brown
Friday Aug 19 at 7pm - The Varsity Sports Bar & Grill in Cincinnati OH
Saturday Aug 20 at 7pm - El Toro in Walton KY
Sunday Aug 21 at 3pm - Zazou in Covington KY
Thursday Aug 25 at 11am - Ole Red in Gatlinburg TN
---
Dat Band
Friday 7-9pm at Live At The Levee Newport KY
---
Brandy and the Beard
Saturday , Aug 20th at Velocity ESports in Newport, KY from 6:30-10:30pm
---
Latter
Saturday – at Little York Tavern, patio edition, 8-12 pm
---
HAYMARKET RIOT & RED HOT RIOT
Friday at Rick's Tavern-Friday from 8:00-11:00pm
---
Crown Watts w/Dan Hunt
Saturday - Latitudes 8:30- 11:30
---
Johnny Fink and the Intrusion
Saturday at the Belle and the Bear Saturday 9-1am
---
Dv8
Thursday Takeover the Square West Chester OH 6 to 9:30pm 9285 Center Point Dr
Saturday Shady Lane in Miami Twp 7:30 10 pm 3780 Shady Lane North Bend Ohio
---
Xero Hour
Saturday headlining at Leo at the Slice 9pm.
---
Marsha Brady
Friday Aug 19th - Knotty Pine - 9pm - 1am
Saturday Aug 20th - The Eagles, Celina Ohio - 8pm - 12am
---
Kevin Cooper
Thursday 730-1130pm: B&B Jam
Saturday 7-11pm: Kevin Cooper and Mike Roberts at Carlo & Johnny
Sunday 6-10pm: Eyes Up Here at Trillions (not a typo, second Sunday in a row!)
Wednesday 7-11pm: Kevin Cooper solo at The Corner Pub (Montgomery)
---
Audio Graffiti
Friday 9-midnight Miami Valley Gaming
---
Kevin McCoy Band
Friday at St Elizabeth Seton Festival in Milford 7pm
Saturday Kevin and Lee at North High in Kenwood 7pm
---
Lee Dixon
Saturday - Lee Dixon solo Monkey Bar 1pm - 5pm
---
Sepia heyday
Saturday at the Slice in Middletown Doors at 7
---
Joe Cowels
Monday - August 22nd solo at Fairfield Pub 7p-10p
Wednesday August 24th FULL BAND at El Caporal 5p-9p
Thursday Joe C Solo August 25th at Cappy's 6p-9p
If you would like to have your musical act featured on our weekly podcast or in Warren County Post the contact us @Hall Around Town Radio on Facebook! For additional Band information follow our daily Facebook "Live at Five" program @Hall Around Town Radio