Who's Playing Out – Thursday, September 22 to Wednesday, September 28, 2022
Image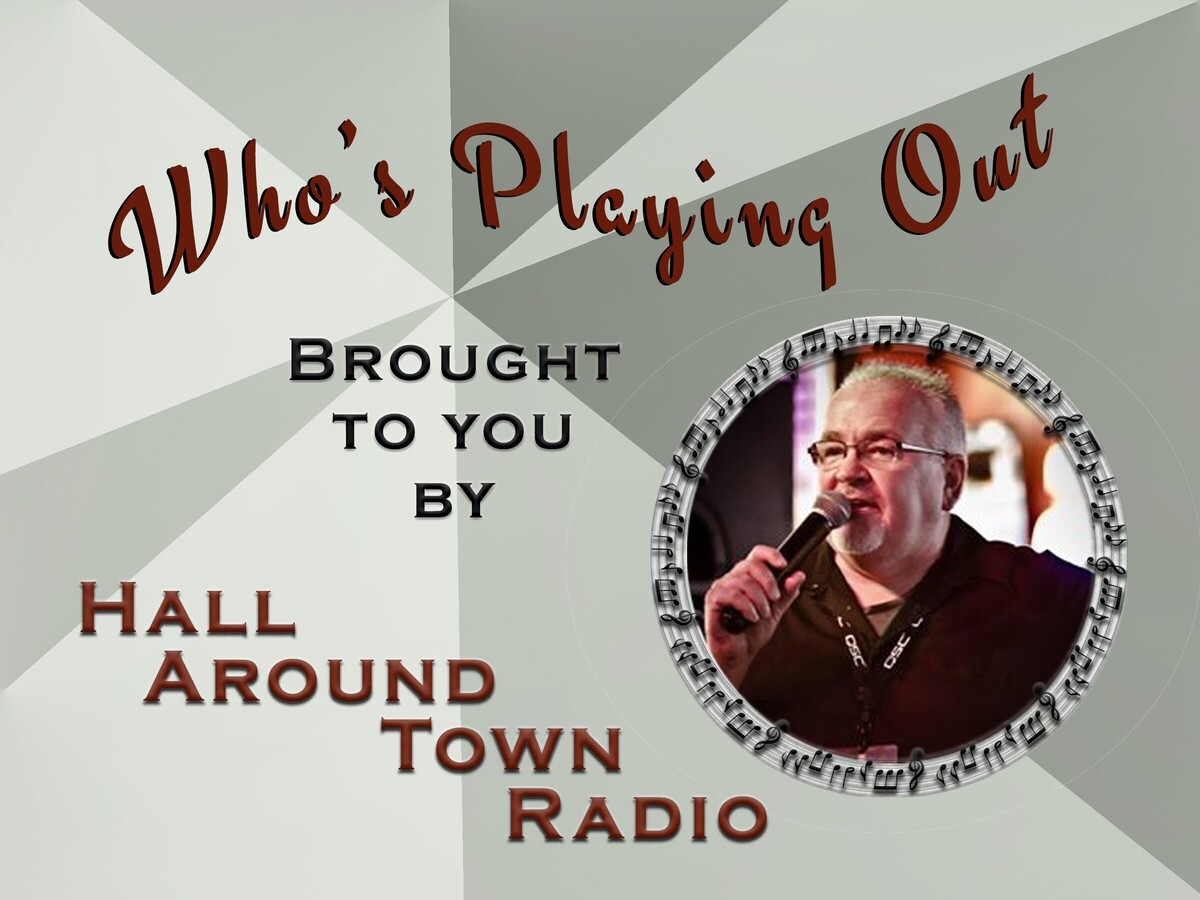 A little live music can turn an ordinary day into a memorable experience. The area's top musicians take center stage at some of the tri-states best restaurants and nightspots, bringing live music to our region nearly every night of the week. Make your first stop here weekly to find out "Who's Playing Out" at one of our live local music venues.
Bands and solos brought to you by our friends at Froggy's in Monroe, Ohio and Hall Around Town Radio (follow the on Facebook)
Froggy's in Monroe – Sponsor of our Thursday LIVE show on Facebook
Friday at 9pm - Jimmy's New Invention
Saturday - 9pm Montage
Tuesday - 6-9 Joe Jordan on the patio 7:30 Queen of Hearts -6-9
Wednesday - 8pm Karaoke with DJ Songz
Online seating reservations for weekend shows only (but not required) at www.gotofroggys.com
---
Heathers Café
Thursday – Jammin' the Touch Tunes ½ off wine bottle night
Friday – The Inturns 7-11... Our food truck for Friday is mothercluckinchickencoop
Saturday - Cryin' Out LOUD 7-11pm .. Ohio state Football on in the barn 🏈... Food truck Saturday is El Buen Taco
Tuesday – Open Mic Night with Junior 7pm + the Queen of Hearts Drawing at 8
Wednesday – Name That Tune with Scott. 7pm Call for reservations
---
Mr. Boro's Tavern Springboro 
Thursday – David Thornton 7 to 10 pm
Friday – Your Last Crush – 8 to 11pm
Saturday – OSU vs Wisconsin - 7:30 in surround sound
Sunday – NFL Football
Tuesday – "Quiztastic" Q&A Trivia with Scott at 7pm
Wednesday – Queen of Hearts Drawing. 8pm over 12K
---
The Belle & The Bear (Montgomery)
Thursday "The Jam" Special hosts Rick Kern and Dave Wade 8ish
Friday Kevin McCoy Band at 8:30 pm
Saturday - Strange Love at 8:30 PM
Monday Game Night - 6pm
Tuesday – Jamie Combs Acoustic Jam 7pm
Wednesday – Karaoke 7pm
---
Crooked Handle Brewing Co.
Thursday – Ben and Pete 6 to 9 pm
Friday – Zane Gerlach at 7pm
---
Sorg Opera House
No Music This Weekend – future show tickets at Cincyticket.com
---
Pohlman Lanes & Scott's Bar & Grill (Hamilton Ohio)
Family Entertainment Complex 954 Pyramid Hill Blvd., Hamilton Ohio
Friday - Indian Creek Band 7pm
Saturday - Rock n Bowl Dj Krutch 7pm
Monday - After Hours Big Band 7pm
Wednesday - Honky Tonk Wednesday at 1pm The Standard Country Time Band
---
Lebanon Grand Opry House
Closed this weekend – future show Reservations by calling 513-850-1770
---
Little River Bar and Grill (Oregonia)
Thursday –– DJ Songz Patioke Party at 7pm
Friday – Shawn Bell and Blowin' the Damn Fuses at 7pm
Saturday – TBA at 7pm
Tuesday – Bike Night with music
---
The Blue Note Harrison
Saturday – AC/DC Tribute Hells Bells with Sammy Hagar Tribute "One Way To Rock" 6pm doors
Tickets are available at …. CincyTicket.com
---
Hidden Gem Music Club
Friday – Flamborghini and Friends – 8pm
Saturday – The Golden Guy and his Bucking Bloviators 8pm
Sunday – Speaking of Peace Jazz with G Scott Jones Quartet 7pm
Tuesday – Open Mic Night 8PM
---
Lori's Roadhouse
Thursday – Service Industry Night and Football
Friday – Whiskey Daze at 6pm
Friday – Blake Tyler at 9pm
Saturday – Kevin McCoy Band at 6pm
Saturday - Brit Stokes 9:30pm
Tuesday – Line Dancing 7pm
---
Miami Valley Gaming
Friday – Dangerous Jim and the Slims – 9pm Center Bar
Saturday – DJ P-Alexander – 9:00pm Center Bar
---
Rex Patrick and the Country Legends Show in Germantown
Saturday September 24th Rick Henderson & The 50 Caliber Band starring Rick Henderson, Greg Wisecup, Donnie Robison & Duece Collins (doors at 5:30) Reservations by calling 513- 594-1282
---
Brick Tap Tavern
Thursday – Open Mic Night with Scott Houchens 7:00pm
Friday – The Jeff Rearick Band at 8:30pm
Saturday – Pegasus 8:30pm
---
Soft Rock Café
Karaoke – Thursday 7pm - Friday 8pm - Saturday 8:30 pm.
---
Scott Hall – Hall Around Town Radio
Tuesday Trivia at Mr. Boros Tavern 7pm
Wednesday – "Name That Tune" at Heathers Café on the patio 7pm "Call for Reservations"
Live Monday to Thursday On Hall Around Town Radio
---
Scotty Long / DJ Songz
Thursdays - at Little River Bar and Grill 7pm PatiOKE Party.
Tuesday - The Barrel 7pm Karaoke obSESSION.
Wednesday- Froggys 8pm Karaoke Xperience.
Bands, Solos, Duos and Events
Jay Clark & JCB

---
Benny Bodine
Sunday 9/25 Cold Beer & Cheeseburgers 5-8 Beavercreek, OH
Wednesday 9/28 Milano's 7-10 Miami Township, OH
---
Six String Hustle
Thur 9/22 8-11 The Lounge Cincinnati, Ohio
Fri 9/23 6:30-9:30 Hidden Valley Orchards Lebanon, Ohio
Sat 9/24 6PM Sam Peden Community Park
Free show w/ The Kentucky Headhunters and Confederate Railroad New Albany, IN
---
Shawn Bell
Friday 9-23 Little River Bar and Grill in Orgonia Ohio 7to 11
---
Alex Poteet
Thursday 9/22 Linus Tate Unplugged Hebron Grille Hebron, KY 6PM
Friday 9/23 Riverside Athletic Club Hamilton, OH 7PM
---
Linus Tate
Saturday 9/24 Newport Racing and Gaming Newport, KY 8:30PM
---
Chad Applegate
Saturday the 24th Chad Applegate solo at Gustos in Crest Hill Ilinois from 9 to 1.
---
"Margo & Adam" Full Band - "Timeless"
Friday: Blind Squirrel Florence 7-10pm
Saturday: Full Band "Timeless" Rotolo - Newport Levee 8:30-12:30
---
Vinyl Countdown Cincinnati
Saturday at the Bonfire on the Ballfield in Madeira from 7-10 PM.
---
GAMUT
Friday 9-23 One More Bar in Bright, Indiana 8 to midnight
---
Joe Cowels
Friday - Joe Cowels solo at Kro-bar Beckett Ridge 5p-8p
Saturday - The Joe Cowels Band at Streetside Brewery, their 6th anniversary party! 7p-10p
Also - Joe Cowels live on the air on WAIF FM 88.3 Wednesday Sept 28th 10pm
---
StrangeLove
Friday at Club Trio, from 8-12
Saturday at The Belle and The Bear from 8:30-12:30
---
Overdrive
Saturday at Woodruff's Farma "Fall on the Farm Festival" in Urbana on at 7:00PM
---
Michelle Robinson Band
Friday at The Knotty Pine 9-1
Saturday at Felicity Gourd & Harvest Festival 9pm
---
Marsha Brady
Friday - Sept 23rd - Jimmy B's - Eastside Cincy - 9:30pm - 1:30am
Saturday - Sept 24th - The Moose - Celina Ohio - 4pm - 8pm
---
Kevin Cooper
Friday 630-1030pm: Eyes Up Here at Gano Tavern
Saturday 8pm-12am: The Hanky Panks at Trillions
Sunday 6-10pm: Eyes Up Here at Trillions
---
Cryin Out LOUD
FRIDAY 9/23 at JD Legends opening for Thunderstruck. We take the stage at 7:15.
Saturday 9/24 at Heathers Café 7 to 11pm
---
Tyler VanB
Thursday the 22nd, 6 to 9 at The Pub at The Greene Beavercreek
Saturday the 24th, Tristan Miller Music Fest 4pm at Creekside Occasions, Chillicothe Ohio
---
Joe Lipinski
Saturday - jersey joe--the Island/reggae show with his steel drummer band on from 6:30 - 9:30 PM at Hidden Valley Orchard.
---
Matthew Allen
Tue 9-27 O'Conner's Irish Pub (Springfield) 8-11pm
---
That One Party Band
Friday September 23rd at L-Burg drinks and more in Lawrenceburg Indiana 10 to 2am
---
The Weekend Effect
Friday at Dayton Art Institute Oktoberfest 8-11pm.
Saturday Sept 24th at Wings Vandalia. 9ish-1ish
---
White Knuckle Weekend
Monday - Children's Hospital Benefit from 6:30-9:30
---
David Thornton
Thurs, 9/22 Mr. Boro's Tavern (Springboro) 7:00-10
Fri, 9/23 Jayne's On Main (Miamisburg) 7:30-10:30
Sat, 9/24 Grainworks Brewing Company (Mason) 7:00-10
---
Heath Bowling Music
Thursday 9/22 Liberty Inn 630-1030 Liberty Twshp, OH
Friday 9/23 AJ's Franklin Tavern 7-10p Franklin, OH
Saturday 9/24 Verona Vineyards 5-8pVerona, KY
Sunday 9/25 Open Mic (GTC) 5-9p Miamisburg, OH
Wednesday 9/28 Open Mic(AJ's) 8-11p Franklin, OH
---
Spungewurthy
Thursday at Bargos 6-10pm
Saturday at Kingspoint Pub 9-1am
Sunday at DAI Oktoberfest 5-7pm
---
Blind Faith Duo Acoustic
Thursday 9/22 from 6-9pm at Jungle Jim's Fairfield for Bourbon Night (Oscar Center)
Sat 9/24 from 9-12am at Anderson Tap House
---
Short of Stable (acoustic)
Friday 9/23 Heroes pizza 7-10
---
Don't Tell Steve
Saturday at the Monkey Bar 7-11
---
Chris Lee Acoustic
*Friday, Sept. 23 Pandemonium in Covington KY Rockne Riddlebarger 8pm-8:45pm 9pm-9:45pm Rockne, again: 10pm-10:45pm
Saturday, Sept. 24 Lucky Turtle in Cincinnati/Finneytown OH 8pm-10:30pm
Sunday, Sept. 25 Caesar Creek Flea Market in Wilmington OH 11:30am-2:30pm
---
The HomeGrown Band
Saturday September 24th at The Clifton Opera House 7:30-9:30
---
Wesley Green
Saturday, BRB Pink Ribbon Girl event Brookeville, OH 6-10
Sunday with 9eight Central at Lebanon Apple Fest 12-3pm
---
Jordan Wood
Thurs 9/22 Twenty Mile Tavern - Open Jam 9pm Landen
Fri 9/23 Putters Bar & Grill 7pm Maineville
Saturday 9/24 TinCap 7pm Wilmington
Monday9/26 Misery & Jens Open Jam 8pm - ?Hamilton, OH
---
Johnny Fink
Friday sept 23 Gina and Johnny (acoustic duo ) Smoke Justis 7:30pm
Saturday sept 24 Johnny Fink and the Intrusion Mansion hill tavern 8pm
---
ReDD
Saturday at Heroes Pizza (Springboro) - 7-10pm
---
Dv8
Friday Sept 23 St Agnes Oktoberfest Ft Wright KY 1680 Dixie Hwy 7pm til 11pm
Saturday at Silver Lake Park Erlanger KY 110 Division St 7pm told 10pm with fireworks following
---
Jet Pack Academy
Friday - 9/23 - 7pm at The Monkey Bar
---
Audio Graffiti
Tin Roof St. Louis, MO
Friday 9/23 10:30p-2:30a
Saturday 9/24 10:30p-2:30a
If you would like to have your musical act featured on our weekly podcast or in Warren County Post contact us @Hall Around Town Radio on Facebook! For additional Band information follow our daily Facebook "Live at Five" program @Hall Around Town Radio