Who's Playing Out: Hall Around Town Week of Nov., 24, 2022
Image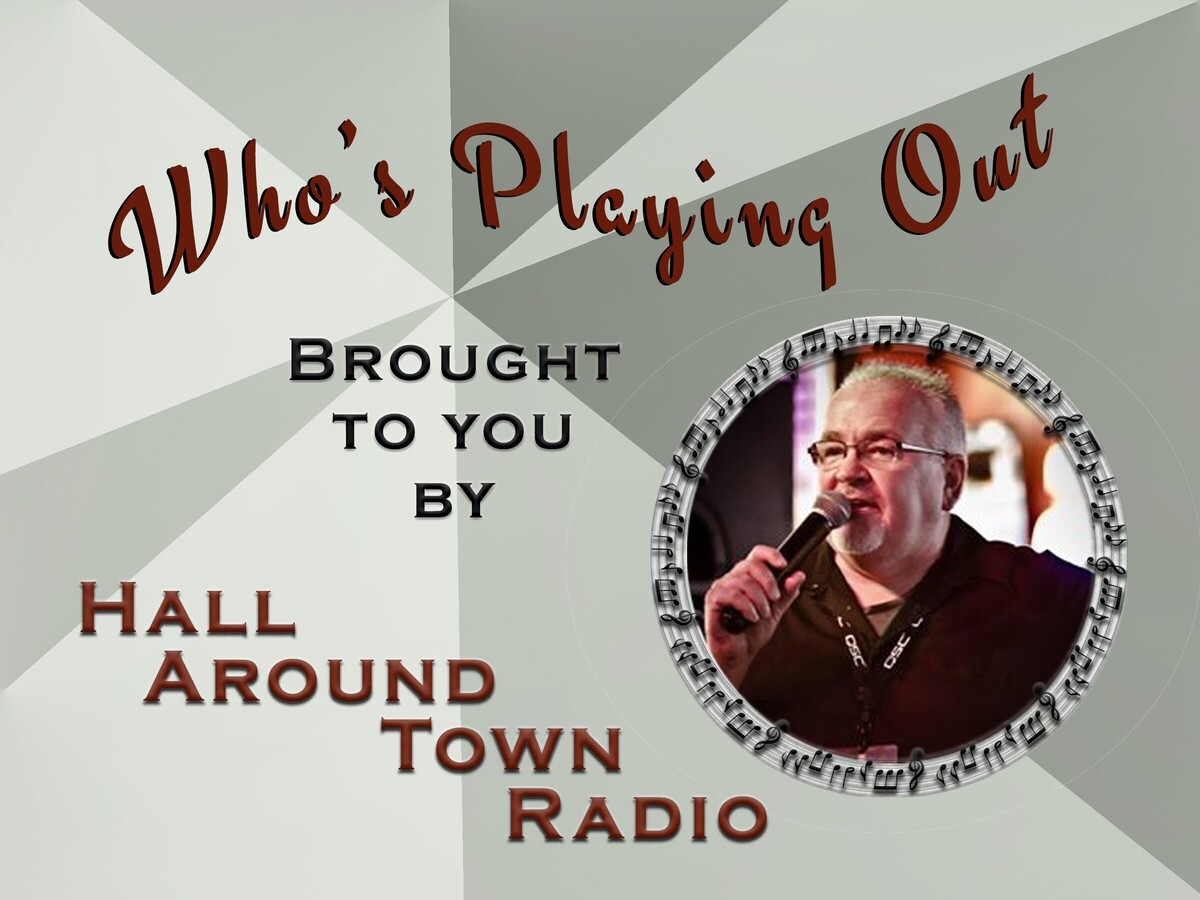 Brought to you by Scott Hall from "Hall Around Town Radio"

A little live music can turn an ordinary day into a memorable experience. The area's top musicians take center stage at some of the tri-states best restaurants and nightspots, bringing live music to our region nearly every night of the week. Make your first stop here weekly to find out "Who's Playing Out" at one of our live local music venues.
Bands and solos brought to you by our friends at Froggy's in Monroe, Ohio and Hall Around Town Radio (follow the on Facebook)
Froggy's in Monroe – Sponsor of our Thursday LIVE show on Facebook

Thursday – Open at 12 noon
Friday at 9pm – Sweet Sister Mercy
Saturday - 9pm Casette Juinkies 70s and 80s party
Tuesday - 7p Music trivia with a twist
Tuesday at 7:30 Queen of Hearts Drawing
Wednesday - Karaoke 7p-11p with Dj Songz
---
Mr. Boro's Tavern Springboro 

Thursday – Closed for the Holiday
Friday –– Bourbon Road Band 8 to 11pm
Saturday – Brad Wehlitz Music 8pm
Sunday – NFL Football
Tuesday – "Quiztastic" Q&A Trivia with Scott at 7pm
Wednesday – Queen of Hearts Drawing. 8pm over 19K
---
The Belle & The Bear (Montgomery)
Thursday "The Award Winning Jam" 7:30ish
Friday – 3 Day Rule at 9 pm
Saturday The Hanky Panks at 9 PM
Monday Game Night - 6pm
Tuesday – Jamie Combs Acoustic Jam 7pm
---
Crooked Handle Brewing Co.
Thursday – Closed
Friday – Ben and Pete at 7pm
---
Pohlman Lanes & Scott's Bar & Grill (Hamilton Ohio)
Family Entertainment Complex 954 Pyramid Hill Blvd., Hamilton Ohio
Friday at 7pm - Rock and Bowl with DJ Krutch
Saturday at 7pm – Frech and Co
Monday - After Hours Big Band 7pm
Wednesday – Honky Tonkin with the Standard Country Time Band 1pm
---
Soft Rock Café
Karaoke – Wednsday 7pm - Friday 8pm - Saturday 8:30 pm.
---
Sorg Opera House
Saturday at 8pm Hotel California Eagles Tribute
Sunday – Blue Christmas Event
Tickets available at Cincyticket.com. visit SORG page for more info
---
Lebanon Grand Opry House
Saturday Dinner Show – Featuring Jessie Lyn and the TNT Band – Plus Special Guests Chelsea Calloway and Steve Bonafel Doors at 6pm
Reservations by calling 513-850-1770
---
Little River Bar and Grill (Oregonia)
Thursday –– Closed this week – back next week DJ Songz Karaoke Party at 7pm
Friday –Rowdy Around Midnight at 7pm
Saturday – Sean Poole and Buckin Crazy –7pm
---
The Blue Note Harrison
SATURDAY - it's the Stacy Mitchhart Band!! Rocking Blues with horns at it's best! 6pm
---
Hidden Gem Music Club
Thursday – Closed
Friday – The Sonny Moorman Group at 8pm
Saturday – The West Side Players at 8pm
Sunday – Mambo Combo at 7pm
Tuesday – Open Mic Night 8PM
---
Lori's Roadhouse
Friday – Creed Fisher and Tim Montana with Kevin McCoy opening 6pm
Saturday – Red Idle Rejects at 6pm
Saturday – Hubie Ashcraft Band at 9:30pm. Tickets available at LRHLIVE.COM
Tuesday – Line Dancing 7pm
Wednesday – Karaoke at 9pm
---
Miami Valley Gaming
Friday – DAT Band at 9pm Center Bar
Saturday – Turned Up Band – 9pm Center Bar
---
Rex Patrick and the Country Legends Show in Germantown
Saturday November 26th Richard Lynch Band. 7-10pm $12 at the door. Doors open at 5:30pm show is 7-10pm - Reserve your table now 513-594-1282
---
Brick Tap Tavern
Friday – The Fleez at 8:30pm
Saturday – The Doug Hart Band at 8:30 pm
---
Scott Hall – Hall Around Town Radio
Tuesday "Qiztastic" Trivia at Mr. Boros Tavern 7pm
Live Monday to Thursday On Hall Around Town Radio
---
Scotty Long / DJ Songz
Thursdays - at Little River Bar and Grill 7pm Party.
Tuesdays The Barrel Springboro, OH 7pm-11pm Karaoke
Wednesdays Froggys Monroe, OH 7pm-11am Karaoke Xperience
Bands, Solos, Duos and Events
Spungewurthy
Wedndesday … Tonight at the Phonebooth Lounge 8 to 12
---
Heath Bowling Music
Friday 11/25 Figleaf Brewing 3-6p Middletown, OH
Friday 11/25 Possum Saloon 930 – 130 Bright, IN
Saturday 11/26 Miamisburg Eagles 8-11p Miamisburg, OH
Sunday 11/27 Open Mic (GTC) 5-9p Miamisburg, OH
---
Ben & Pete
Friday at Crooked Handle Brewing in Springboro from 6 to 9 P
---
David Thornton
Saturday Grainworks Brewing Co 7-10
---
Chris Lee Acoustic
Wednesday, Nov. 30 Marty's Hops & Vines - Cincinnati/College Hill OH 7pm-9:30pm
---
Michelle Robinson
Saturday at Bobby Mackeys 7:30-9
---
Wesley Green Music
Friday with the Bourbon Road Band at Mr. Boro's 8-11
---
Billy Brown
Friday November 25 at 10pm- Skooters in Shorewood IL
Saturday November 26 at 10pm - Bristol Republic in Columbus OH
---
Benny Bodine
Saturday 11/26 at Harrigan's Tavern 8-11 Kettering, OH
Wednesday 11/30 at The Barrel 7-10 Springboro, OH
---
6 String Hustle
Friday from 7-10 at Putters Liberty Township, OH
Saturday from 7-10 Hebron Grille Hebron, Ohio
---
Velvet Crush
Wednesday at the Dublin pub Dayton Oh 8-12
---
Mad Hatter
Saturday at Beavercreek Wings - show starts at 9pm. Their last show of 2022.
---
Chad Applegate
Wednesday - Chad Applegate solo tonight at Pike Street Bar and Grill in Fayettville OH 8 to 11.
---
Joe Cowels
Friday solo at Wooly's in Franklin from 9pm- 11pm
---
Kevin Cooper
Thurs 730-1130pm: B&B Jam Thanksgiving edition
Fri 7-11pm: Eyes Up Here at Carlo & Johnny
Sat 830pm-1230am: The Hanky Panks at The Belle & The Bear
Wed 11/30 7-11pm: Kevin Cooper and Pat Riley at Olde Village Tavern (West Chester)
---
Audio Graffiti
Friday at Anderson Tap House 9:30 to 1
Saturday – Bengals pregame party in Nashville – Tin Roof Broadway 7:30 to 10:30
Sunday – Bengals Post Game Party in Nashville at Tin Roof on Broadway 7:30 to 10:30
---
Dat Band
Friday at Miami Valley Gaming 9pm
Saturday at The Blue Note Harrison with the Prince Experience 7:30
---
Johnny Fink
Friday – Gina and Johnny Duo at Grandview Tavern in Ft. Mitchell Ky 7pm
---
Marsha Brady
Friday – Black Friday at the Moose Indian Lake 7-11pm
Saturday at the Eagles – Celina Ohio 8pm to 12am
---
Latter
Friday at the Celina Eagles 8pm
---
StrangeLove
Wednesday at The Monkey Bar from 7 to 11 (one of their final 3 shows)
---
Jet Pack Academy
Saturday – Opening for the NKG 8 to 10
If you would like to have your musical act featured on our weekly podcast or in Warren County Post contact us @Hall Around Town Radio on Facebook! For additional Band information follow our daily Facebook "Live at Five" program @Hall Around Town Radio