Who's Playing Out: Hall Around Town Week of Dec., 1, 2022
Image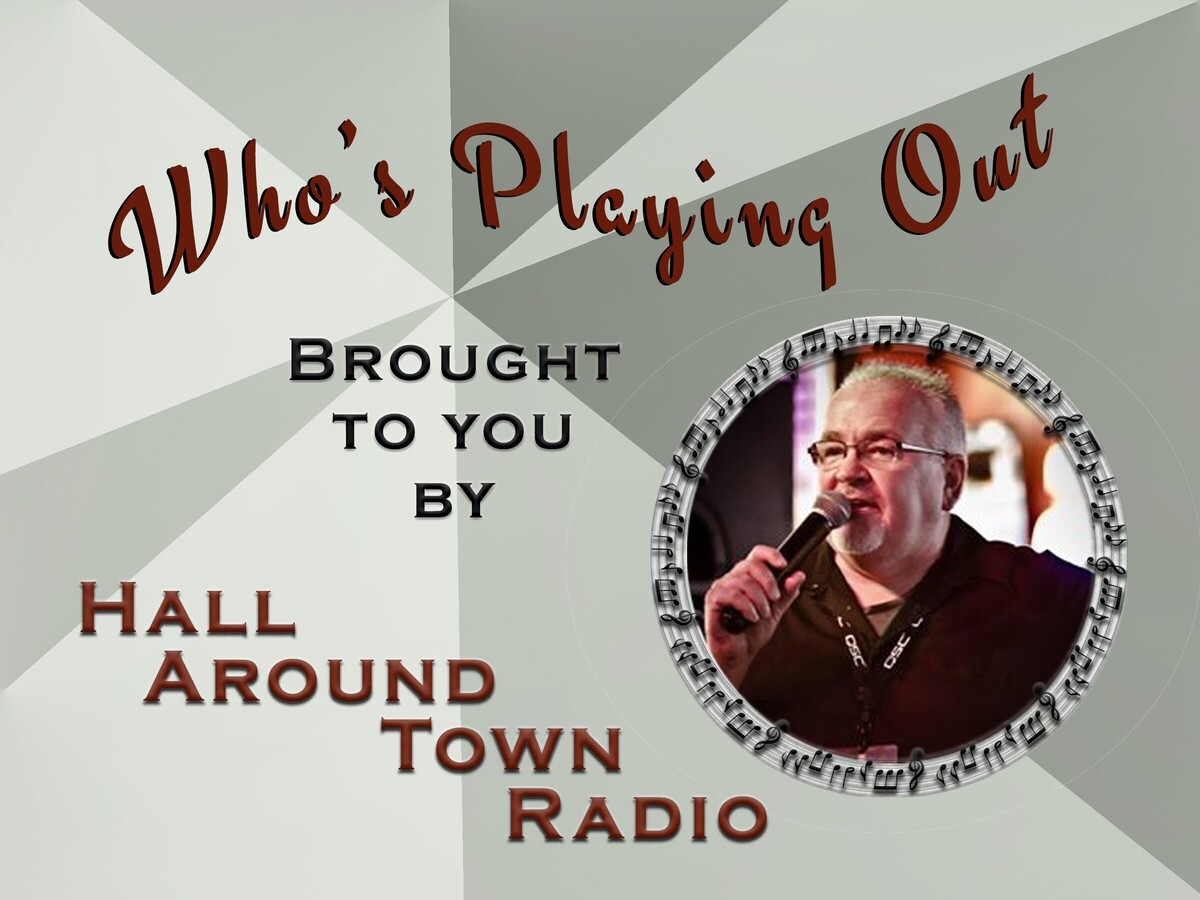 Brought to you by Scott Hall from "Hall Around Town Radio"

A little live music can turn an ordinary day into a memorable experience. The area's top musicians take center stage at some of the tri-states best restaurants and nightspots, bringing live music to our region nearly every night of the week. Make your first stop here weekly to find out "Who's Playing Out" at one of our live local music venues.
Bands and solos brought to you by our friends at Froggy's in Monroe, Ohio and Hall Around Town Radio (follow the on Facebook)
Froggy's in Monroe – Sponsor of our Thursday LIVE show on Facebook
Friday at 9pm – The High Crimes
Saturday - TBA
Tuesday - 7p Music Trivia Bingo
Tuesday at 7:30 Queen of Hearts Drawing
Wednesday - Karaoke 7p-11p with Dj Songz
Mr. Boro's Tavern Springboro -
Thursday – Amy Newhart 7pm
Friday –– Uncle Rico 8 to 11pm
Saturday – Nick Mitchell 8 to 11pm
Sunday – NFL Football
Tuesday – "Quiztastic" Q&A Trivia with Scott at 7pm
Wednesday – Queen of Hearts Drawing. 8pm over 21K
The Belle & The Bear (Montgomery)
Thursday "The Award Winning Jam" fearuring Britt Lightning 7:30ish
Friday – The Gamut at 9 pm
Saturday The Kevin McCoy Band at 9 PM
Monday Game Night - 6pm
Tuesday – Jamie Combs Acoustic Jam 7pm
Wednesday - Rick Kern 7pm
Crooked Handle Brewing Co.
Thursday – Zane Gerlach 6pm
Friday – Ricky Veeneman at 6pm
Pohlman Lanes & Scott's Bar & Grill (Hamilton Ohio)
Family Entertainment Complex 954 Pyramid Hill Blvd., Hamilton Ohio
Friday at 7pm - Black Violets
Saturday - ROXCITY at 7pm
Monday - After Hours Big Band 7pm
Wednesday – Honky Tonkin with the Standard Country Time Band 1pm
Sorg Opera House
Theatre Productions all week. No Music Shows
Future show tickets available at Cincyticket.com visit SORG page for more info
Soft Rock Café
Karaoke – Thursday- 7:30 pm - Friday 8:30pm - Saturday 8:30 pm.
Lebanon Grand Opry House
Saturday the TNT Express Band appearing at the 33rd Annual Horse Drawn Carriage Parade & Festival - Future Show Reservations by calling 513-850-1770
Little River Bar and Grill (Oregonia)
Thursday –– DJ Songz Karaoke Party at 7pm
Friday –Tennessee Outlaw Country at 7pm
Saturday –Jimmy D Rogers –7pm
The Blue Note Harrison
Friday - Geoff Tate of Queensryche returns to the Blue Note to rock the house as only he can! Opening the show it's Cincinnati's own Crown Watts! Doors are at 5:30
SATURDAY - it's the Belairs Christmas Show doors at 5pm
Sunday Rock For the Block with Hollywood and Rapid Fire 2pm
Hidden Gem Music Club
Thursday – Closed for Private Event
Friday – The Hearts on Fire 8pm
Saturday – Spill the Wine at 8pm
Sunday – Bright Moments Jazz Jam at 7pm
Tuesday – Open Mic Night 8PM
Lori's Roadhouse
Friday – Max Greers at 6pm and Krista Lynn Meadow 9:30pm
Saturday –Brenden Monroe - Kimberly Kelly is direct support for National Act- Joe Nichols at 6 pm Tickets available at LRHLIVE.COM
Tuesday – Line Dancing 7pm
Wednesday – Boozy Bingo and Karaoke at 6pm
Miami Valley Gaming
Friday – TBA 9pm Center Bar
Saturday - Audio Graffiti at 9pm Center Bar
Rex Patrick and the Country Legends Show in Germantown
Saturday - Hibberd Connection Band starring Bruce Thomas 7-10pm Doors open at 5:30pm
Reserve your table now 513-594-1282
Brick Tap Tavern
Thursday – Open Mic with Scott Houchens 8:30
Friday – TBA at 8:30pm
Saturday – Driving Force at 8:30 pm
Scott Hall – Hall Around Town Radio
Tuesday "Qiztastic" Trivia at Mr. Boros Tavern 7pm
Scotty Long / DJ Songz
Thursdays - at Little River Bar and Grill 7pm Patioke Party.
Friday - Old Street Saloon Monroe, OH 8pm-1am Friday Night Karaoke Jam!
Tuesdays The Barrel Springboro, OH 7pm-11pm Karaoke Party
Wednesdays Froggys Monroe, OH 7pm-11am Karaoke Xperience
Bands, Solos, Duos and Events
Standard Country Time Band
Friday at Hunter Pizzeria from 6 to 8pm
Heath Bowling Music
Friday at O'Leary's 8-11p Centerville, OH
Saturday for Mrs. Mullins B-day Bash 2-5p Bellbrook, OH
Sat at Audrey's Frogtown Tavern 9-12 Cleves, OH
Whammies
Saturday at Latitudes in Beechmont - 8-12.
Jordan Wood
Thursday at Twenty Mile Tavern - Open Jam 9pm Landen
Friday at Grub Pub (Full band) 9pm Hamilton
Monday at Misery & Jens Open Jam 8pm - ? Hamilton, OH
6 String Hustle
Thursday at Foleys Irish Pub 7 to 11
GAMUT—
Friday from 8:30-12:30 at the BELLE & the BEAR
Joe Cowels
Saturday - The Joe Cowels Band at Nicc & Norm's in Hamilton, 9p-1a,
Monday - Joe Cowels solo at the Grub Pub, 7p-10p
Kevin Cooper
Thursday 730-1130pm: B&B Jam
Saturday 7-11pm: Eyes Up Here at Gano Tavern
Sunday 6-10pm: Eyes Up Here at Trillions
Marsha Brady
Friday at Trillions, West Chester Ohio - 8pm - 12am
Latter
Saturday at The Rivers Edge Roadhouse in Sidney - Show starts at 9pm!
RED HOT RIOT
Saturday at the Silverton Cafe- 8:00 PM.
Kevin McCoy Band
Saturday at the Belle and the Bear - 8:30ish
Audio Graffiti
Saturday at Miami Valley Gaming 8-12
Crown Watts
Friday at the BlueNote - 7:00 start Opening for Geoff Tate of Queensryche
Adam Furnish & "Timeless"
Saturdayat Little Miami Brewing Co. 7-10pm
Uncle Rico
Friday at Mr. Boro's from 8-11.
Truk acoustic
Friday at Franklin Orioles from 8-11
Until Rust
Saturday at J. D. Legends in Franklin, Oh - Opening for The Congressmen and Lovebomb 7pm
The duos last gig for this year and an unknown amount of time into next year.
Benny Bodine
Friday at Heroes Pizza House 7-10 in Springboro, OH
Saturday at Old Dayton Pizza at Riverside Hideaway 7-10 - Riverside, OH
Wednesday at O'Leary's from 7-10 Centerville, OH
Vinyl Countdown
Saturday at Jimmy B's from 9p to 1am
Ithika
Saturday at Wings in Vandalia 9:30pm-1:30am
LoveBomb with Until Rust and The Congressmen
Saturday from 7-11 at J.D. Legend's
Linus Tate
Saturday at Newport Racing and Gaming in Newport, KY 8:30PM
Jamie Cress DJ - JC
Friday from 7pm-8pm opening for Who's Bad The Ultimate Michael Jackson Tribute at JD Legends
Cryin Out LOUD
Friday at the Miamisburg Moose from 8-12
Missing November
Saturday at the Chilicothe Moose from 8-12
White Knukle Weekend
Friday at The Barrel from 8-12
Spungewurthy
Saturday at Wings Beavercreek from 8:30 – 12:30
David Thornton
Thursday at Jayne's On Main Miamisburg from 7:30-10:30
Friday at The Common Beer Co Mason from 7:30-10:30
Saturday at The Swire Inn Middletown 7-10
Joe Lipinski
Friday jersey joe at The Blind Lemon, Mt. Adams, Cincinnati, 8:30 PM - 1:00 AM.
Michelle Robinson
Saturday at Shiners (new venue) on the Levee 10-12
Kevin McCoy Band
Saturday at THE Bell & The Bear 8-ish to 12-latte
Greg Goforth
Saturday with Partytown at 1 More Bar, 8pm Bright, Indiana
Chris Lee Acoustic
Friday at Fibonacci Brewing Cincinnati/Mt Healthy OH 7pm-9pm
Templin Road
Friday at Jim and Jacks 8pm
Ben and Pete
Friday at Jaynes on Main 7:30
Lift the Medium
Thursday next week one of the area's most coveted original hard rock groups, Lift the Medium is making their comeback at Bogart's, opening for The Struts.
Junior & Guitar Mike
Saturday at Bock Family Brewery 7pm
If you would like to have your musical act featured on our weekly podcast or in Warren County Post contact us @Hall Around Town Radio on Facebook! For additional Band information follow our daily Facebook "Live at Five" program @Hall Around Town Radio