Who's Playing Out – Brought to you by "Hall Around Town Radio" December 8
Image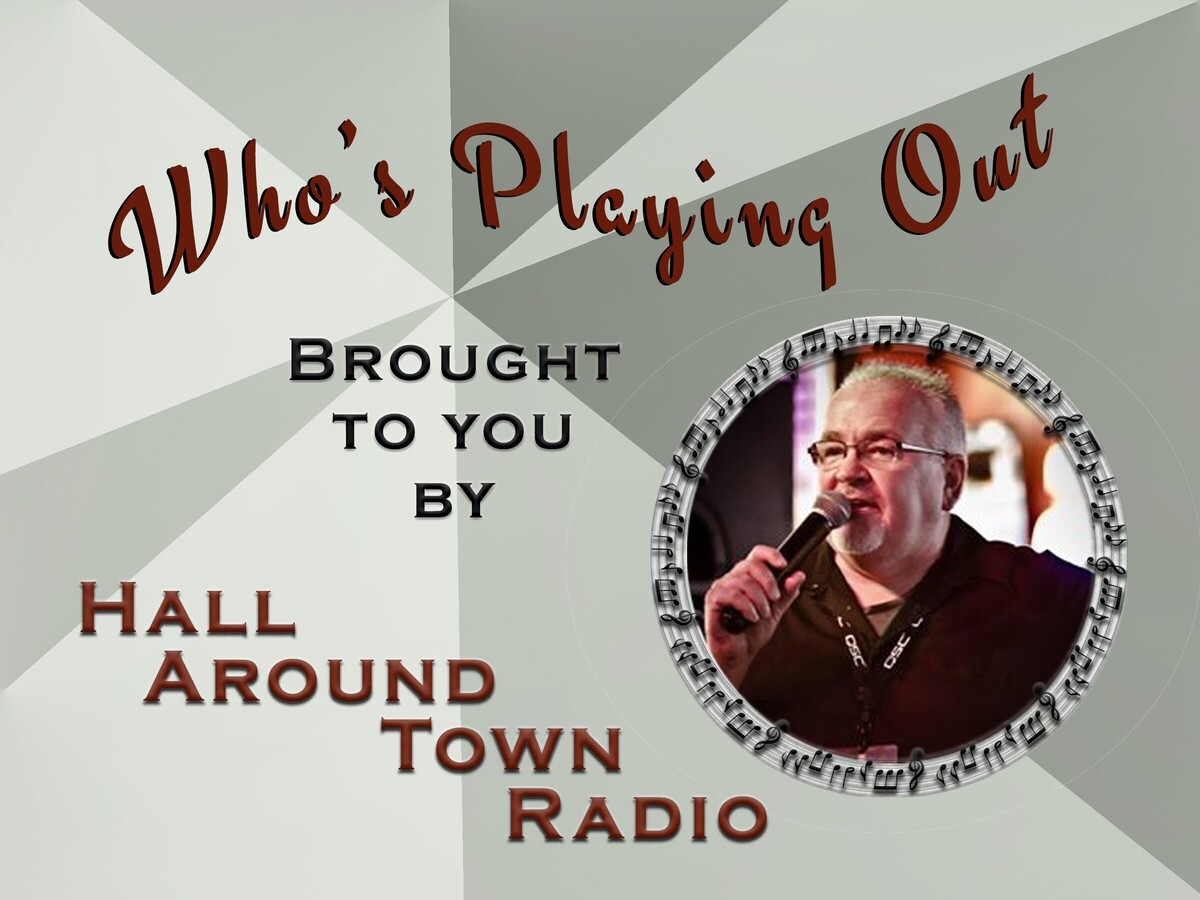 Brought to you by Scott Hall from "Hall Around Town Radio"
A little live music can turn an ordinary day into a memorable experience. The area's top musicians take center stage at some of the tri-states best restaurants and nightspots, bringing live music to our region nearly every night of the week. Make your first stop here weekly to find out "Who's Playing Out" at one of our live local music venues.
Bands and solos brought to you by our friends at Froggy's in Monroe, Ohio and Hall Around Town Radio (follow the on Facebook)
Froggy's in Monroe – Sponsor of our Thursday LIVE show on Facebook
Friday at 9pm – Missing November
Saturday – Next Level Fundraiser with live music 6pm
Tuesday - 7p Music Trivia Bingo
Tuesday at 7:30 Queen of Hearts Drawing
Wednesday - Karaoke 7p-11p with Dj Songz
---
Mr. Boro's Tavern Springboro 
Thursday – David Thornton 7pm
Friday –– Linus Tate 8 to 11pm
Saturday – Jay Clark Band 8 to 11pm
Sunday – NFL Football
Tuesday – "Quiztastic" Q&A Trivia with Scott at 7pm
Wednesday – Queen of Hearts Drawing. 8pm over 22K
---
The Belle & The Bear (Montgomery)
Thursday "The Award Winning Jam" 7:30ish
Friday – DV8 at 9 pm
Saturday Johnny Fink and the Intrusion at 8:30 PM
Monday Game Night - 6pm
Tuesday – Jamie Combs Acoustic Jam 7pm
Wednesday – Name That Tune with Scott at 7pm
---
Crooked Handle Brewing Co.
Thursday – TBA 6pm
Friday – Short of Stable Duo at 6pm
Pohlman Lanes & Scott's Bar & Grill (Hamilton Ohio)
Family Entertainment Complex 954 Pyramid Hill Blvd., Hamilton Ohio
Friday at 7pm – Sweet Sister Mercy
Saturday – DJ Krutch with special guest DJ Christian D at 7pm
Monday - After Hours Big Band 7pm
Wednesday – Honky Tonkin' with the Standard Country Time Band 1pm
---
Sorg Opera House
Theatre Productions all week — No Music Shows
Future show tickets available at Cincyticket.com visit SORG page for more info
---
Soft Rock Café
Karaoke – Thursday- 7:30 pm - Friday 8:30pm - Saturday 8:30 pm.
---
Lebanon Grand Opry House
TBA - Future Show Reservations by calling 513-850-1770
---
Little River Bar and Grill (Oregonia)
Thursday –– DJ Songz Karaoke Party at 7pm
Friday –Drive at 7pm
Saturday –Brad Hatfield Blues Band –7pm
---
The Blue Note Harrison
SATURDAY - it's the Blue Note's rocking Chrismas Party with DV8- Blackbone Cat and Sweet Sister Mercy! Rock night is ON! Complimentary Italian buffet from 5pm-6:30pm while it lasts! Doors at 5pm Music starts at 6:30pm!
---
Hidden Gem Music Club
Thursday –8pm Blucone with Bird Brain Breakfast
Friday at 8pm the J. C. Clements Band
Saturday at 7pm The Doug Hart Band with Noah Wotherspoon Band and The Wright Brothers III
Sunday at 7pm Tony Monaco Jazz
Tuesday – Open Mic Night 8PM
---
Lori's Roadhouse
Thursday – Football and Wings
Friday – Carter New at 6pm
Friday Martin McDaniel at 9:30pm
Saturday –The Roasters 6pm
Saturday – Jake Taylor Band at 9:30 pm Tickets available at LRHLIVE.COM
Tuesday – Line Dancing 7pm
Wednesday – Boozy Bingo and Karaoke at 6pm
---
Miami Valley Gaming
Friday – The Weekend Effect 9pm Center Bar
Saturday – The Menus at 9pm Center Bar
---
Rex Patrick and the Country Legends Show in Germantown
Saturday - Country Legends Band. Raffling off a Christmas basket filled with a big dinner sponsored by Scene 75 Entertainment and Triple Crown Entertainment Reserve your table now 513-594-1282
---
Brick Tap Tavern
Thursday – Open Mic with Scott Houchens 8:30
Friday – Sowers Family at 8:30pm
Saturday – Overdrive at 8:30 pm
---
Scott Hall – Hall Around Town Radio
Tuesday "Qiztastic" Trivia at Mr. Boros Tavern 7pm
Wednesday – "Name That Tune" Trivia at The Belle & The Bear 7pm
---
Scotty Long / DJ Songz
Wednesdays Froggys Monroe, OH 7pm-11am Karaoke Xperience
Thursdays at Little River Bar and Grill 7pm
Tuesdays The Barrel Springboro, OH 7pm-11pm Karaoke Party
Bands, Solos, Duos and Events
Happy Camper Christmas Jam with Elementree Livity Project and Probably Just Paranoid 
Saturday at 5pm Hannons Camp America Indoor Lodge in College Corner
That Arena Rock Show
Friday at King of 'Clubs in columbus 8pm
Joe Cowels
Friday - The Joe Cowels Band at The Madison Inn,Middletown OH 9P-1am
Sunday Dec 11th Listen for Joe's Interview on The Happy Hippy podcast, live at 4:30pm
Marsha Brady
Friday at The Eagles, Marysville Ohio - 7:30pm - 11:30pm
Saturday at Moonbird - Dry Ridge Kentucky - Santa Con Festival !! 8pm - 12am
Crown Watts
Friday at the KnottyPine - 9:00
Brandy Conarroe
Saturday - Brandy and The Beard's FINAL acoustic performance at The Ugly Goat in Felicity from. 8-11pm
Drive
Friday at The Little River Bar & Grill - 7pm
Kevin Cooper
Thursday from 7:30-11:30pm: Belle & Bear Jam
Friday from 9pm-1am: The Hanky Panks at Mt. Lookout Tavern
Saturday from 7-10pm: Kevin Cooper/Mike Roberts duo at Grainworks
Johnny Fink
Friday - Gina and Johnny duo at Smoke Justis 7pm
Saturday - Johnny Fink and the Intrusion at The Belle and The Bear 9pm
Sunday - Blues Jam at Hanks in Dayton 3pm
Night Reign
Friday at Miamisburg Moose - 8PM.
Overdrive
Saturday at Brick Tap and Tavern at 8PM
Courtney Jo Band
Saturday at the Ironton Moose in Ironton Ohio from 8:30pm
Benny Bodine
Friday at Knollwood Tavern from 9-12 in Beavercreek, OH
Tuesday at Submarine House (with Heath Bowling) 7-10 Centerville, OH
Wednesday at Milano's from 7-10 Miami Township, OH
Shawn Bell
Saturday - Full Band at Norwood Moose Lodge Christmas Party from 7 -11 Norwood OH
Chad Applegate
Saturday the Chad Applegate Band at Borderline in West Harrison IN. 10 til 2. CANCELLED
6 String Hustle
Thursday from 6-9 at Gano Tavern, West Chester, Ohio
Friday from 7-10 at Putters Liberty, Liberty Twnshp, OH
Saturday from 8-12 at Trillions, West Chester, Ohio
Truk
Saturday - Jamie Suttle "Dark Roots" album release show wsg Winchester Grey and Truk WO Wrights from 8-11:30
Linus Tate
Thursday at Chefs Table at Belterra Casino Cincinnati, OH 5:30PM
Friday at Mr Boros Tavern in Springboro, OH 8PM
Saturday at the Hitching Post, Darrtown, OH 8PM
Alex Poteet Solo
Sunday at Anderson Township Kroger Wine Bar, Anderson, OH 12PM
Matthew Allen
Friday at Fratelli's Italian Restaurant from 7-9pm
Heath Bowling
Thursday at the Fairfield Pub 7-10p Fairfield, OH
Friday at Heroes Pizza 7-10p Springboro, OH
Saturday at Good Time Charlie's Beauty and The Beast 830-1230 Miamisburg, OH
Tuesday at Submarine House W/ Benny Bodine 7-10p Centerville, OH
Don't Tell Steve
Saturday Ricks Tavern from 8-12
White Knukle Weekend
Saturday at Kings Point Pub from 8:30-12:30
Tyler VanB Music
Thursday - Tyler VanB w/ James Zornes:- 630 to 930 at The Pub at the Greene in Beavercreek
Friday - 7pm Opening for Khalil Nazar at Emporium Wines & Underdog Café in Yellow Springs
The Weekend Effect
Friday at Miami Valley Gaming from 9pm-12am
Saturday at the Corner Club in Dayton Ohio from 7-11pm.
Missing November
Friday at Froggys Monroe from 9-1am
Ben & Pete
Friday at Lucky Star Brewery in Miamisburg from 8:00 to 11:00
David Thornton
Thursday at Mr. Boro's Tavern (Springboro) from 7-10
Friday at Jayne's On Main (Miamisburg) from 7:30-10:30
Saturday at Doc's Place (Lebanon) from 7-10
Greg Goforth Drummer
Saturday with Shawn Bell and Blowing the Damn Fuse Band @ Norwood Eagles, 7pm
Michelle Robinson
Saturday at Turfway Park 10:00pm (After Sara Evans concert)
Chris Lee Acoustic
Friday at Mecklenburg Gardens in Cincinnati OH 6pm-9pm
Saturday - Acoustic Duo w/ Missy Gresham at The Hangar Bar & Grill - 8pm-Midnight
Wednesday - Little Miami Brewing Co. Milford OH 6:30pm-9:30pm
The Donna Kennedy Band
Saturday at Eaton Eagles from 7-11pm
Jay Clark Band
Saturday from 8-1pm at Mr Boros Tavern in Springboro
The Whammies
Saturday at L'Burg Drinks and More in Lawrenceburg Indiana 9:30pm
Jet Pack Academy
Friday opening up for Naked Karate Girls at Hard Rock Casino, 9pm
Dv8
Friday at The Belle and the Bear - 9pm til 12:30
Saturday ath the Blue Note Harrison OH - 8:00 til 11:45
Sweet Sister Mercy
Friday from 7-11pm at Pohlman Lanes in Hamilton
Saturday at 7pm at the Blue Note with DV8 and Black Bone Cat
Margo and Adam
Friday at Coldstream Country Club from 7-10pm
Vinyl Countdown
Saturday at The Barrel in Springboro 8pm
Jim Jones as Elvis
Sunday at Dee Felice Café – shows at 6 and 7:30pm
Road Trip
Friday at Hollywood Casino Lawenceburg 8pm
Dudley Taft and Friends
Saturday at The 20th Century Theater in Oakley 7pm
Kevin McCoy
Thursday – Acoustic at Jungle Jims Fairfield 6pm
Friday at Jefferson Social "the Banks" 6pm
Paul Cullen
Thursday at Jaynes on Main in Miamisburg 7pm
The Marthas
Friday at Hanks Social 9pm
Miss Jacque
Friday at Ricks Tavern 8pm
Pandora Effect
Saturday at Steve and Tammys Tavern 8pm
Lee Dixon
Friday at Newport Gaming 8:30pm
Saturday at Kroger Anderson 12pm
If you would like to have your musical act featured on our weekly podcast or in Warren County Post contact us @Hall Around Town Radio on Facebook! For additional Band information follow our daily Facebook "Live at Five" program @Hall Around Town Radio