Who's Playing Out: Brought To You By Hall Around Town Radio January 25th
Image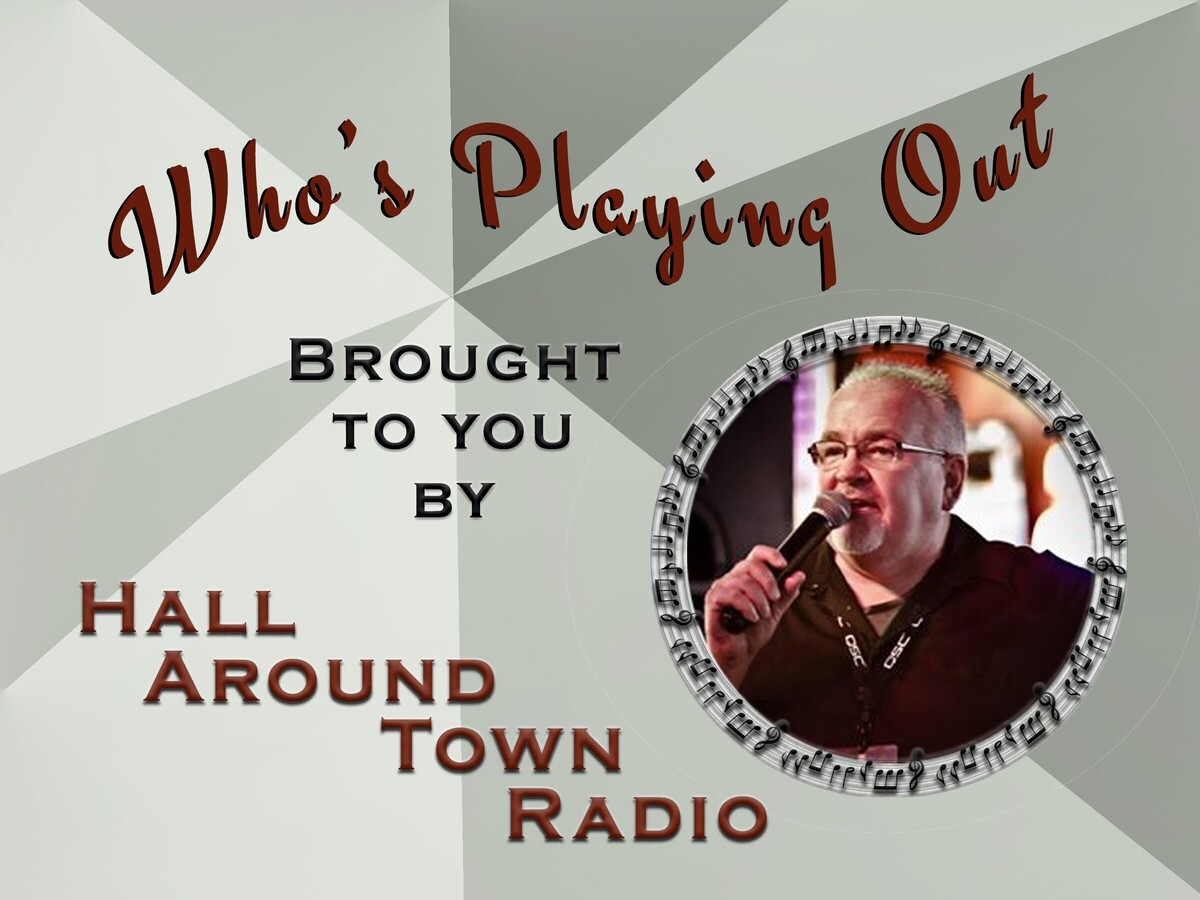 Brought to you by Scott Hall from "Hall Around Town Radio"
A little live music can turn an ordinary day into a memorable experience. The area's top musicians take center stage at some of the tri-states best restaurants and nightspots, bringing live music to our region nearly every night of the week. Make your first stop here weekly to find out "Who's Playing Out" at one of our live local music venues.
Bands and solos brought to you by our friends at Froggy's in Monroe, Ohio and Hall Around Town Radio (follow the on Facebook)
---
Froggy's in Monroe – Sponsor of our Thursday LIVE show on Facebook
Friday at 9pm High Roads Band
Saturday at 9pm Social Chemists
Tuesday – 7:30pm Queen of Hearts jackpot is over $1K
Wednesday - 7pm Karaoke with DJ Songz
Starting in February … bands start at 8pm
---
Mr. Boro's Tavern Springboro 
Thursday – Ben and Pete 7 to 10
Friday – Sons of Liberty (Debut) 8 to 11pm
Saturday – Jay Clark Band 8 to 11pm
Sunday – Bengals vs Bills
Tuesday – "Quiztastic" Q&A Trivia with Scott at 7pm
Wednesday – Queen of Hearts Drawing. 8pm over 30K
---
The Belle & The Bear (Montgomery)
Thursday "The Award Winning Jam" 7:30ish
Friday – Second Wind at 8:30 pm
Saturday - Top This Band at 8:30pm
Monday Game Night - 6pm
Tuesday – Jamie Combs Acoustic Jam 7pm
Wednesday – Karaoke 7:30pm
---
Crooked Handle Brewing Co. Springboro - Piqua location now open Music starts 1st week of Feb
Thursday – Three Parts Thursday Yoga Flow 6pm
Friday – Zane Gerlach 7pm
---
Pohlman Lanes & Scott's Bar & Grill (Hamilton Ohio)
Family Entertainment Complex 954 Pyramid Hill Blvd., Hamilton Ohio
Friday at 7pm – Angela Combs Band
Saturday 7pm – Bourbon Road Band
Monday at 7pm The After Hours Big Band on the lanes
Tuesday at 7pm - Karaoke With Dj KODIE Montana
Wednesday at 1pm matinee performance with the Standard Country Time Band
---
Sorg Opera House
Lorrie Morgan – Friday February 3rd
Future show tickets available at Cincyticket.com visit SORG page for more info
---
Soft Rock Café
Karaoke – Thursday- 7:30 pm - Friday 8:30pm - Saturday - 8:30 pm.
---
Little River Bar and Grill (Oregonia)
Thursday –– DJ Songz Patioke Party at 7pm Party on the covered enclosed patio
Friday – Dynamic Trio Six String Band at 7pm
Saturday – Linus Tate 7pm
---
The Blue Note Harrison
Friday – Micromania Wrestling 6:30pm
Saturday - Styx Tribute "Best Of Times" With Excalibur & The Gamut Doors at 6pm
Future show tickets available at Cincyticket.com
---
Hidden Gem Music Club
Thursday – Stillwaters Listening Room – Songwriters in the Round 7:30pm
Friday – Rude Scholar at 8pm
Saturday – The Filthy Heathens 8pm
Sunday – Soulful Sunday… members of the Zapp Band 7:30pm
Tuesday – Open Mic Night 8PM
---
Lori's Roadhouse
Thursday – Football and Wings
Friday – Southern Summer at 7pm
Saturday – Davisson Brothers Band 8pm
Tuesday – Line Dancing 7pm
Wednesday – Boozy Bingo and Karaoke at 6pm
---
Miami Valley Gaming
Friday – TBA y 9pm Center Bar
Saturday – TBA 9pm Center Bar
---
Rex Patrick and the Country Legends Show in Germantown
Saturday – The Standard Country Time Band 7pm Reserve your table now 513-594-1282
---
The Brick Tap and Tavern
Thursday – Open Mic with Scott Houchens 8:30
Friday – Benny Bodine at 8:30pm
Saturday – The Growlers 8:30pm
---
Fairfield Pub
Thursday – Doug Dillman 7pm
Friday – Carrie Ann McDonald 9pm
Saturday – City Slicker Band 9pm
---
Avenue Sports and Spirits Lebanon
Wednesday – Open Jam with Wishlist 6:30pm
Friday – Greg Harrison & Co
Saturday – Thunder Head
---
Scott Hall – Hall Around Town Radio
Tuesday "Qiztastic" at Mr. Boros Tavern 7pm
Live Monday to Thursday on Hall Around Town Radio
---
Scotty Long / DJ Songz
Wednesdays Froggys Monroe, OH 7pm-11am Karaoke Xperience
Thursdays at Little River Bar and Grill 7pm
Bands, Solos, Duos and Events
Perry Waldron
Thursday – Perry "Maverick" with Edward Budnek at Trillions 7pm
The Liquor Store Dogs
Friday - (Tim Tiernan, Chuck Land, Steve Johnson, Michael Van Horn, Chip Coburn) will be bringing the brand of boozy blues based rock to the Reading American Legion Post 69' THE DUGOUT bar from 8 to a little after 11.
Hooper and the Chief
Saturday at the Green Kayak in New Richmond Ohio 8pm
Side Piece
Friday from 8-12 at Olearys Pub & grub in Centerville
Standard Country Time Band
Saturday at Rex Patrick Country Legends from 7 to 10pm
Wednesday at Pohlman Lanes from 1 to 3pm
Shane deMoss
Thursday at Moe Harrigan's Tavern Kettering, Oh 8:00-11:00
Latter
Friday - Live at Little York Tavern 9:30 showtime.
Joe Cowels
Thursday January 19th The Joe Cowels Band comes to Mansion Hill, covington ky, 7p-11p
Saturday January 21st Joe Cowels solo at The Grub Pub, Hamilton Ohio 8:30pm to 12:30am
GAMUT
Saturday BLUE NOTE in the pub at 6pm - Main stage with "Best of Times" Styx Tribute & Excalibur
Kevin Cooper
Thursday 730-1130pm: B&B Jam
Friday 8pm-12am: The Fun Size (John Michael, Brian Otten, and myself) at Trillions
Sunday 6-10pm: Eyes Up Here at Trillions
Marsha Brady
Friday January 20th at the Knotty Pine - 9pm - 1am
Jet Pack Academy
Saturday at L'burg Drink & More from 9p-1a
Acoustic Blue
Thursday at Par's Place start time 6:30; Fairfield, Ohio
Dat Band
Saturday at the Hollywood Casino Lawrenceburg from 8-11:30
Xero Hour
Saturday at the Madison Theatre doors at 6 music starts at 7.
Johnny Fink
Saturday the Gina and Johnny band at Mansion Hill Tavern 8pm
Kevin McCoy Band
Friday 1/20 Anderson Tap House 7pm
Saturday 1/21 KMb 3 Piece at Trillions 7pm
Jay Clark Band
Saturday at Mr Boros from 8-11
Shane deMoss
Thursday 1/19 Moe Harrigan's Tavern Kettering, Oh 8-11
Benny Bodine
Friday 1/20 The Brick Tap & Tavern 8:30-11:30 Huber Heights, OH
Wednesday 1/25 Milano's 7-10 Miami Township, OH
Truk
Saturday at Tony Stein American Legion Post 619 from 7-10 Open to the public
Jacob William
Friday Jan 20th at Orioles Franklin from 8-11
Wednesday Jan 25th at The Barrel 7-10
Alex Poteet
Thursday January 19 Smoke Justis Covington, KY 7:30PM
Sunday January 22 Anderson Kro-Bar Anderson Township, OH 12PM
Linus Tate
Friday January 20th Third Place Brookville Brookville, IN 7PM
Saturday January 21st Little River Bar & Grill Oregonia, OH 7PM
Velvet Crush Unplugged
Saturday 1/21 Dublin pub Dayton oh 8-11
Ben & Pete
Thursday at Mr. Boro's in Springboro from 7 to 10
Donna Kennedy Band
Friday Middletown Moose from 8-12
Matthew Allen
Friday at White Dog Distilling Co & Bourbon Bar ( Middletown) 7:30 to 10:30 pm
Blind Faith Duo
Friday at Krogers in Anderson from 4-7pm
David Thornton
Thursday - Jayne's On Main Miamisburg 7-10
Friday- Middletown Elks Lodge #257 (Open to public) 7-10
Saturday - The Common Beer Co Mason 7:30-10:30
Heath Bowling Music
Thursday at Liberty Inn 630-1030 Liberty Twshp, OH
Friday at Knollwood Tavern from 9-12 Beavercreek, OH
Saturday with Beauty and The Beast at Good Time Charlie's 830-1230 Miamisburg, OH
Wednesday at O'Leary's 7-10p Centerville, OH
Don't Tell Steve
Saturday from 8-12 at Jim and Jacks
Wesley Green Music
Saturday with the Bourbon Road Band at Pohlman Lanes from 7-11
Short of Stable
Saturday Mike & Tiff at Misery&jen from 7-10
Sunday at Good Time Charlie's OPEN MIC from 5-9
Chris Lee Acoustic
Thursday, Jan 19 Railyard Bar and Grille Sunman IN. 6pm-9pm
Spungewurthy
Friday at 9:30 Wings Vandalia
Michelle Robinson Band
Saturday at 10:30pm Shiners on the Levee
Mojo Rizin
Mad Hatter
Friday at the Phone Booth Lounge 8pm
Party Punch
Saturday at Wings Vandalia 9:30pm
Retrobution
If you would like to have your musical act featured on our weekly podcast or in Warren County Post contact us @Hall Around Town Radio on Facebook! For additional Band information follow our daily Facebook "Live at Five" program @Hall Around Town Radio