Who's Playing Out: Brought To You By Hall Around Town Radio May 18th
Image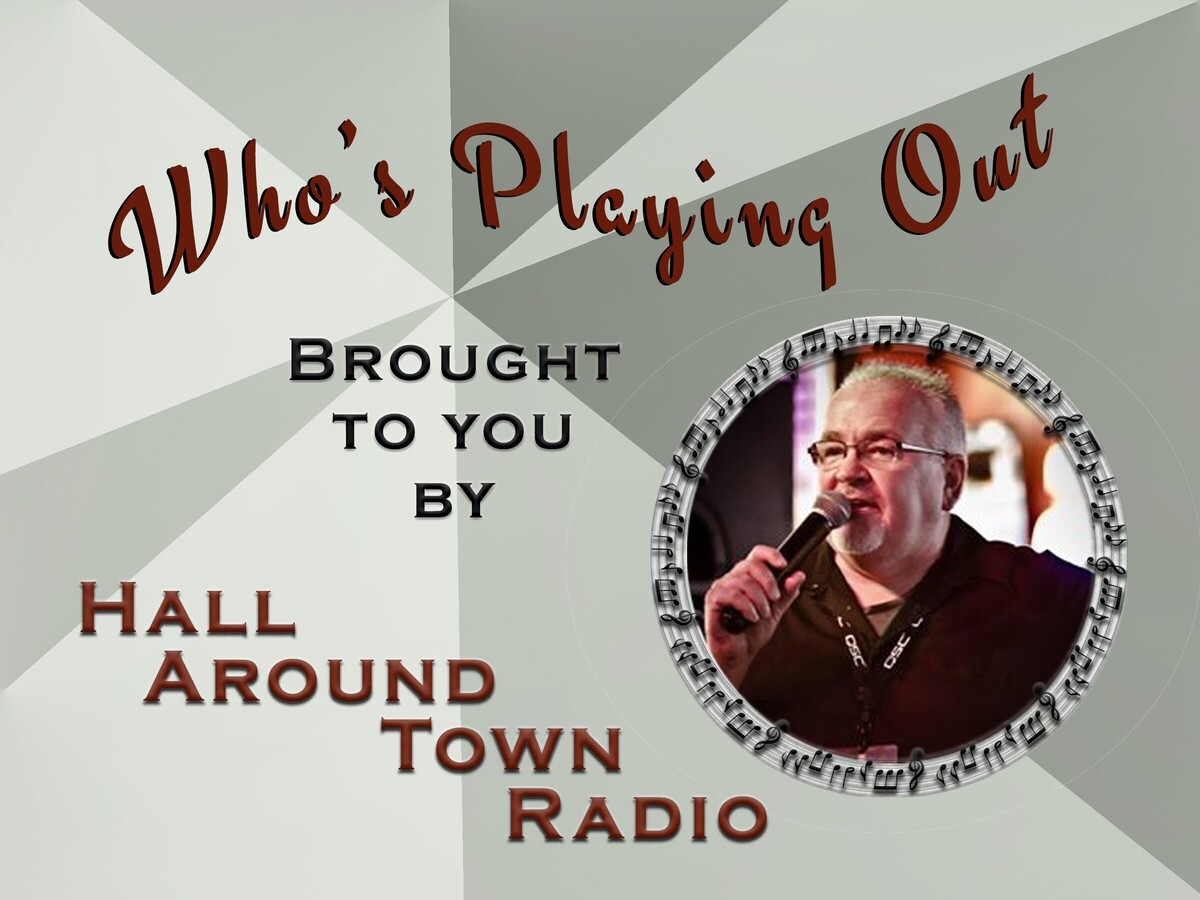 Brought to you by Scott Hall from "Hall Around Town Radio"
A little live music can turn an ordinary day into a memorable experience. The area's top musicians take center stage at some of the tri-states best restaurants and nightspots, bringing live music to our region nearly every night of the week. Make your first stop here weekly to find out "Who's Playing Out" at one of our live local music venues.
Bands and solos brought to you by our friends at Froggy's in Monroe, Ohio and Hall Around Town Radio (follow them on Facebook)
---
Froggy's in Monroe – Sponsor of our Thursday LIVE show on Facebook
Thursday – Patio Party featuring Brett and Dan 5 to 9pm
Friday at 8pm – Wood and Steel Revival
Saturday at 8pm – Rockstar
Tuesday 7pm Frog-ingo, 7:30 Queen of hearts $3300 17 cards left
---
Heathers "On the Patio"
Thursday – Ladies Night 6:30
Friday – Spungewurthy at 7pm
Saturday – Don't Tell Steve at 7pm
Tuesdays – Heathers Bingo & Queen of Hearts
Wednesdays – The award winning - Name That Tune with Scott 7pm
---
Mr. Boro's Tavern Springboro
Thursday – The Wright Brothers Band III 7 to 10
Friday – The Hanky Panks 8 to 11pm
Saturday – A Vicious Cycle 8 to 11pm
Sunday – Funday
Tuesday – "Quiztastic" Q&A Trivia with Scott at 7pm
Wednesday – Queen of Hearts Drawing. 8pm 34K.
---
The Belle & The Bear (Montgomery) - Award Winning
Thursday "The Award Winning Jam" 7:30ish
Friday – Joey Said No at 8:30 pm
Saturday - Crown Watts at 9pm
Monday - Game Night - 6pm
Wednesday – Whiskey Wednesday – Blantons Edition - 7:30 pm
---
Crooked Handle Brewing Co. Springboro
Thursday – Jake "Hambone" Davis – Live 7 to 9pm
Friday – Scott Houchens 7pm to 10
---
Crooked Handle Brewing Co. Piqua
Saturday – The Wright Brothers III Band 6pm to 9pm
---
Soft Rock Café
Karaoke – Thursday- 7:30 pm - Friday 8:30pm - Saturday - 8:30 pm.
---
Pohlman Lanes & Scott's Bar & Grill (Hamilton Ohio)
Family Entertainment Complex 954 Pyramid Hill Blvd., Hamilton Ohio
Friday - Jelly Smooch at 7pm
Saturday – Jason Wilmont Band 7pm
Monday - After Hours Band 7pm
Wednesday - Standard Country Time Band 1pm
---
O'Connors Irish Pub Springfield
Thursday – Open Jam 7 to 10 in the music venue
Thursday - Karaoke 9pm in the dining room
Friday – DJ Back to the 80s at 10pm
Saturday – More than Zero at 9pm
Monday – Trivia with Matt Allen 7pm
Tuesday – Finding Melissa 8pm
Wednesday – Karaoke 10pm
---
Sorg Opera House
Friday Etta May & The Southern Fried Chicks at 8pm
Saturday at 8pm - The Belairs
show tickets available at Cincyticket.com visit SORG page for more info
---
Little River Bar and Grill (Oregonia)
Thursday –– DJ Songz Patioke Party at 7pm Party on the covered enclosed patio
Friday – Everything Hurts at 7pm
Saturday – Jordan Wood Band at 7pm
Tuesday – Little River Bike Night
Wednesday – Singer Songwriter Open Mic 6 to 9pm
---
The Blue Note Harrison
Friday - Adelitas Way & Otherwise! Special pre party in the pub with the New Machine! 6pm
Saturday – Rock Night is ON with Flatline & 1330! Show starts at 6pm.
Tickets available at Cincyticket.com
---
Hidden Gem Music Club
Thursday – Belly Dance by Bronwen 8pm
Friday – Rock Up at 8pm
Saturday – The Luv Locz Experiment with Nasty Bingo at 8pm
Sunday at 7pm – The Dayton Jazz Orchestra
Tuesday – Open Mic Night 7:30PM
---
Lori's Roadhouse
Friday - Chase Rosselot at 4:30
Friday – 4 Low Band at 8pm
Saturday – Matt Stell at 8pm
Tuesday – Line Dancing Lessons 7pm
Wednesday – Boozy Bingo and Karaoke at 6pm plus Queen of Hearts …
---
Miami Valley Gaming
Friday - Everyday People Band 9pm Center Bar
Saturday – Yolo Band 9pm Center Bar
---
Milanos (Miami Township)
Wednesday – Each Week Live Music at 7pm
---
Rex Patrick and the Country Legends Show in Germantown
Saturday – Rick Henderson & The 50 Caliber Band – doors open at 5:30 Music 7 to 10
Reserve your table now 513-594-1282
---
Moe Harrigan's Tavern
Thursday – Jeremiah Throwbridge at 7:30
Friday – Pearl Street 5pm
Saturday – Velvet Crush 8pm
Wednesday – Nick Mitchell 8pm
The Brick Tap and Tavern
Thursday – Scott Houchens LIVE at 8:30pm
Friday – Sonny Moorman Group at 8:30pm
Saturday – Wildcat Road from 8:30 to 11:30
Wednesday – Doug Hart Solo 7:30pm
---
Ricks Tavern
Friday – ?? at 8pm
Saturday – ?? at 8pm
---
KnottyPine
Thursday – Kenny Cowden 7pm
Friday – Lt Dan's New Legs from 9 to 1
Saturday – 90 Proof Twang from 9 to 1
---
Scotty Long / DJ Songz
Thursdays - Little River Oregonia, OH. PatiOKE Party 7pm!
Scheduled Fridays: Township Tavern - Hamilton, OH 8pm Karaoke & Dance Party!
Check out his Facebook pages at Scotty Long or DJ Songz for all Friday night shows!
---
Scott Hall
Tuesday at Mr Boros Taver for Quiztastic Tuesday Trivia at 7pm
Wednesday – Heathers Name That Tune - Weekly Residency 7pm sharp
Bands, Solos, Duos and Events
Spring Fest
Friday - Authorized Personnel 6pm
Saturday – Sarah Horstman, David Thornton, Mandy Jewell, Short of Stable, Benny Bodine and Party Punch 
Sunday – Tesa Marie, Ben & Pete, Heath Bowling and The Jay Clark Band 
Lamar Bliz-nar
Saturday at Tuck-N-Red's in Yellow Springs on Saturday from 6-9pm all ages free admission.
Overdrive
Friday at the Miamisburg Moose 8pm
Lakes Ridge
Saturday at the Miamisburg Moose. 8pm
TIMESTAMP
Friday at "Margarita Madness" event from 5:30-8:30PM. Event is taking place on the Purple Peoplebridge downtown Cincy and is a ticketed event (still tix available).
Crown Watts w/Jim Questa
Saturday - The Belle & The Bear 9:00pm
Joe Cowels
Friday May 19th The Joe Cowels Band at The Grub Pub in Hamilton, 8:30p to 12:30a
Saturday May 20th Joe Cowels solo at Marty's hops and vines, Cincinnati, 8pm to 10:30pm
Monday May 22nd Joe Cowels solo at Joey's Roadhouse 6pm to 9pm
Quintin Fyffe
The 2023 Rock Reunion featuring 8ball, Prankster, Ax-Sent and Lätter May 20th at The Triangle in Greenville Ohio doors open at 6pm first band @ 7!
GAMUT
Saturday - 7pm at Pirates Cove
Whiskey Town
Friday at Jim and Jacks 8pm
Saturday at Williamstown Marina 8pm
Michelle Robinson Band:
Friday from 9-1 at Wings in Vandalia
Saturday from 9-1 at Big Buls Road House
Curt Cranmer Jr.
Saturday - Curt Cranmer Jr and Mac McDaniel at Misery & Jen 8pm
Acoustic Blue
Thursday at Par's Place, Fairfield 6:30pm
Friday at Rick's Tavern, Fairfield 5:00pm (5/19 - my birthday 🥳)
Saturday - Acoustic Blue, Eyes Up Here, and many others at the Kylie Holland benefit 
Johnny Fink
Saturday - Ben Walz cd release show at Southgate house revival 7pm( Johnny in the Ben Walz band and Gina singing backup)
Marsha Brady
Saturday at Latitudes in Anderson Ohio - 8:30pm - 12:30am.
That One Party Band Lite
Saturday at Kroger Anderson Town Center from 12-3
That One Party Band (full Band)
Saturday at Anderson Tap House from 9-1
Jet Pack Academy
Saturday at the FC Cincinnati Pre-Match party in Washington Park, 4:30-7:30
ReDD
Friday at Hamiltons Urban Backyard (H.U.B.) 7-10pm
Carri & Carey (Billy Carri & Carey Hunley)
Thursday at Legends Bar 8-11
Carey Hunley & Chad Hanna
Friday at Township Tavern (formerly Jen's) time TBD
Kevin Cooper
Thurs 5:30pm-9:30pm: The Fun Size at Quaker Steak & Lube Colerain bike night (Dick Stewart filling in for me at B&B Jam tonight)
Fri 8-11pm: The Hanky Panks at Mr. Boro's Tavern
Sat 12-4pm: Kylie Strong benefit at Jim & Jacks with Acoustic Blue, Eyes Up Here, members of DV8 and Black Bone Cat, Gina & Johnny, the B&B Jam house band, and more
Sun 4-8pm: Eyes Up Here at Pirate's Cove
RED HOT RIOT & SOUL CRUSH
Saturday with Gary Griffin of The Brian Wilson Band. Moose lodge-colerain ave- 7:00PM
Cryin Out LOUD
Friday from 7-10:30 at JD Legends
Spungewurthy
Friday at Heathers Café 7pm.
Liars for Hire
Saturday - Dayton Beer Company - 7-11p
Wesley Green
Friday Wes Green acoustic at Franklin Orioles 7-10
Bourbon Road Band
Saturday at the Greene 6-9pm
Kevin McCoy
Saturday CANCELED MONKEY BAR
Sunday-Mr Boros from 2-5pm
Sunday at TRILLIONS Sunday Revival w/ Dallas Moore 6:45pm
Tyler VanB Music
Sunday The Barrel, Spingboro Oh from 4 to 7 PM
The Homegrown Band
Friday - Lucky Star Brewery 8-11
David Thornton
Thurs, 5.18 Jayne's On Main 7-10
Fri, 5.19 at Middletown ELKS LODGE #257 7-10
Sat, 5.20 at Spring Fest in the Burg 1-3
Ben & Pete
Sunday - Spring Fest in Miamisburg at Veteran's Park Sunday 5/21 1:30 to 3:30
Short of Stable
Saturday at Spring Fest 3:30pm
Sunday - Open mic at GTC is still scheduled - being hosted by Junior. 5 to 9pm
Don't tell Steve
Saturday at Heathers from 7-11
Heath Bowling
Thursday 5/18 at Liberty Inn Liberty Twshp, OH 6-10p
Friday 5/19 at Rivers Edge Franklin, OH 8-12
Saturday 5/20 at Bushrod Brew Works Eaton, OH 7-10
Sunday 5/21at Springfest in the Burg Miamisburg, OH 3:30-4
Donna Kennedy Band
Wed May 24 Brookville Amvets 6-10
Chris Lee Acoustic
Sat., May 20 AT Caesar Creek Flea Market Wilmington OH. 11am-3pm
Wed., May 24 AT Little Miami Brewing Co. Milford OH.6:30-9:30pm
Shannon Amber Band
Sat., May 20 The Pink Cowgirl Cedar Grove, IN. 8pm-10pm
Steve Kracus
Friday at Megacorp Pavilion with DV8. 8PM
Until Rust
Thursday 5/18 Elsa's IN Springboro, Oh from 7-10
Friday 5/19 at Hidden valley Orchards Lebanon, Oh from 6-9
Saturday 5/20 at Putter's Liberty Twp. Oh from 7-10
Wednesday 5/24 at Oleary's Centerville, Oh 7-10
Shawn Bell
Saturday 5-20 at Reading FOE 8-12 Reading Oh
Jay Clark Band
Sunday at Spring Fest in the Burg 4-6pm
Velvet Crush
Friday 5/19 at the Phone booth lounge Kettering, oh 8-12
Velvet Crush Unplugged
Saturday 5/20 at Moe Harrigan's tavern Kettering, oh 8-11
Chad Applegate
Thursday at McCoys in Colerain Oh from 7 to 10
Saturday at Rooster Crow is at Borderline in West Harrison IN
Wednesdays 7 to 10 solo at Chiefs Lake in Clarksville Oh
6 String Hustle
Thur 5/18 from 8-11 at The Lounge in Cincinnati, OH
Tues 5/23 from 6-10 at Mutts Main in Middletown, Ohio
Benny Bodine
Friday 5/19 at New Lebanon Public Library 6-8:30 New Lebanon, OH
Saturday 5/20 at Spring Fest in the Burg 6:30-7 Miamisburg, OH
Alex Poteet
Friday 5/19 Linus Tate at The Stadium Bar at Belterra Park 8-11PM Cincinnati, OH
Saturday 5/20 Linus Tate Unplugged at DeShas American Tavern Cincinnati OH 6PM
Sunday May 21st Linus Tate Unplugged at Strawberry Days at Blooms and Berries Farm Market Loveland, OH 1:30PM - tickets needed
Sunday May 21st Alex Solo at Cincinnati Alchemy Festival at Smoke Justis Covington, KY set is at 6:30…tickets needed for the event
Toy Hobbs
Friday - filling in on guitar with Brittany's Lipstick at Keimers Beir Haus in Miamitown 7 - 11
Saturday Rockstar is back at Froggys in Monroe 8 - 12
Courtney Jo Harr
Friday The Courtney Jo Band will be in New Holland, OH 7pm-10pm at Smitty's Tavern & then the
Saturday at the Washington Courthouse Eagles from 7pm-11pm in Washington Courthouse, OH
Cross River Junction
Saturday at Urbana Moose Lodge 7pm
Jim Jones as Elvis
Friday at El Trompo – West Chester 6pm
Jacob William
Saturday at Hidden Valley Orchard 6:30
Dejavu
Sunday at Jim and Jacks 7pm
If you would like to have your musical act featured on our weekly podcast or in Warren County Post contact us @Hall Around Town Radio on Facebook! For additional Band information follow our daily Facebook "Live at Five" program @Hall Around Town Radio.