Who's Playing Out: Brought To You By Hall Around Town Radio August 31
Image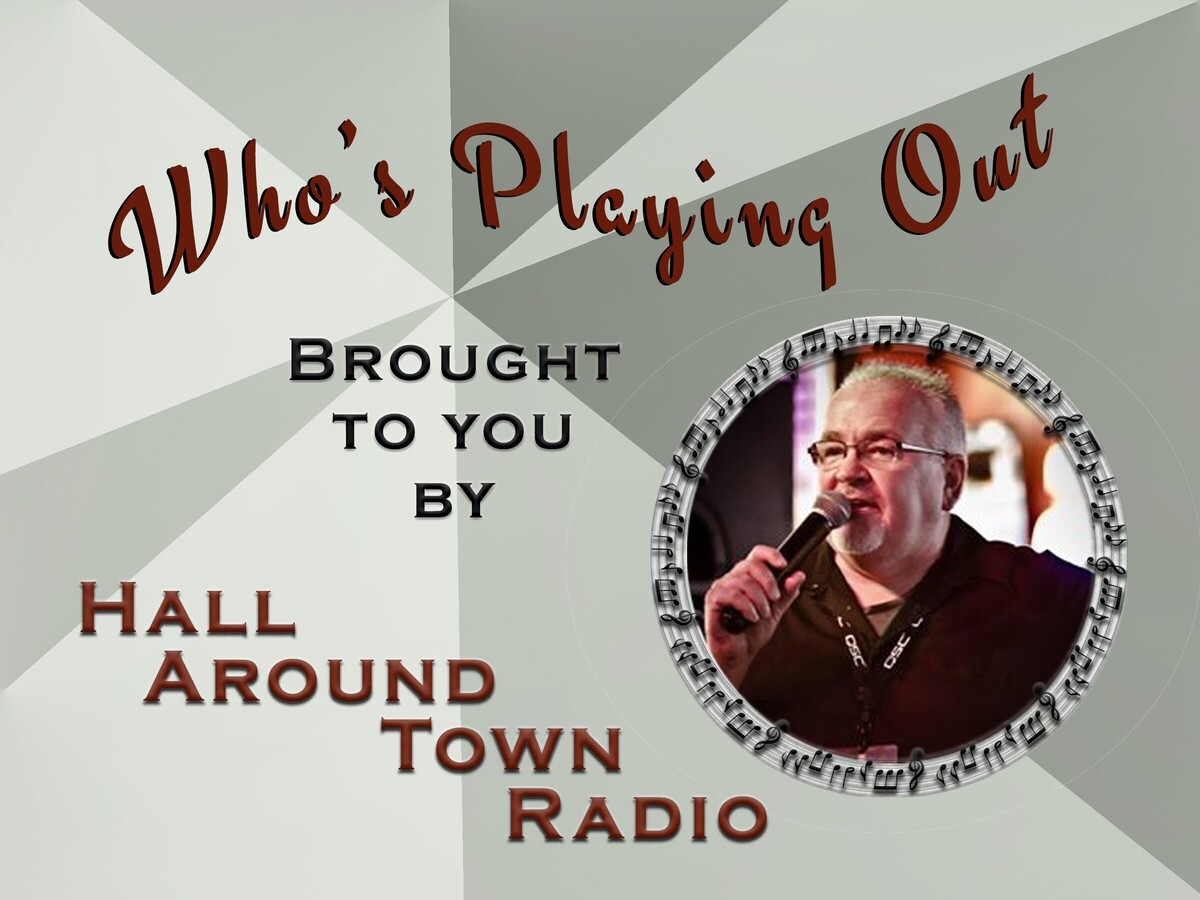 Brought to you by Scott Hall from "Hall Around Town Radio"
A little live music can turn an ordinary day into a memorable experience. The area's top musicians take center stage at some of the tri-states best restaurants and nightspots, bringing live music to our region nearly every night of the week. Make your first stop here weekly to find out "Who's Playing Out" at one of our live local music venues.
Bands and solos brought to you by our friends at Froggy's in Monroe, Ohio and Hall Around Town Radio (follow both on Facebook)
Froggy's in Monroe – Sponsor of our Thursday LIVE show on Facebook
Thursday – TAPS – Tursday Acoustic Patio Sessions – Joe Jordan 6 to 10
Friday at 8pm – No Band
Saturday at 8pm – Miss Jacque Labor Day Party
Open at 3pm on Monday
Tuesday 7pm Frog-ingo, 7:30 Queen of Hearts –at $700
Wednesday – Jeep Night (Collect Frogs) from 6 to 10pm Patio with Kevin Cooper
Check out the expanded patio! Live and Follow Froggys on Facebook
---
Heathers "On the Patio"
Thursday – "5 Band" at 6:30
Friday – Truk at 7pm
Saturday – Homegrown Band at 7pm
Tuesdays – Heathers Bingo 7pm
Wednesdays –Name That Tune Trivia with Scott 7pm - Resrvations Reccomended
---
Mr. Boro's Tavern Springboro
Thursday – Benny Bodine 7 to 10pm
Friday – The Inturns 8 to 11pm
Saturday –Rock Bottom at 8pm
Sunday Funday - TBA from 3 to 6pm
Tuesday – "Quiztastic" Q&A Trivia with Scott at 7pm
Wednesday – Queen of Hearts Drawing. 8pm 40K.
---
The Belle & The Bear (Montgomery) - Award Winning
Thursday "The Award Winning Jam" 7:30ish with guest Host Johnny Fink and the Faded Cow
Food Truck
Friday – Linus Tate at 8:30 pm
Saturday - In Real Life at 8:30 pm
Sunday – Kara Grainger With Vudu Childe
Monday - Game Night - 6pm
Tuesday – "Singo" 7 to 9pm
Wednesday –- Rick Kern at 8pm
---
Crooked Handle Brewing Co. Springboro
Thursday – Lyndsey Ellen and the Trackhounds 6pm
Sunday – The Music Bingo Show with Todd Moore 6pm
---

Crooked Handle Brewing Piqua
Thursday – Bike Night 6pm
Friday – Steven "Crash" Worley 6 to 9pm
Saturday – Nothing But Treble 6 to 9 pm
---
Soft Rock Café
Karaoke – Thursday- 7:30 pm - Friday 8:30pm - Saturday - 8:30 pm.
---
Hamilton's Urban Backyard
Friday – Eyes Up Here at 7pm
Saturday –Haze Effect Solo at 7pm
Tuesday – Turntable Tuesday All Vinyl with host Hollewood
Wednesday – Team Tune Trivia 7pm
---
Pohlman Lanes & Scott's Bar & Grill (Hamilton Ohio)
Family Entertainment Complex 954 Pyramid Hill Blvd., Hamilton Ohio
Friday - Jim Burns Band 7pm
Saturday – Joe Cowels Band 7pm
Monday – OFF - The After Hours Band at 7pm
Wednesday – OFF - nThe Standard Country Time Band at 1pm
---
O'Connors Irish Pub Springfield
Thursday – Open Jam 7pm
Thursday – Karaokre in the dining room at 9pm
Friday – No Entertainment
Saturday – No Entertainment
Monday – Closed
Tuesday – TBA
Wednesday – Karaoke dining room 10pm
---
Sorg Opera House
No Music Shows this Weekend 
Friday September 8th – The Oak Ridge Boys
Future Show Tickets available at Cincyticket.com visit SORG page for more info
---
The Heights Summer Music Series at Eichelberger
---
Little River Bar and Grill (Oregonia)
Thursday –– DJ Songz at 7pm
Friday – 2 Wheels Down at 7pm
Saturday – Element 3 7pm
Tuesday – Queen of Hearts Drawing
---
Miami Valley Gaming
Friday - Live Music 9pm Center Bar
Saturday – Live Music 9pm Center Bar
---
The Blue Note Harrison
No Shows this Weekend – Future Show Tickets available at Cincyticket.com
---
Hidden Gem Music Club
Thursday – Adam West and the Beez Knees 7pm,
Friday – Desalitt - Xero Hour - Forge The Sun - Wayward Home for Lost Souls 8pm
Saturday – Sat 9/2 5pm Disco's Summer Soirée with Dustin Smith and the Daydreamers, Tonal Society, Cat Nap, Eyeris Wide, MoonBro 8pm
Sunday at 7pm – Charlie Parker Tribute with the Burns/Lechliter/Berg/Leslie quartet
Tueday - Open Mic Night 7:30PM
---
Lori's Roadhouse
Thursday –Boozy Bingo 6pm plus Queen of Hearts
Friday – Rayne Johnson at 8pm
Saturday – Danny Frazier at 8pm
Tuesday – Line Dancing Lessons 7pm
Tickets at LRHLIVE.com
---
Milanos (Miami Township)
Wednesday – Live Music at 7pm
---
Rex Patrick and the Country Legends Show in Germantown
Saturday – Standard Country Time Band …. doors open at 5:30 Music 7 to 10
Reserve your table now 513-594-1282
---
Moe Harrigan's Tavern
Thursday – Velvet Crush Unplugged 7:30
Friday – John and Jordan 8pm
Saturday – Scott Houchens and Reyna Spears 8pm
Wednesday – Nick Mitchell 8pm
---
The Brick Tap and Tavern
Thursday – Mike Willis 8pm
Friday – Music Bingo at 8:30pm
Saturday – Acoustic Jr and Guitar Mike 8:30 to 11:30
Wednesday – Doug Hart Solo 7:30pm
---
Ricks Tavern
Friday – Jamison Road at 8pm
Saturday – DJ at 8pm
---
KnottyPine
Thursday – Mitch Greve at 7pm
Friday – Final Order at 9pm
Saturday – Top This Band at 9pm
---
Scotty Long / DJ Songz
Thursdays - Little River Oregonia, OH. Hawaiian Luau Party 7pm!
Saturday - at the Township Tavern Karaoke Party 8pm
Check out his Facebook pages at Scotty Long or DJ Songz for all shows!
---
Scott Hall
Tuesday at Mr Boros Tavern for Quiztastic Tuesday Trivia
Wednesday – Heathers Name That Tune – Week 19 7pm sharp RESERVATIONS AVAIL
Bands, Solos, Duos and Events
Rivers Edge – Hamilton - 116 Dayton Street in Hamilton
Thursday – Billy Rock opening Act at 7pm
Headliner Satisfaction International – "Stones Tribute Show" 8:30pm
RiversEdge 116 Dayton St Hamilton Ohio Free Show
Taylor Shannon Tribute Album Fundraiser Show
Friday - Featuring acoustic performances by Danny Frazier, Kevin McCoy, Chris Scott, Ryan Brewer with Brian & Michele DeBruler, Mike Reeder and closing with the Mason James Band.
LOST BRIDGE BEVERAGE CO. In North Bend, OH - Music starts at 7
Heath Bowling
Thursday - Fairfield Pub from 8-11 Fairfield, OH
Friday - Bradford Care Center from 1230-2 in Hamilton, OH
Friday - Cadillac Jacks from 9-1 in Shelbyville, IN
Saturday at Jaynes on Main from 7-10 in Miamisburg, OH
Tuesday with Route 88 for Music in the Park Wright Station (In front of warped wing) 7-9p Springboro
Junior and Guitar Mike
Thursday - 7pm at Elsa's in Springboro
My Day Off Band
Saturday at VFW Cabana on the Whitewater Rock-Blues-Food Truck Festival. Free admission! Music starts at 3PM. Food, drinks, fun featuring Jay Schulte, Randy Peak, Jamie Carr Band, Jay Jesse Johnson and My Day Off Cincy
Tim Blankeny
Saturday - Tim Blakeney Solo at the Avenue from 7 to 10 in Lebanon
Monday Night Open Mic at Billy's Burgers and Beers Columbus Ave Lebanon 6pm
Ghost Train
Saturday at Kettering VFW 7:30 pm and open to the public
Ashley Knapp
Thursday (Ashley Paige Band) will be performing at Village Station Bar & Grill in Carlisle, 5-8pm at the carshow - this is not the full band but 3 members Ashley, Jason Roy & Greg Goforth
Grocery Store Vodka
Saturday at Little York Tavern from 8:00-12:00
The Weekend Effect
Saturday at Froggy's By the Lake from 2-6pm.
Spungewurthy
Saturday at Alterfest from 8-1030
Ben & Pete
Friday at Jayne's On Main/Miamisburg, 7:30 to 10:30 PM
-Kevin McCoy Band-
Saturday – at Hollywood Casino Lawrenceburg, Indiana Show Starts @ 8pm
Chris Lee Acoustic
Saturday, at Streetside Brewery Cincinnati OH. 7pm-10pm
Michelle Robinson Band
Sunday at St John Neumann Festival 7-11
David Thornton
Thursday from 7:00-10 at Jayne's On Main in (Miamisburg)
Friday from 7:00-10at Putters Sports Grill (Liberty)
Saturday from 7:00-10 at The Swire Inn (Middletown)
Wednesday from 7:00-10 at Milanos Pizza & Subs (Miami Township)
Until Rust
Friday at The Hitching Post in Darrtown, Oh 7 - 11
Saturday at Hidden Valley Orchards in Lebanon, Oh 6 - 9
Monday at "Holiday At Home" the Fraze Pavillion Kettering, Oh. From 3 - 5
Truk
Friday at Heather's from 7-11
6 String Hustle
Friday 6SH Full Band from from 9-12 at O'learys Pub in Centerville, Ohio
Saturday 6SH Full Band from 7-11 at Hitching Post Saloon in Oxford, Ohio
Sunday 6SH Full Band from 7-11 At Skippers River Café New Richmond, Ohio
Benny Bodine
Jacob William
Thursday at the Liberty Inn from 6-10
Friday at Walnut Hills Farm from 3:30-7:30
Wednesday at VOA Lodge from 6-9pm
Chad Applegate solo
Friday September 1st at Putters Maineville 7 to 11
Every Tuesday at Everybodys Pub in Goshen OH 7 to 10
Every Wednsday at Hanks in Mount Carmel from 7 to 10
- Vinyl Countdown -
Saturday at The Monkey Bar & Grille from 7-11 PM
Latter
Saturday at Duckfoots in Celina Ohio at 8pm
Sujnday at Froggy's up at Lakeview Ohio 7:30
Linus Tate
Friday at the Belle and the Bear Montgomery, OH 9PM
Saturday at Arlin's Bar and Garden Clifton Cincinnati 10PM
Velvet Crush Unplugged
Thursday at Moe Harrigan's Tavern Kettering oh 7-10
Velvet Crush
Saturday - Wedding at the Frick in Pittsburgh, PA
Rick Kern
Friday 9/1 Rapid Fire (Judas Priest tribute) with Wrecking Crue (Motley Crue tribute), The Depot - Greenfield, IN, 6:00-10:00
Joe Cowels
Friday the Fairfield pub - full band 8PM
Saturday at Pohlman Family Entertainment Complex - full band 7PM
Sunday at Streetside Brewery - Solo 3PM
Tuesday at World Of Golf Florence - Full Band 7PM
Kevin Cooper
Thurs 730-1130pm: B&B Jam – Johnny Fink covering for Kevin
Thurs 530-930pm: The Fun Size at Quaker Steak Colerain
Fri 7-10pm: Eyes Up Here at Hamilton's Urban Backyard
Sun 4-8pm: Eyes Up Here at Pirates Cove (2nd Sunday in a row)
Wed 6-10pm: Kevin Cooper solo at Froggys
THE GAMUT—
Friday 9/1 Pirates Cove Tropical Bar 7-11pm
Sweet Sister Mercy
Sunday at St. Cecilia's Independence Ky. W/ jack Russell's Great White
Dat Band
Sunday at 16 Lots Southern Outpost WEBN Fireworks viewing party Newport On The Levee
BillyRock Band
Thursday 7pm River's Edge Concert Series
Whiskey Town
Friday at Hammy's 8-11,
Saturday at Williamstown Marina 8-12
The Whammies:
Thursday at Newport on the Levee 7-9
Friday at Turfway Bourbon and Brew from 8:30-11:30
Audio Graffiti
Friday at Hollywood Casino Lawrenceburg 8:00-11:30
Saturday at Manhattan Harbor 9:00- Midnight
Marsha Brady
Saturday September 2nd - Acheson's Resort - Indian Lake Ohio - 3pm - 7pm
Sunday September 3rd - WEBN Fireworks - Riverfest West - Mt Echo Park, Cincinnati - 6pm - 9pm
Johnny Fink
Thursday 8/31 co hosting BBjam( filling in for Kevin C)
Adam West and the Beez Kneez
Thursday at the Hidden Gem starting at 7 $5 cover with Zane Gerlach opening
Friday Miamisburg Moose 8-11, must be a member or guest of a member.
RED HOT RIOT-
Friday and Saturdahy at Moose Middletown -8:00 PM
If you would like your band or musical act featured on our weekly podcast or shared in the Warren County Post contact us @Hall Around Town Radio on Facebook! For additional Band information follow our daily Facebook "Live at Five" program @Hall Around Town Radio
More News from Springboro