Who's Playing Out: Brought To You By Hall Around Town Radio September 21
Image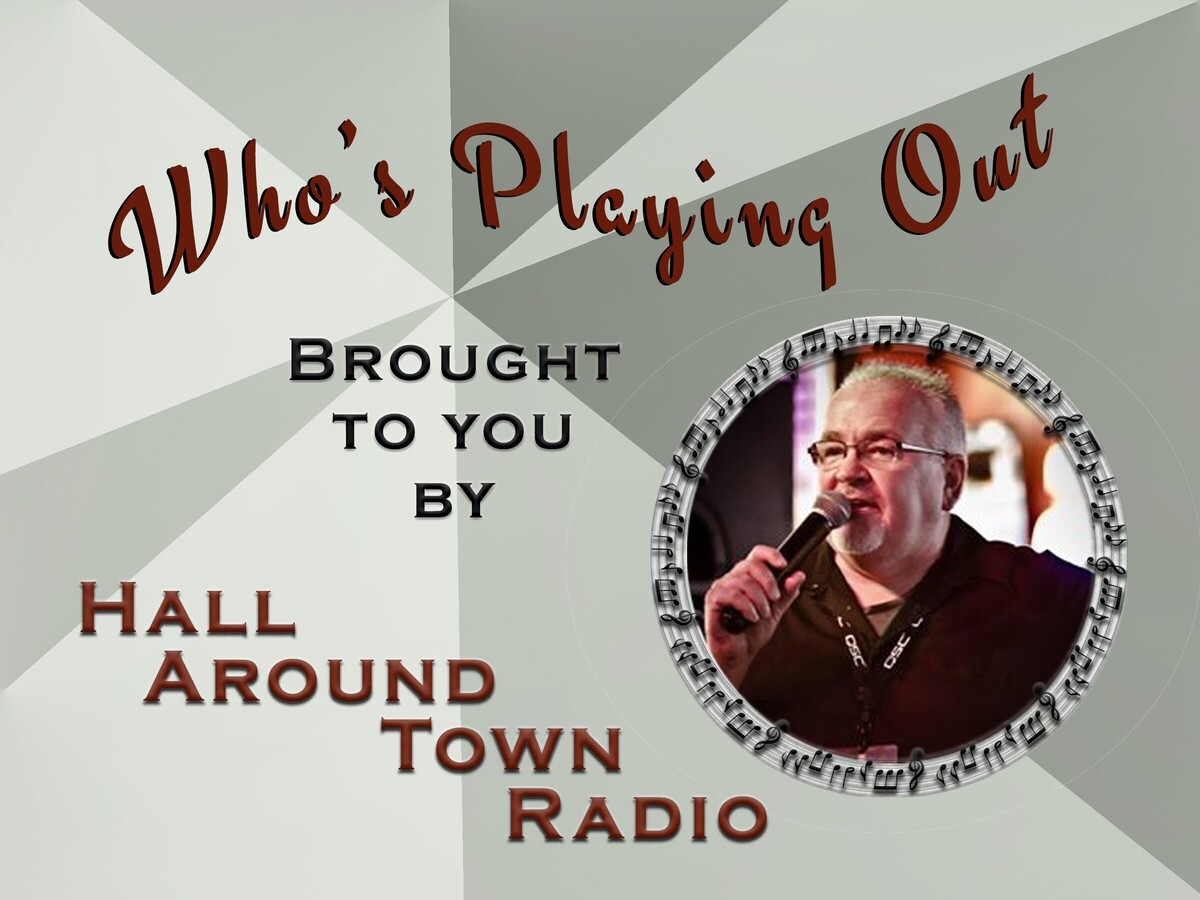 Brought to you by Scott Hall from "Hall Around Town Radio"
A little live music can turn an ordinary day into a memorable experience. The area's top musicians take center stage at some of the tri-states best restaurants and nightspots, bringing live music to our region nearly every night of the week. Make your first stop here weekly to find out "Who's Playing Out" at one of our live local music venues.
Bands and solos brought to you by our friends at Froggy's in Monroe, Ohio and Hall Around Town Radio (follow both on Facebook)
Froggy's in Monroe – Sponsor of our Thursday LIVE show on Facebook
Thursday – TAPS – Tursday Acoustic Patio Sessions – Chris Lee 6 to 10
Friday at 8pm – Lori's Secret
Saturday at 8pm – Marshall HiWatt
Sun 1p- 9 benefit and Celebration of life for Randy Reigelsperger. Well known drummer for many local bands over the years. Proceeds to the family for medical and end of life expenses.
1:20- Route 61  
2:40‐ RoadTrip  
4:00‐ Stone Mountain Mafia 
5:20‐ Montage 
6:40‐ open jam
Raffle baskets, bake sale, split the pot. Food, drinks. $5 cover, family-friendly event. Musicians that have played with Randy are encouraged to join the jam. Wear your favorite band Tshirts.
Tuesday 7pm Frog-ingo, 7:30 Queen of Hearts – over $1300
Wednesday – Jeep Night from 6 to 10pm Patio with Mike Lieser
Check out the expanded patio! Live and Follow Froggys on Facebook
---
Heathers "On the Patio"
Thursday – Heather Lynn Music at 6:30 (Ladies Night in Springboro)
Friday –The Weekend Effect at 7pm
Saturday – The OSU Game on the 120 inch Big Screen at 7pm Give Aways and Specials
Monday - A Night of Music & Fun presented by @twigdaytonchildrenshospital Auxiliary #33 & #10…. Alexis Gomez performing all night
Tuesdays – Heathers Bingo 7pm
Wednesdays –Name That Tune Trivia with Scott 7pm - Reservations Recommended
---
Mr. Boro's Tavern
Thursday - Ben and Pete 7pm
Friday – Last Call with Velvet Crush Unplugged 8 to 11pm
Saturday –Route 88 at 8pm
Sunday NFL Football on Surround
Tuesday – "Quiztastic" Q&A Trivia with Scott at 7pm
Wednesday – Queen of Hearts Drawing. 8pm 43K.
---
The Belle & The Bear (Montgomery) - Award Winning
Thursday "The Award Winning Jam" 7:30ish and the Faded Cow Food Truck
Friday – The Ronnie Vaughn Band at 8:30 pm
Saturday - Black Bone Cat at 8:30 pm
Monday - Game Night - 6pm
Tuesday – "Singo" 7 to 9pm
Wednesday –- TBA at 7:30pm
---
Soft Rock Café
Karaoke – Thursday- 7:30 pm - Friday 8:30pm - Saturday - 8:30 pm.
---
Crooked Handle Brewing Co. Springboro
Thursday – Dennis Chrisman 6pm
Friday – Harold Hensley 6pm
---
Crooked Handle Brewing Piqua
Friday – The Chris Arellano Band 6 to 9 pm
Saturday – Until Rust 6pm
---
Hamilton's Urban Backyard
Friday – Tommy and HUB at 7pm
Saturday – Bill Klaber & The Bergstrasse Boys 7pm
Sunday - Butler Tech Arts Junior's Jam 2pm
Tuesday – Turntable Tuesday All Vinyl with host Hollewood
Wednesday – Team Tune Trivia 7pm
---
Pohlman Lanes & Scott's Bar & Grill (Hamilton Ohio)
Family Entertainment Complex 954 Pyramid Hill Blvd., Hamilton Ohio
Friday - The official after hour party for the Big River Get Down
Saturday – The official after hour party for the Big River Get Down
Monday - The After Hours Band at 7pm
Wednesday – The Standard Country Time Band at 1pm
---
O'Connors Irish Pub Springfield
Thursday – Karaokre in the dining room at 9pm
Friday – Conner and Boyz at 9pm
Saturday – OSU Game
Monday – Trivia with Matt Allen 7pm
Tuesday – Lilo at 8pm
Wednesday – Comedy Night 7pm and Karaoke at 10pm
---
Sorg Opera House
Saturday – Big Bad Voodo Daddy at 8pm
Show Tickets available at Cincyticket.com visit SORG page for more info
---
Little River Bar and Grill (Oregonia)
Thursday –– DJ Songz at 7pm
Friday – Tennessee Outlaw Country at 7pm
Saturday – Stone Mountain Mafia 7pm
Tuesday – Bar Bingo Queen of Hearts Drawing
---
The Blue Note Harrison
No Shows this weekend – Future Show Tickets available at Cincyticket.com
---
Milanos (Miami Township)
Wednesday – Shane DeMoss at 7pm
---
Miami Valley Gaming
Friday - Richard Lynch Band 9pm Center Bar
Saturday – Jake Owens – 9pm Center Bar
---
Hidden Gem Music Club
Thursday – James Gaiters MUV – Ment 7pm,
Friday – Soul Express 8pm
Saturday – Sayceeofdreams and Niesa 7pm
Sunday at 7pm – Mike Wade's Nasy Natti Brass Bnd
Tueday - Open Mic Night 7:30PM
---
Lori's Roadhouse
Thursday –Football
Friday – Dave Campbell II at 4:30pm
Friday – The Pontunes at 8pm
Saturday – 4 Low at 8pm
Sunday – Football
Tuesday – Line Dancing Lessons 7pm
Tickets at LRHLIVE.com
---
Rex Patrick and the Country Legends Show in Germantown
Saturday – Terry Lee Ridley – Million Dollar Band …. doors open at 5:30 Music 7 to 10
Reserve your table now 513-594-1282
---
Moe Harrigan's Tavern
Thursday – John Arnold 7:30
Friday – Sean Lamb Janet Miller Band 8pm
Saturday – Tony Peters 8pm
Sunday – Open Mic with Acoustic Junior 7pm
Wednesday – Nick Mitchell 8pm
---
The Brick Tap and Tavern
Thursday – Rick Sylvester 8:30pm
Friday – Pandora Project at 8:30pm
Saturday – OSU Football 7pm
Wednesday – Doug Hart Solo 7:30pm
---
Ricks Tavern
Friday – Miss Jacque at 8pm
Saturday – Brittany's Lipstick at 8pm
---
KnottyPine
Thursday – Kenny Cowden at 7pm
Friday – 90 Proof Twang at 9pm
Saturday – Lt Dans New Legs at 9pm
---
Voodoo Brewing:
Friday - Sugar & Spice acoustic duo 6-9pm!
Tuesday Karaoke with Rae Renee 7pm
---
Scotty Long / DJ Songz
Thursdays - Little River Oregonia, OH. Party 7pm!
Friday and Saturday at the Township Tavern @ 8pm
Check out his Facebook pages at Scotty Long or DJ Songz for all shows!
---
Scott Hall
Tuesday at Mr Boros Tavern for Quiztastic Tuesday Trivia
Wednesday – Heathers Name That Tune – Week 21 7pm sharp RESERVATIONS AVAIL
Bands, Solos, Duos and Events
Rivers Edge – Hamilton David Shaw's Big River Get Down September 22 & 23 Friday and Saturday
FRIDAY
9:30pm |St. Paul & The Broken Bones
8:00pm | Drew Holcomb & The Neighbors
6:30pm | Celisse
5:00pm | Hans Williams
4:00pm | Doors Open
---
Friday Midnight Sessions At Pohlman Lanes Entertainment Complex
11:59pm - Hans Williams. *Midnight Sessions | ages 21+
SATURDAY
9:30pm | The Revivalists
8:00pm | Durand Jones
6:30pm | The Band of Heathens
5:00pm | Black Joe Lewis
3:30pm | Jake Kohn - Solo
2:30pm | Doors Open
---
Saturday Midnight Sessions at Pohlman Lanes Entertainment Complex
11:59pm | Black Joe Lewis. *Midnight Sessions | ages 21+
---
Pauly and The Fall From Grace
Friday at Gano Tavern, 7-11
Saturday at Satch's Bar & Grill in Trenton, 8-12
Side piece
Saturday at Hidden Valley Orchards from 6:30 to 9:30 playing an unplugged set
Acoustic Junior
Friday at The Fairborn Moose Lodge 1068 - 7:30pm with Sarah Denny
Visitor
Thursday at the Oxford Pub 9pm
Rick Henderson & The .50 Caliber Band
Friday - Thousand Trails Campground, Wilmington, 7:00 - 10:00
Saturday - Applefest, Lebanon, 3:30 - 6:30
Country Legends Band
Saturday at Lebanon Applefest. performing from 12:00-2:30pm.
DV8
Friday at the St. Agnes OktoberFest, 1680 Dixie Hwy, Fort Wright, KY
Saturday at Land of Illusion 8762 Thomas Rd, Middletown, OH 45042, Saturday 9/23/23
Until Rust
Friday at Putter's in Liberty Township, Oh 7-10
Wednesday at Milano's in Miami Township, Oh 7-10
Shane deMoss
Saturday at Crooked Handle in Piqua, Oh from 6-9
Benny Bodine
Friday at Hidden Valley Orchards from 6:30-9:30 in Lebanon, OH
Saturday at O'Leary's Pub & Grub from 8-11 Centerville, OH
Wednesday at Elsa's from 7-10 Springboro, OH
Chad Applegate
Saturday at Little Miami Brewing Company from 7 -10
Chad Applegate solo Every Tuesday at Everybodys Pub in Goshen OH 7-10
Chad Applegate Solo Every Wednsday at Hanks Pub in Mt Carmel from 7-10
Ashley Paige Band (Ashley Knapp)
Thursday from 8-11 at The Lounge Cincinnati, Ohio
Sunday from 4-7 Jasper Kitchen + Bar Xenia, Ohio
Vinyl Countdown 
Thursday at Cold Spring Summer Concert Series 7-9:30
Saturday at VFW's Cabana on the Whitewater from 8-12
Sweet Sister Mercy
Saturday at Jimmy B's bar and grill on Cincy's east side 9:30 PM to 1:30 AM
Kevin Cooper
Thursday from 730-1130pm: Belle & Bear Jam. Johnny Fink filling in for Jamie Combs as co-host
Friday from 8pm-12am: The Hanky Panks at Trillions
Saturday from 11am-130pm: Eyes Up Here at Sonder Brewing (Mason) for Sonder & Friends Oktoberfest 5K event, supporting the Greater Project organization
Joe Cowels
Friday - Solo At Marty's Hops And Vines 8pm-10:30pm
Saturday - Full Band At Streetside Brewery 7pm-10pm
Sunday - Full Band At Snappers Saloon 2pm-6pm
Rick Kern
Saturday with Black Bone Cat at The Belle & The Bear 9:00 p.m. - 1:00 a.m.
Sunday - Kern & Wade, Kriemer's Bier Haus 4:00 - 8:00pm
Brandy and The Beard
Friday at The Pirates Den from 8:30-12:30
CFG & the Family
Saturday at North Second Tap and Bottle Shop in Hamilton, Big River Get-down after party 9-1
Dat Band
Friday 9/22 at Club Trio 8:00pm
That One Party Band
Thursday 9/21 TOPB lite will be at the Fairfield Pub with our acoustic dance party 8-11
Friday, 9/22 full band will be at The Fairfield Pub 9-1
Johnny Fink
Thursday - Johnny Fink co-hosting Belle & Bear jam
Friday - Gina and Johnny duo at Grandview tavern 7pm.
Saturday - Gina and Johnny duo at Metamora/Columbia st music fest 530pm
Under The Sun
Saturday at Kreimer's from 7-11pm
Heard Floyd and The Walkman
Saturday at Elemental Eatery 7 to 11pm
ReDD
Saturday at The Bar & Grill , 8-11pm
Marsha Brady
Saturday - Felicity Gourd & Harvest Festival - Felicity Ohio - 8pm - 11pm
Partytown
Saturday - at Jocko's Pub 9-1
Cryin' Out LOUD
Friday at The Barrel in Springboro 8-12
Liars for Hire
Saturday the Ohio St. - Notre Dame pre-game tail gate party at Kettering VFW Saturday 9/23 5pm until game time and again at halftime.
The Weekend Effect
Friday at Heathers in Sprinboro from 7pm-11pm.
Saturday at the Dayton Art Institute Octoberfest from 4pm-7pm.
Wesley Green
Thursday with the Bourbon Road Band at Liberty Center from 6-9
Friday - Wes Green Acoustic at the Franklin Orioles from 7-10
Donna Kennedy Band
Saturday at Union Village, Lebanon 6-8:30
Heath Bowling
Thursday at the Liberty Inn 6:30-10:30 in Liberty Township, OH
Friday at Knollwood Tavern 9-12 in Beavercreek, OH
Ben & Pete
Thusday at Mr. Boro's from 7 to 10 PM
Ben & Adam
Friday at Lucky Star Brewery from 8 to 11 PM
David Thornton
Thursday at Jayne's On Main from 7:00-10
Friday at Franklin/Springboro Public Library Grand Opening 3:30-6
Spungewurthy
Friday at Wings Vandalia – 9pm
Sunday at Dayton Art Institute Oktoberfest from 5 to 7
Michelle Robinson Band
Thursday Ault Park September Summer Music Festival Series from 6-10
Friday at Turfway opening for Tanya Tucker 7:30 and from 9:30-12:30 at the Bourbon Bar after
Saturday opening for Hunter Girl at Lawrenceburg Fall Fest 5:45
Chris Lee Acoustic
Thursday – Froggys in Monroe OH. From 6pm-10pm
Saturday at Caesar Creek Flea Market in Wilmington OH.11am-3pm
Wednesday at Lucky Turtle in Cincinnati/Finneytown OH. 6pm-8pm
Timestamp
Saturday (debut) at Club Trio 8pm
ZaaZoo
Friday at the Monkey Bar & Grille - 7pm
​Saturday at Pirates Cove - 7pm
Big Trouble Blues Band
Saturday at Silverton Cafe from 8-12 - no cover
Alex Poteet
Thursday at Smoke Justis - Covington, KY 7:30PM
Audio Graffiti
Monday 9/25- Bengals Pregame party 4-8 The Banks Downtown Cincy
The Beez Kneez
Friday at Woolly's 9-11 (trio with Tony Bee and a guest drummer)
Friday at The Phonebooth Lounge in Kettering. 8-12
More than zero
Friday at Little York Tavern 7pm
Ninety-Four.04
Saturday at The Monkey Bar & Grille 1-5pm
Cross River Junction
Saturday at Tomorrows Stars campground 7:30pm
Classic Jam
Sunday at the Germantown Pretzel Festival 3:30pm
Benefit for Nick Giese
If you would like your band or musical act featured on our weekly podcast or shared in the Warren County Post contact us @Hall Around Town Radio on Facebook! For additional Band information follow our daily Facebook "Live at Five" program @Hall Around Town Radio
More News from Springboro