Who's Playing Out: Brought To You By Hall Around Town Radio Oct. 12
Image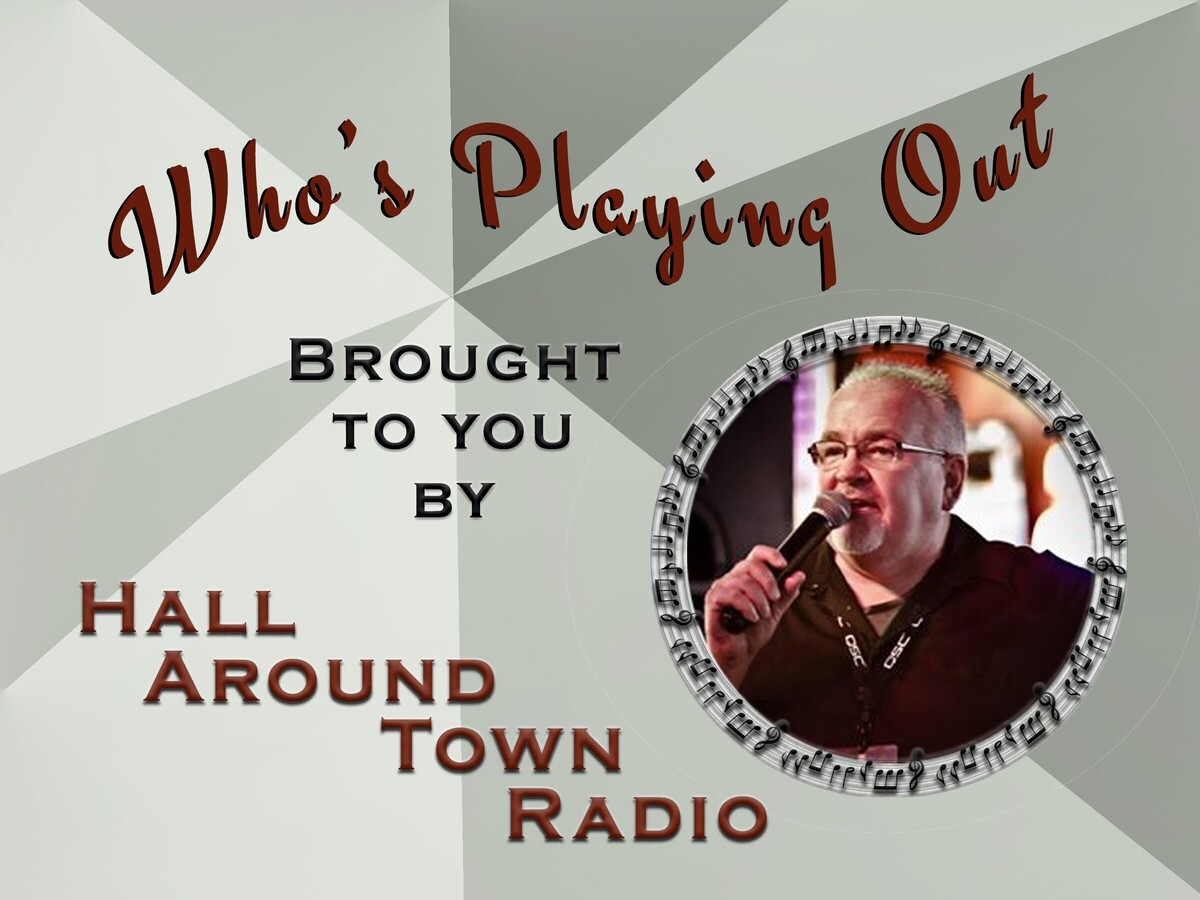 Brought to you by Scott Hall from "Hall Around Town Radio"
A little live music can turn an ordinary day into a memorable experience. The area's top musicians take center stage at some of the tri-states best restaurants and nightspots, bringing live music to our region nearly every night of the week. Make your first stop here weekly to find out "Who's Playing Out" at one of our live local music venues.
Bands and solos brought to you by our friends at Froggy's in Monroe, Ohio and Hall Around Town Radio (follow both on Facebook)
Froggy's in Monroe – Sponsor of our Thursday LIVE show on Facebook
Thursday – Joe Jordan 6 to 10pm
Friday – Black Water Voodo 8pm
Saturday at 8pm – Jet Pack Academy
Sunday - Football and Drink Specials
Monday – Football with Jess
Tuesday 7pm Frog-ingo, 7:30 Queen of Hearts – over $1500
Wednesday – Jeep Night raffle drawing and Halloween party. Dress up your Jeep and come in costume ! Spooky prizes , drink specials and fun !
---
Heathers "On the Patio"
Thursday – David Thornton 6:30
Friday –A Vicious Cycle at 7pm
Saturday – NO LIVE MUSIC Touch Tunes and Ice Cold Beverages
Tuesdays – Heathers Bingo 7pm
Wednesdays – Week 25 - Name That Tune Trivia with Scott 7pm - Resrvations Reccomended
---
Mr. Boro's Tavern – New Menu Items
Thursday - Ashley Martin Acoustic 5:30 to 8pm Footballl at 8:15pm
Friday – Uncle Rico 8 to 11pm
Saturday –Jay Clark Band at 8pm
Sunday NFL Football on Surround
Tuesday – "Quiztastic" Q&A Trivia with Scott at 7pm
Wednesday – Queen of Hearts Drawing. 8pm 45K +
---
The Belle & The Bear (Montgomery) - Award Winning
Thursday "The Award Winning Jam" 7:30ish and the Faded Cow Food Truck
Friday – The Inturns at 8:30 pm
Saturday - Floyd and the Walkman at 8:30 pm
Monday - Game Night - 6pm
Tuesday – "Singo" 7 to 9pm
Wednesday –- Gina and Johnny at 7:30pm
---
Soft Rock Café
Karaoke – Thursday- 7:30 pm - Friday 8:30pm - Saturday - 8:30 pm.
---
Crooked Handle Brewing Co. Springboro
Thursday – Ricky Veeneman 6pm
Friday – Until Rust 6pm
---
Crooked Handle Brewing Piqua
Sunday – The Music Bingo Show with Todd Moore 6:30 pm
---
Hamilton's Urban Backyard
Friday at 7pm Myron Gabbard with the songs of John Prine
Saturday at 7pm Electric Acoustic Duo
Tuesday – Turntable Tuesday All Vinyl with host Hollewood
Wednesday – Team Tune Trivia 7pm
---
O'Connors Irish Pub Springfield
Thursday – Karaoke in the dining room at 9pm
Friday – Route 88 at 9pm
Saturday – DJ Frost 9:30pm
Monday – Trivia with Matt Allen 7pm
Tuesday – Matt Allen 8pm
Wednesday – Comedy Night at 7pm and Karaoke at 10pm
Pohlman Lanes & Scott's Bar & Grill (Hamilton Ohio)
Family Entertainment Complex 954 Pyramid Hill Blvd., Hamilton Ohio
Friday - Joe Auger trio 7pm
Saturday – Indian Creek Band 7pm
Monday - The After Hours Band at 7pm
Wednesday – The Standard Country Time Band at 1pm
Halloween Show with Don't Tell Steve on the 28th Theme is "Freak Show"
---
Sorg Opera House
Saturday – Lightning Express "A Tribute to the Everly Brothers" 8pm
Future Show Tickets available at Cincyticket.com visit SORG page for more info
---
Little River Bar and Grill (Oregonia)
Thursday –– DJ Songz at 7pm
Friday – Linus Tate at 7pm
Saturday – Simple Daze at 7pm
Tuesday – Bar Bingo Queen of Hearts Drawing
---
The Blue Note Harrison
Friday - Demun Jones! Opening the show it's Dusty Leigh! 6pm
Saturday – Taproot and opening the show it's September Mourning - Lydia's Castle & Xero Hour! Rocking in the pub it's Datura!
Future Show Tickets available at Cincyticket.com
---
Milanos (Miami Township)
Wednesday – Live Music with Until Rust at 7pm
---
Miami Valley Gaming
Friday - 3 Day Rule 9pm Center Bar
Saturday – Catalina Wine Mixer – 9pm Center Bar
---
Rex Patrick and the Country Legends Show in Germantown
Saturday – The Standard Country Time Band 7 to 10pm - Doors open at 5:30
Reserve your table now 513-594-1282
---
Hidden Gem Music Club
Thursday – Chris Yakopic at 7pm
Friday – 8pm Glostik, Lizz Vega, Station 432
Saturday – Dayton Salsa Project 8pm
Sunday at 6:30pm – Dayton Jazz Orchestra
Tueday - Open Mic Night 7:30PM
---
Lori's Roadhouse
Thursday –Football
Friday – Lanco 8pm
Saturday – Trae Myers 5:30pm and Blake Tyler at 9pm
Sunday – Football
Tuesday – Line Dancing Lessons 7pm
Wednesday – Karaoke 9pm
Tickets at LRHLIVE.com
---
Moe Harrigan's Tavern
Thursday – John Drake 7:30
Friday – Scott Houchens 8pm
Saturday – John Arnold and Jordan Pike 8pm
Sunday – Open Mic with Acoustic Junior 7pm
Wednesday – Nick Mitchell 8pm
---
The Brick Tap and Tavern
Thursday – Scott Houchens 8:00pm
Friday – Pearl Street at 8:30pm
Saturday – Driving Force at 8:30pm
---
Ricks Tavern
Friday – Acoustic Blue at 5:30 and Soul Quest at 8pm
Saturday – Did Not Report
---
KnottyPine
Thursday – Mitch Greve Cancelled at 7pm
Friday – Flatline at 9pm
Saturday – Top This Band at 9pm
---
Scotty Long / DJ Songz
Thursdays - Little River Oregonia, OH. Party 7pm!
Check out his Facebook pages at Scotty Long or DJ Songz for all shows!
---
Scott Hall
Saturday at Macks Tavern in Centerville for a PRG Benefit … Raffles, Food Truck, 80s and 90s Music plus Music Trivia
Tuesday at Mr Boros Tavern for Quiztastic Tuesday Trivia
Wednesday – Heathers Name That Tune – Week 25 7pm RESERVATIONS Plz
---
Bands, Solos, Duos and Events
Starshine Hospice of Cincy Childrens Hospital
Saturday from 9 to 4 pm at The Acres on Reading Road
Family Fall Festival - Car Show – Raffle Baskets – Silent Auctions – Beer – Food - Music
Operation Pumpkin Hamilton
Friday – Saturday and Sunday - Music Food Crafts – 2 big Stages
Retroactive Band
Saturday at Rising Star Casino, Anchor Lounge 8 to 11 PM
The Filthy Heathens
Friday at Blind Bobs 9pm
Saturday - Downtown Xenia Octoberfest 3:15-5
Saturday at Good time Charlie's in Miamisburg 9pm
After the Party
Thursday at Kriemers acoustic 6 to 10
Saturday at DC roadhouse full band 8 to 12 - Josh's birthday party show
Ninety Four 04
Satrurday at the Talon Tavern 8 to 12
Frayed Covers
Saturday at the Stable Club at Janes Saddlebag 4:00-7:00
Rockstar Band
Friday at Club Trios in Colerain 9pm
Matthew Allen
Tuesday at O'Conner's Irish Pub 8-11pm
Wesley Green
Friday with the BRB Friday 8-12 at the Miamisburg Moose
Ben & Pete
Thursday at The Pub at The Greene 6:30 to 9:30 PM
Ben & Adam
Saturday at The Fall Festival at The Oakwood Farmers Market 9:30 am to 12:30 pm
Spungewurthy
Saturday from 8 to 12 at the Phone Booth Lounge
White Knukle Weekend
Friday from 8-12 at the Phone Booth Lounge
Saturday at the Beavercreek Moose from 7:30-11:30
David Thornton
Thursday at Heather's Café from 6:30-9:30
Liars for Hire
Saturday at Austin Landing Pumpkin Fest 3:30p - 5:30p.
Opening for REO Survivor and Co. Tribute band.
Michelle Robinson
Saturday at Vandalia Fall Fest 12:30-2:45
Saturday ar Operation Pumpkin Festival in Hamilton 8-10
Short of Stable
Sunday at Sugar Mellons in Fairborn 4-8 Highway Hikers MC Annual Toy Run
Chris Lee Acoustic
Thu. Oct. 12 Painted Tree Boutiques Cincinnati OH. 7:30pm-9pm
Fri., Oct. 13 Liberty Farm Market Liberty Twp OH. 7pm-9pm
Sat., Oct. 14 Queen Bee Half Marathon 7pm-9pm
Sun., Oct. 15 Caesar Creek Flea Market Wilmington OH. 11:30am-2:30pm
Tue., Oct. 17 Fairfield Pub Fairfield OH. 7pm-10pm
Uncle Rico
Friday at Mr. Boro's Tavern Friday 10/13 from 8-11PM
Saturday at the Spellbrook-Adult Halloween Party at Bellbrook Park from7-10Pm
Mad Hatter (maybe the last show ever?)
Saturday at JD Legends 8pm
Until Rust
Friday at Crooked Handle Springboro, Oh 6-9pm
Saturday at Jayne's On Main Miamisburg, Oh 7:39-10:30pm
Wednesday at Milano's Miami Twp. , Oh 7-10pm
Chad Applegate solo
Friday at Borderline in West Harrison IN from 10 til 2.
Every Tuesday at Everybodys Pub in Goshen OH 7 to 10
Every Wed at Hanks Pub in Mt Carmel OH from 7 to 10.
Benny Bodine
Thursday at The Liberty Inn from 6-10 in West Chester, OH
Friday at Moeller Brew Barn - Troy, Ohio from 7-10 Troy, OH
Saturday at Brandeberry Winery from 1-4 Enon, OH
Ashley Paige Band
Saturday from 9-12 Fairfield Pub Fairfield, Ohio
Wednesday from 8-11at Olde Village Tavern in West Chester, Ohio
Billy Brown
Friday Oct 13 at 6pm - Boonedocks in Union KY
Saturday Oct 14 at 7pm - Point Arc Benefit at Newport Car Barn in Newport KY
Saturday Oct 14 at 9pm - Big Buls Roadhouse in Hamilton OH
Linus Tate
Friday at Little River Bar and Grill in Oregonia, OH 7PM
Saturday at Operation Pumpkin 2023 Hometown Stage - Hamilton, OH 4:30PM
Saturday at Smoke Justis Covington, KY 7:30PM
Velvet Crush Unplugged
Saturday at Hidden Valley orchards Lebanon oh 630-930
Joe Cowels
Friday October 13th Southern Ohio Brewing Full Band 6pm-9pm
Saturday October 14th Township Tavern Full Band 8pm To Midnight
Kevin Cooper
Thurs 730-1130pm: B&B Jam
Fri 7-11pm: Eyes Up Here at Gano Tavern
Sat 8pm-12am: The Hanky Panks at Riverside Marina (Jonathan Grooms on bass)
Sun 6-10pm: Eyes Up Here at Trillions
Whiskey Town
Friday at Peecox Erlanger 9 to 1
Saturday at Flintlocks 8 to 11
Cfg & the Family
Saturday Oct 14th Operation Pumpkin downtown Hamilton high st. 6:30-8pm
Finding Melissa acoustic.
Friday October 13th Courtyard Lounge Englewood. 9pm
Saturday October 14 Xenia moose. 7pm.
Abe's Lincoln
Friday at Fretboard - Blue Ash 8-11pm.
BillyRock Band
Fridy at 9p Miami Valley Gaming
The GAMUT—
Saturday at Silverton Cafe 8:30pm
Marsha Brady
Thurs Oct 12th - Quaker Steak Colerain - Bike Night Finale' Harley Giveaway - 5:30pm - 9:30pm
Fri Oct 13th - Anderson Tap House - Anderson Ohio - 8pm - 12am
Sat Oct 14th - Jimmy B's - Eastside of Cincy - 9:30pm - 1:30am
Jet Pack Academy
Saturday Froggy's from 8p-12a
Brandy Evans
Friday - Love Unplugged at The Railyard in Sunman IN 7-10pm
Gina and Johnny
Friday full band Belterra Casino 8-11
Johnny Fink
Sat 10/14 Johnny Fink and the Intrusion at Fretboard brewery 8-11
Acoustic Blue Band
Friday at Rick's Tavern - Fairfield, Ohio; 5 to 7pm.
Adam West and the Beez Kneez,
Friday block party Hills and Dales neighborhood in Kettering 6 ish weather permitting.
Margo & Adam
Saturday 9pm at The Blind Squirrel Florence
Jeremiah Throwbridge
Thursday at the Phone Booth Lounge in Kettering 7pm
The SideShow Band
at Desperados in Huntsville, 6pm start.
Classic Jam
Saturday from 1 to 3pm at Pumpkin Fest Austin Landing
The Distance
Friday at Devil wind Brewing Oktoberfest Pre-Party 7 to 10
Jim Jones as Elvis
Saturday at Noon - Treasure Isles Flea Market
If you would like your band or musical act featured on our weekly podcast or shared in the Warren County Post contact us @Hall Around Town Radio on Facebook! For additional Band information follow our daily Facebook "Live at Five" program @Hall Around Town Radio
More News from Springboro