Who's Playing Out Brought To You By Hall Around Town Radio
Image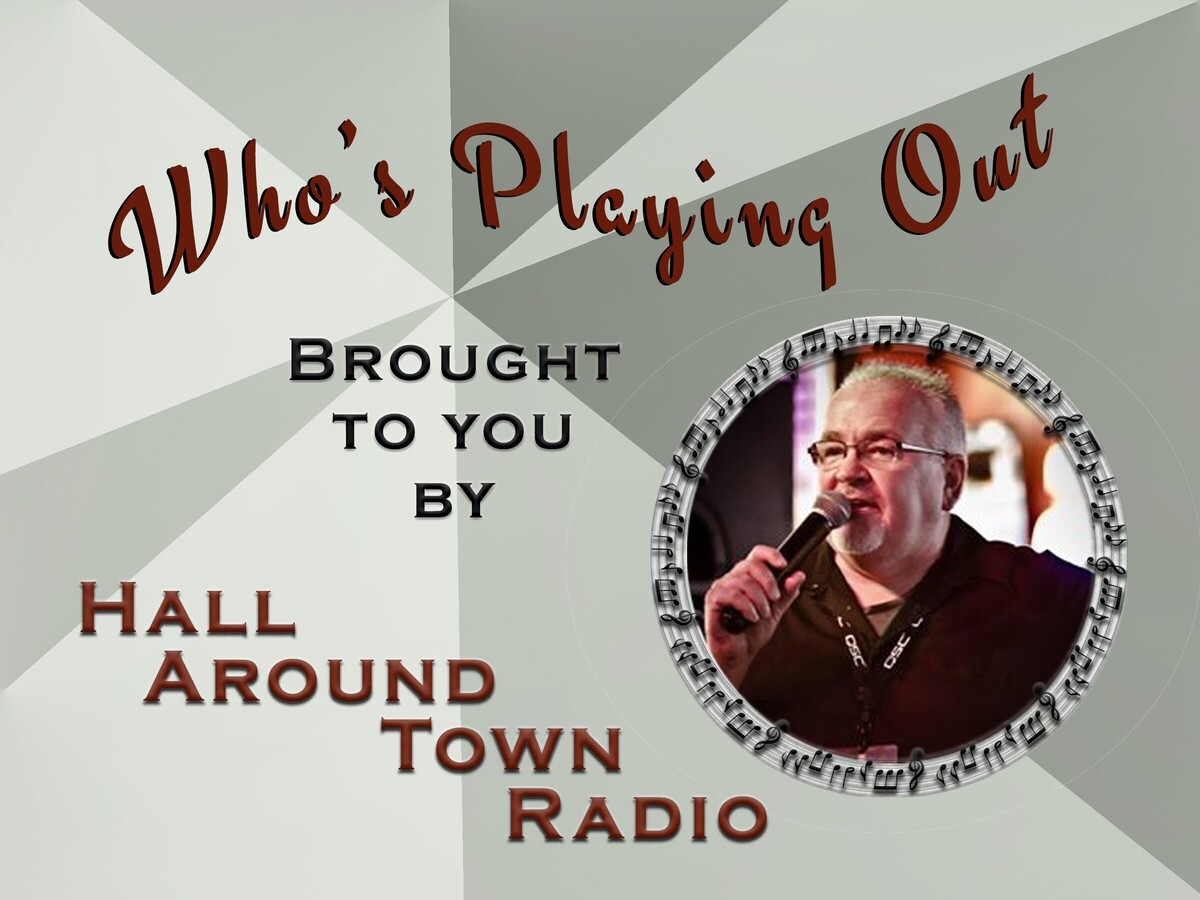 Brought to you by Scott Hall from "Hall Around Town Radio"
A little live music can turn an ordinary day into a memorable experience. The area's top musicians take center stage at some of the tri-states best restaurants and nightspots, bringing live music to our region nearly every night of the week. Make your first stop here weekly to find out "Who's Playing Out" at one of our live local music venues.
SPECIAL NOTE:  WEATHER MAY PLAY A ROLE IF VENUE WILL BE CANCELLED. SHOULD CALL AHEAD OR GO TO VENUE'S WEBSITE TO CHECK.....
Bands and solos brought to you by our friends at Froggy's in Monroe, Ohio and Hall Around Town Radio (follow us on Facebook)
Froggy's in Monroe – Sponsor of our Thursday LIVE show on Facebook Now open at 11am daily.
Friday - Social Chemist ( depending on the weather) 9pm
Saturday - Don't Tell Steve 9pm
Tuesday - 7:30 What's that tune Bingo
Wednesday - 8pm Karaoke with Dj Songz
Online seating reservations / tickets at www.gotofroggys.com
---
Mr. Boro's Tavern Springboro
Thursday – Closed for Weather
Friday – White Knuckle Weekend 8 to 11pm
Saturday – Linus Tate 8 to 11pm
Sunday – Sunday Funday
Tuesday – Trivia with Scott at 7pm
Wednesday – Queen of Hearts Drawing
---
The Belle & The Bear (Montgomery)
Thursday Jam featuring the Cincy area's best musicians- LIVE at 5 –A host of local music celebrities at 7:30 pm
Friday – The Gamut 8:30 pm
Saturday – Miss Jaque 8:30 PM
Monday Game Night 6pm
Tuesday – Jamie Combs 7pm
---
Lebanon Grand Opry House
Saturday –Classic Country Dinner Show with Jessie Lyn and The Opry House Band, Steve Bonafel and Scott Dawson at 6pm
---
Sorg Opera House
Friday – The Wonderlands featuring Abby Holliday 8pm
Saturday – Beatlemania Magic 8pm
Tickets at Cincyticket.com
---
Soft Rock Café
Karaoke – Thursday 7pm - Friday 8pm - Saturday 8:30 pm
---
Crooked Handle Brewing Co.
Friday – Scott Houchens at 6pm
---
Little River Bar and Grill (Oregonia)
Thursday – Karaoke with DJ Songz 7pm
Friday – Thing 1 Thing 2 7pm
Saturday – The Mello Fellows 7pm
---
The Blue Note Harrison
Saturday – Metallica Tribute "Battery" & Pantera Tribute "Walk On Homeboys" Doors at 6PM
Tickets available at …. CincyTicket.com
---
Pohlman Lanes & Scott's Bar & Grill (Hamilton Ohio)
Family Entertainment Complex 954 Pyramid Hill Blvd., Hamilton Ohio
Friday - Rock n Bowl Dj Krutch 7pm to 11pm
Saturday - Michelle Robinson Band 7pm to 11pm
Monday - After Hours Big Band Swing 7pm to 9pm
Wednesday - Honky Tonk Wednesday Standard Country Time Band 1to 3pm
---
Hidden Gem Music Club
Thursday – Blues Jam 7pm
Friday – Snake Oil Revival 7:30pm
Saturday – Fleetwood Dreams 8pm
Sunday – Bright Moments Quartet - Jazz 7pm
Wednesday – Open Mic Night
---
BAABS Bar and Bistro
No Submissions this week
---
Lori's Roadhouse
Thursday – Jake Taylor and Kari Nelson 6pm
Friday – Michelle Robinson Band 9:00pm
Saturday – Kenny Welch Band 6pm
Saturday – Tobi Lee & Mustang Sally
---
Miami Valley Gaming
Friday- Saturday – Live Music – 9pm Center Bar
---
Scott Hall – Hall Around Town Radio
Tuesday Trivia at Mr. Boros Tavern 7pm
---
Scotty Long / DJ Songz
Tonight - Little River B&G 7-11pm
Saturday - The Barrel 7:30pm- close
Sunday - Legends B&G of Hamilton 9pm-close.
Tuesday - The Barrel 7pm-11pm
Wednesday- Froggys 8-12am
---
Bands, Solos and Duos
White Knuckle Weekend
Friday 2/4, 8-11 at Mr Boro's Tavern
Blind Faith Duo
Friday at Little Miami Brewery 7 - 10pm
Wesley Green Music
Thursday - Open Mic Mutt's Brewery and Lounge Thursday 8-12
Friday - Bourbon Road Band at The Monkey Bar 7-11
Saturday with 9eight Central At The Hitching Post 8-12
Heath Bowling
Friday 2/4 Beauty and The Beast Pour Haus 9-1a Centerville, OH
Saturday 2/5 Beauty and The Beast Foleys Irish Pub 8-12a Reading, OH
Sunday 2/6 Open Mic at Good Time Charlies 5-9p. Miamisburg, OH
Tuesday 2/8 Submarine House W/ Benny Bodine 7pm
Wednesday 2/9 Open Mic AJ's Franklin 8-11p Franklin, OH
Thursday 2/10 Fairfield Pub 7-10p Fairfield, OH
Kevin McCoy
FRIDAY KMB Belterra Cincinnati 8-11:30pm
SATURDAY Big Buls 9:30-1:30
David Thornton
Thurs, 2/3 Jayne's On Main (Miamisburg) 7:00-10
Fri, 2/4 The White Dog Distilling Co. & Saloon (Middletown) 7:30-10:30
Sat, 2/5 The Swire Inn (Middletown) 7:00-9
Michelle Robinson
Friday Lori's Roadhouse 9:30-12:30
Saturday Pohlman Lanes 7-11
Ben & Pete:
Friday, Feb. 4 Jayne's On Main in Miamisburg 8:00 to 11:00 PM
Don't Tell Steve
Saturday at Froggys in Monroe 9-1
Jacob William
Friday Feb 4th Franklin Tavern 7-10pm
Until Rust
Friday 2/4 Heroes Pizza Springboro, Oh 7-10
Route 88 Unplugged
Friday 4 Feb 9-1 Courtyard Lounge Englewood, OH
Route 88 Full Band
Saturday 5 Feb 12-2 am Timothy's Dayton, OH
Shawn Bell
Friday Feb 4 - Full band Reading Eagles Reading Ohio
Six String Hustle
Fri 2/4 (Band) 9:30pm - 1:30am Jimmy B's Cincinnati, Ohio
Sat 2/5 (Band) 9:30pm to 1:30am Highway House Cincinnati, Ohio
Wednesday 2/9 6-10 Jimmy B's Cincinnati, Ohio
Truk
Friday, Feb 4 The Barrel 8-12
Latter
Saturday will be at Wings in Vandalia 9:30!
Seiter Haus
Sat 2/5 @ 8PM at the Boardroom
Wed 2/9 @ 8PM at Shortys Pub
Tori Faith
Thursday 2/3 ~ Tori Faith acoustic at The Squeaky Squirrel ~ 8-10pm
Wednesday 2/9 ~ Tori Faith acoustic at The Squeaky Squirrel ~ 8-10pm
Marsha Brady Band
Friday Feb 4 - Knotty Pine
Saturday Feb 5 - Moonbird - Dryridge Ky
Kevin Cooper
Thurs 730-1130pm: Belle & Bear jam
Sat 6-9pm: Eyes Up Here duo at deSha's
Crown Watts
For anyone on vacation in Florida. shows in Cape Coral/Fort Myers:
2/5 - Crossroads
2/8 - Fathoms
2/9 - The Dive
2/11 - Buddha Live
Joe Cowels
Joe C Solo Show at The Kro-Bar, 2/12 & 2/19, 5pm - 9pm
RED HOT RIOT-
Saturday - Silverton Café February 5th, 8:00 pm
ReDD
Saturday at Heroes Pizza - 2/5, 7-10pm
Carey Hunley with Amy Sailor
Friday at The Game - 2/4, 8-11pm
If you would like to have your musical act featured on our weekly podcast or in Warren County Post the contact us @Hall Around Town Radio on Facebook! For additional Band information follow our daily Facebook "Live at Five" program @Hall Around Town Radio