Who's Playing Out Brought To You By Hall Around Town Radio: April 14, 2022
Image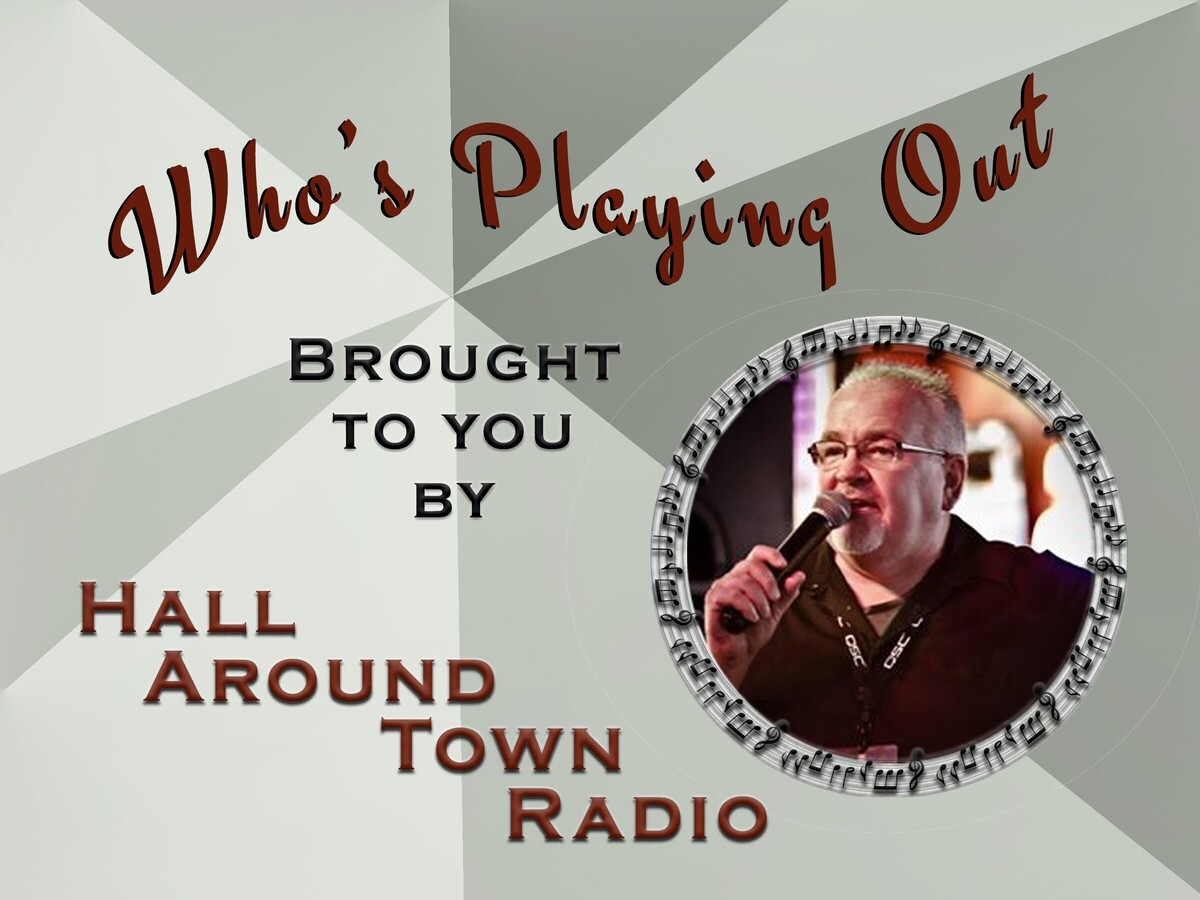 Brought to you by Scott Hall from "Hall Around Town Radio"
A little live music can turn an ordinary day into a memorable experience. The area's top musicians take center stage at some of the tri-states best restaurants and nightspots, bringing live music to our region nearly every night of the week. Make your first stop here weekly to find out "Who's Playing Out" at one of our live local music venues.
Bands and solos brought to you by our friends at Froggy's in Monroe, Ohio and Hall Around Town Radio (follow us on Facebook)
Froggy's in Monroe – Sponsor of our Thursday LIVE show on Facebook
Friday - 4 to 7pm Joe Jordan acoustic
Friday 9pm - Black Violets
Saturday -9pm The Cassette Junkies
Monday - 8pm 8 Ball Tournament
Tuesday- 7:30 What's that Tune Bingo with DJ Angela
Wednesday - 8pm Karaoke with Dj Songz
Online seating reservations / tickets at www.gotofroggys.com
*Froggys is looking for patio acoustic solos or duos, Tues & Weds 6-9p for July thru October. Message the Froggys FB page and include a video of you performing..
---
Mr. Boro's Tavern Springboro
Thursday – 5 Star Day 7pm
Friday – Truck 8 to 11pm
Saturday – Xander Wells 8 to 11pm
Sunday – Closed for Easter
Tuesday – Trivia with Scott at 7pm
Wednesday –Name That Tune with Scott and Queen of Hearts Drawing.
---
The Belle & The Bear (Montgomery)
Thursday "The Jam" featuring a host of local music celebrities at 7:30 pm
Friday – Linus Tate 8:30 pm
Saturday – Crown Watts with special guest Jim Questa 9 PM
Monday Game Night - 6pm
Tuesday –Jamie Combs 7pm
---
Lebanon Grand Opry House
Saturday – The Avalons doors and dinner at 6pm… show at 7pm.
Reservations by calling 513-850-1770
---
Sorg Opera House
No Music Shows this week
Future Show Tickets at Cincyticket.com
---
Soft Rock Café
Karaoke – Thursday 7pm - Friday 8pm - Saturday 8:30 pm.
---
Crooked Handle Brewing Co.
Thursday – Junior 7pm
Friday – Benny Bodine at 7pm
Little River Bar and Grill (Oregonia)
Thursday – DJ Songz – Karaoke at 7pm
Friday – Vaughn Sutherland 7pm
Saturday – Joey Said No 7pm
---
The Blue Note Harrison
Saturday – AC/DC Tribute "Hells Bells" with Guns and Roses tribute "Nightrain International" Doors 6PM Tickets available at …. CincyTicket.com
---
Pohlman Lanes & Scott's Bar & Grill (Hamilton Ohio)
Family Entertainment Complex 954 Pyramid Hill Blvd., Hamilton Ohio
Friday - 9 Eight Central - 7pm to 11pm
Saturday - Rich The Soulman & The Metro City Allstars 7pm to 11pm
Monday Big Band Swing 7pm to 9pm
Wednesday – The Standard Country Time Band 1pm to 3pm
---
Hidden Gem Music Club
Thursday – Jeff Carlson Band 7pm
Friday – Spill The Wine 8pm
Saturday –Linus Tate – 8pm
Sunday - Closed
Wednesday – Open Mic Night 7PM
---
Lori's Roadhouse
Thursday - TBA 6pm
Friday – Blake Taylor at 6pm
Friday – Dylan Raymond at 9:30pm
Saturday – Jessie James Decker 8pm
Tuesday – Dine and Dance 4pm
---
Miami Valley Gaming
Friday- Richard Lynch Band – 9pm Center Bar
Saturday – Brass Tracks Band – 9pm Center Bar
---
Brick Tap Tavern
Friday – Rick Donley Solo 8:30pm
Saturday – The Growlers 8:30 pm
Scott Hall – Hall Around Town Radio
Tuesday Trivia at Mr. Boros Tavern 7pm
Wednesday – Name That Tune at Mr. Boros Tavern 7pm
---
Live Monday to Thursday On Hall Around Town Radio
Scotty Long / DJ Songz
Thursday - Little River Bar & Grill 7pm Karaoke Party.
Friday – Legends Bar & Grill – Hamilton 9pm
Tuesday -The Barrel 7pm
Wednesday - Froggys 8pm Karaoke & Jamz
Bands, Solos and Duos
Vinyl Countdown Cincinnati
Friday at Clear Mountain Food Park, 7-10pm
Saturday at Little Miami Brewing Co. 8-11pm
---
Thom Stephenson
Saturday at The Monkey Bar 1pm - Solo Acoustic
---
The Inturns
Friday at The Dixie Station 9:30pm
---
Shades of You
Thursday – Debut at Madison Live 7pm
---
Counting Skeletons
Friday – Phone Booth Lounge 8pm
---
Rock Star
Friday – Middletown Moose 8pm
---
Sweet Sister Mercy
Saturday – Club Trio Lounge 9pm
---
Jimmy's New Invention
Saturday at the Squeaky Squirrel 8pm
---
Tyler Van B Music
Thursday – Old Dayton Pizza 6pm
Saturday – Bock Family Brewing 7pm
---
Scott Luck Band
Friday at Reading Eagles 8 to 12pm
---
Mad Hatter
Friday at JD Legends 7pm
---
Loopman Dan
Friday at Bircus Brewing for Loop Fest 7pm multiple acts
---
Heath Bowling Music
Thurs 4/14 Fairfield Pub W/ Chase 7-10p Fairfield, OH
Friday 4/15 Knollwood Tavern 9-12a Beavercreek, OH
Saturday 4/16 AJ's Franklin Tavern 8-11p Franklin, OH
Tuesday 4/19 Submarine House W/ Benny Bodine 7-10p Centerville, OH
Wednesday 4/20 Open Mic(AJ's) 8-11p Franklin, OH
---
Bryan Scott - Grey days
Saturday 16th The Hanger West Chester 8 to 12
Sunday 17th Good time Charlie's Open mic
Wednesday 20th Orioles Franklin 7 to 11
---
White Knuckle Weekend
Saturday 4/16 8:30-12:30 at Kingspoint Pub Kettering.
---
David Thornton
Thurs, 4/14 Jayne's On Main 7:30
Fri, 4/15 Middletown ELKS LODGE #257 7:00
Sat, 4/16 - The Common Beer Company 7:30
---
Wesley Green Music
Friday 9eight Central at Pohlman Lanes 7-11
---
Chris Lee Acoustic
Saturday, April 16 Swine City Brewing Fairfield OH. 8pm-10pm
---
Michelle Robinson
Friday Jim & Jacks 8:30-12:30
---
Chad Applegate
Saturday Chad Applegate Band at Borderline in West Harrison IN 10pm
Wednesday Chad Applegate solo at Jimmy Bs in Beechmont 6 til 10
---
Until Rust
Friday 4/15 Wo wrights Pub and grill Beavercreek, Oh 7-10
Saturday 4/16 Heroes Pizza House Springboro, Oh 7-10
---
Benny Bodine
Friday 4/15 Crooked Handle Brewing Springboro 7-10
Saturday 4/16 Old Dayton Pizza Riverside 7-10
Tuesday 4/19 Submarine House (with Heath Bowing) Centerville 7-10
Wednesday 4/20 Milano's (Benny's Birthday Bash) Miami Township 7-10
---
Shawn Bell
Friday 4/15 Queen City Harley Davidson Fairfield OH. Bike Night 6 to 9
Saturday 4/16 Urban Backyard Hamilton OH 8 to 11
---
Truk
Friday at Mr Boro's Tavern 8-11
---
Route 88
Saturday 9-1am Good Time Charlie's Miamisburg, OH
---
Ithika
Saturday 4/16 at Oscar's (Vandalia) 9:00-1am
---
Six String Hustle
Fri 4/15 9-1 Shamrocks Sports Bar Cincinnati, Ohio
Sat 4/16 9-12 Kings Bar Lebanon, Ohio
---
Velvet Crush Unplugged
Friday 4/15 GOOD TIME CHARLIES MIAMISBURG, oh 8-12
---
Linus Tate
Friday April 15 The Belle and The Bear Montgomery, OH 8:30PM
Saturday April 16 Hidden Gem Music Club Centerville, OH 8PM
---
Billy Brown
Wednesday April 20 at 8pm - Grizzly Rose in Denver CO
Thursday April 21, at 8pm - Grizzly Rose in Denver CO
---
Lätter
Saturday at Wings in Vandalia April 16th 9:30 pm.
---
Crown Watts
Saturday The Belle & The Bear Crown Watts w/special guest Jim Questa
---
Kevin Cooper
Thurs 730-1130pm: B&B Jam
Fri 7-10pm: Kevin Cooper/Mike Roberts at Grainworks
Sat 9pm-1am: The Hanky Panks at MVP. David Parks on drums
---
StrangeLove
Friday - 15th anniversary show with past and current members at Jimmy Bs starting at 9
---
Marsha Brady
Thursday at Quaker Steak & Lube Colerain for the 1st Bike Night of 2022, 5:30pm - 9:30pm.
---
Joe Cowels
Saturday - Joe C SOLO at the Kro-bar Beckett Ridge, 5pm to 9pm
---
Tori Faith
Thursday 4/14 ~ Tori Faith Acoustic at Luna's Bar & Grill ~ 7-10pm
Friday 4/15 ~ TFB at MVP Sports Bar and Grill ~ 9pm-1am
---
Seiter Haus
Friday 3/15 @ 8PM Misery & jen
Saturday 3/16 @ 630PM Municipal Brew Works
---
Johnny Fink
Friday 3/15 Ricks Tavern Johnny Fink solo 5-7pm.
Saturday - Johnny Fink and the Intrusion Lattitudes 8pm
---
Jordan Wood
Sat 4/16 Misery & Jen 8:30pm Hamilton, OH
Monday 4/18 Misery & Jens Open Jam 8pm - ? Hamilton, OH
Wed 4/20 Hosting Open Mic. MVP Sports Bar & Grille 9pm 6923 Plainfield Rd, Cincinnati, OH 45236
Thurs 4/21 Liberty Inn 6:30pm Liberty Township
If you would like to have your musical act featured on our weekly podcast or in Warren County Post the contact us @Hall Around Town Radio on Facebook! For additional Band information follow our daily Facebook "Live at Five" program @Hall Around Town Radio