Who's Playing Out Brought To You By Hall Around Town Radio: April 29, 2022
Image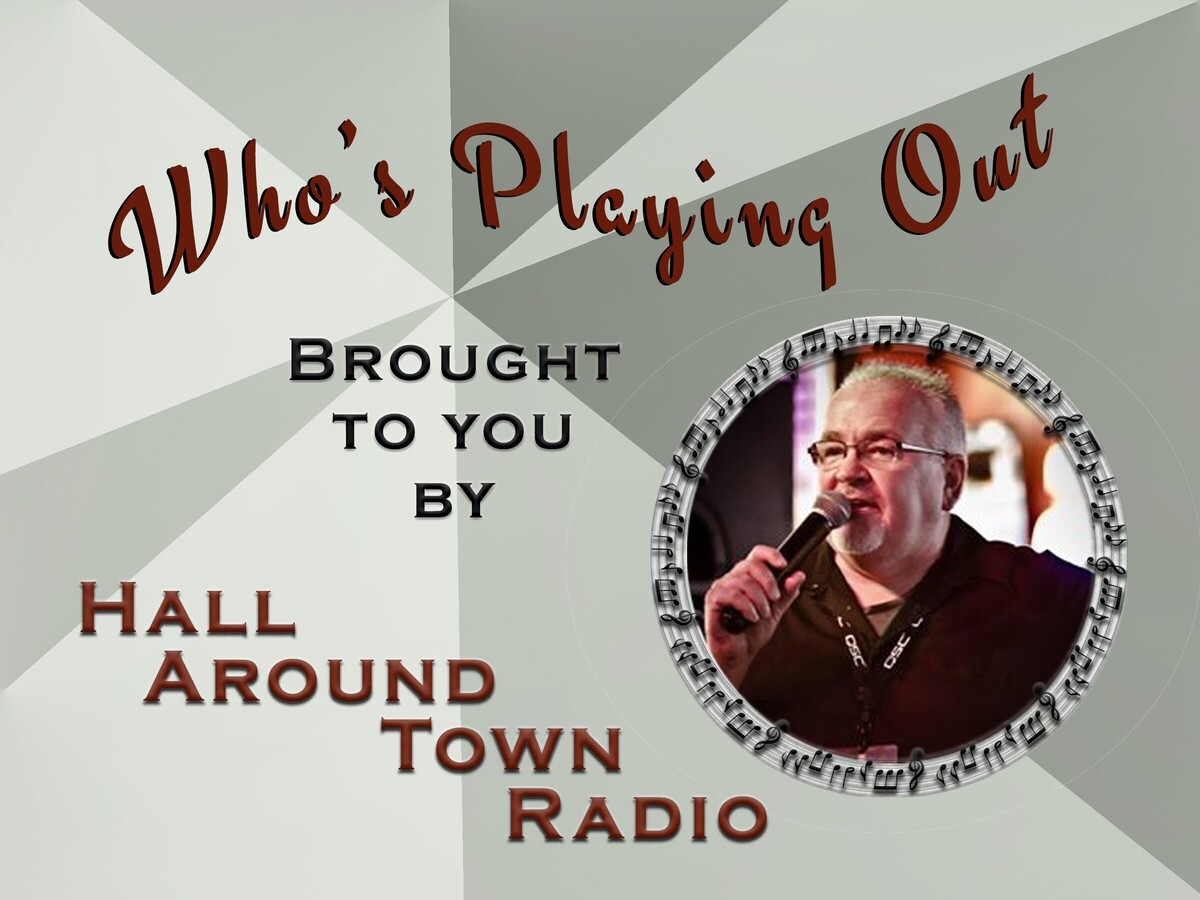 Brought to you by Scott Hall from "Hall Around Town Radio"
A little live music can turn an ordinary day into a memorable experience. The area's top musicians take center stage at some of the tri-states best restaurants and nightspots, bringing live music to our region nearly every night of the week. Make your first stop here weekly to find out "Who's Playing Out" at one of our live local music venues.
Bands and solos brought to you by our friends at Froggy's in Monroe, Ohio and Hall Around Town Radio (follow the on Facebook)
Froggy's in Monroe – Sponsor of our Thursday LIVE show on Facebook
Friday - 4-7pm - Joe Jordan
Friday at 9pm - Bad Attitude
Saturday at 9pm The Knuckleheads
Wednesday - 8pm Karaoke with Dj Songz … Froggys only Karaoke Contest coming soon.
Winner will go on to compete at Country Concert this year.
Online seating reservations / tickets at www.gotofroggys.com
---
Mr. Boro's Tavern Springboro
Friday – Cortney Jo Band 8 to 11pm
Saturday – Linus Tate - 8 to 11pm
Sunday – Amy Newhart 2 to 5pm
Tuesday – Trivia with Scott at 7pm
Wednesday – Queen of Hearts Drawing.
---
Heathers Café
Tuesday – Open Mic Night with Junior starts on the 10th
Wednesday – May 4th Name That Tune - Season Opening Night with Scott. 7pm Call for reservations
---
The Belle & The Bear (Montgomery)
Friday – Dangerous Jim and the Slims 8:30 pm
Saturday – Black Bone Cat 9 PM
Monday Game Night - 6pm
Tuesday – Jamie Combs 7pm
---
Lebanon Grand Opry House
Saturday – Rockabilly Dinner Show "Rock The Opry" with the Thunderbirds Dinner at 6pm… show at 7pm. Reservations by calling 513-850-1770
---
Sorg Opera House
Friday – School of Rock with Drive 6pm
Saturday – Abbamania 8pm
Future Show Tickets available at Cincyticket.com
---
Soft Rock Café
Karaoke – Thursday 7pm - Friday 8pm - Saturday 8:30 pm.
---
Crooked Handle Brewing Co.
Friday – Zane Gerlach at 6pm
---
Little River Bar and Grill (Oregonia)
Friday – Amy Newhart 7pm
Saturday – Barely Able 7pm
---
The Blue Note Harrison
Saturday – Jose Madrigal "Ultimate Santana Experience" With After Party - Stacy Mitchhart Band Doors at 6pm - Tickets available at …. CincyTicket.com
---
Pohlman Lanes & Scott's Bar & Grill (Hamilton Ohio)
Family Entertainment Complex 954 Pyramid Hill Blvd., Hamilton Ohio
Friday - Jay Jesse Johnson Band 7pm to 11pm
Saturday - Sweet Sister Mercy 7pm to 11pm
Monday Big Band Swing 7pm to 9pm
Wednesday – The Standard Country Time Band 1pm to 3pm
---
Hidden Gem Music Club
Fri. – The Doug Heart Band with the Sonny Moorman Group and The Wright Brothers III 7pm
Sat. – Random Flashbacks – 8pm
Sun. – The Bright Moments Quintet with The Centerville High School Jazz Combo 7pm
Wed. – Open Mic Night 7PM
---
Lori's Roadhouse
Friday – Carter New at 6pm
Friday – John Morgen Band at 9:00pm
Saturday – The Roasters 6pm
Saturday – Mouch and Friend 9:30pm
Tuesday – Dine and Dance 4pm
---
Miami Valley Gaming
Friday- Naked Karate Girls – 9pm Center Bar
Saturday – Marty Connor Band – 9pm Center Bar
---
Brick Tap Tavern
Friday – Oklahoma Blues Summit 8:30pm
Saturday – Slick Willie and the Ky Jellies 8:30 pm
---
Scott Hall – Hall Around Town Radio
Tuesday Trivia at Mr. Boros Tavern 7pm
Wednesday – Season Opener "Name That Tune" trivia at Heathers Café on the patio 7pm
Live Monday to Thursday On Hall Around Town Radio
---
Scotty Long / DJ Songz
Friday – Legends Bar & Grill – Hamilton 9pm
Tuesday -The Barrel 7pm
Wednesday - Froggys 8pm Karaoke & Jamz
---
Bands, Solos and Duos
Standard Country Time Band
Friday at Hunter Pizzeria 6pm
---
Jay Clark Band
Friday Beavercreek Moose Lodge 7:30-11:30
---
Kelly Red and Big Easy
Saturday 6:30 to 9pm at Front Street Café in New Richmond
---
Tyler VanB
Friday at Knollwood Tavern 9 to Midnight with James Zornes
---
Bad Attitude
Friday – Froggys in Monroe 9pm
---
Scott Luck Band
Saturday – Treasure Island Flea Market 11:30am till 2:30pm
---
Loop Man Dan
Friday – at Deer Park Tavern 7 to 11
Sunday – at Paddy's on Main (Covington) 2 to 5pm
---
Arena Rock Show
Saturday at JD legends with School of Rock and E 7pm
---
Johnny Fink
Friday - Solo-Third place Brookville In 7-10
Saturday with the Intrusion- Mansion Hill Tavern 8-12
Sunday solo- Belle and the Bear-Sunday Strumday IBC send off party 2pm-5pm
---
Kevin Cooper
Fri 8pm-12am: The Hanky Panks at Trillions
---
Drive
Friday at The Sorg theater 8pm
---
RED HOT RIOT
Saturday at Miller's in Bellevue -8:30PM
---
Tori Faith
Friday with Whiskey Town at The Squeaky Squirrel ~ 8pm-12am
Saturday with Whiskey Town at Moonbird ~ 8pm-12am
---
Marsha Brady
Saturday at The Monkey Bar 7pm - 11pm
---
ReDD
Friday at Route 50 Saloon (Addyston) - 7-11pm
---
Audio Graffiti
Saturday 4/30 Mt. Lookout Tavern 10-2
---
Joe Cowels
Joe C solo show
Friday May 6th M.o.g. Fairfield Entertainment Complex, 5p-9p
Friday May 6th Rick's Tavern Fairfield 5p-7p
---
Route 88
Friday 8-12 at Setters Volleyball Club Dayton, OH
---
Benny Bodine
Friday 4/29 Upper Deck at The Cove Cincinnati, OH 7:30-11:30
Saturday 4/30 Bock Family Brewing Centerville, OH 7-9
---
Chad Applegate
Friday - Chad Applegate solo at The Green Kayak in New Richmond 8 til 11
Sunday solo at The Barrel in Springboro for bike night 4 til 7
---
Six String Hustle
Fri 4/29 Band Show 9:30-1:30 Jimmy Bs Cincinnati, Ohio
Sat 4/30 Band Show 7:30-11:30 Dayton 73 Moose Family Center Beavercreek, Ohio
Wed 5/4 7-10 The Hangar West Chester, Ohio
---
Velvet Crush
Friday 4/29 Timothy's Near UD DAYTON, oh 10-2
---
Linus Tate
Friday April 29 Smoke Justis Covington, KY 7PM
Saturday April 30 Linus Tate Unplugged Mr Boros Tavern Springboro, OH 8PM
Sunday May 1st Northern Row Brewery OTR Cincinnati, OH 2PM
---
Billy Brown
Saturday April 30 at 6:30pm - Velocity Esports in Newport KY
Sunday May 1 at 2pm - Zazou in Covington KY
---
Liars for Hire
Saturday at Katz Lounge 9pm
---
Short of Stable DUO "Mike and Tiff"
Friday Desperados 7-11
---
The Weekend Effect
Saturday at Wings Beavercreek. 9 to midnight
---
Blind Faith Duo
Friday at Quaker Steak & Lube Florence 6 - 9pm
---
The Fast Forward Band
Saturday at KJ's Pub - Crescent Springs KY 9 - 1
---
Heath Bowling Music
Friday 4/29 Heroes (Beauty and the Beast) 7-10p Springboro, OH
Sunday 5/1 Open Mic (Good Time Charlies) 5-9p
Wednesday 5/4 Open Mic(AJ's) 8-11p Franklin, OH
---
Grey Days
Saturday April 30th Epic live National Show Cincinnati Ohio 7 to 9
---
Joe Lipinski
Saturday jersey joe solo at The Blind Lemon in Cincinnati from 8:30 PM to 1:00 AM.
---
Spungewurthy
Saturday 4/30 at Kingspoint Pub 9pm
---
Wesley Green Music
Friday with 9eight Central Kettering VFW 7-10
---
Jordan Wood
Friday 4/29 Grub Pub - Full Band 9PM Hamilton, OH
Saturday 4/30 Kettering VFW w/Mac McDaniel 7pm Kettering, OH
Sunday 5/1 Miamiville Tavern Open Jam (new patio full band lineup open jam!) 3-7pm Miamiville OH
Monday 5/2 Misery & Jens Open Jam 8pm - ? Hamilton, OH
Thurs 5/5 Liberty Inn 6:30pm Liberty Township
---
Michelle Robinson
Saturday Clear Mountain Food Park 7-10
---
Kevin McCoy Band
Saturday at Jimmy B's 10-1:30
---
David Thornton
Fri, 4/29 Lucky Star Brewery (Miamisburg) 8:00
Sat, 4/30 Station Family + BBQ (Wyoming, Oh) 6:00
---
The Inturns
Saturday at the Fairfield Pub 9pm
---
Blues Power
Friday at Hanks Local 8pm
---
3 Piece Revival
Friday at Sunset Beach Bar and Grill 6pm
---
Loudhouse
Friday at Wings Vandalia 9:30pm
---
Generations Band
Friday at Bock Family Brewing 7pm
---
Blue Otis
Friday at the Monkey Bar 7pm
---
Thomas Freel
Friday in the Loft at Good Time Charlies 9pm
---
Paul Cullen
Friday at Jaynes on Main 7:30pm
---
Vinyl Countdown
Friday at Kreimer's River Bar 7pm
If you would like to have your musical act featured on our weekly podcast or in Warren County Post the contact us @Hall Around Town Radio on Facebook! For additional Band information follow our daily Facebook "Live at Five" program @Hall Around Town Radio