Who's Playing Out Brought To You By Hall Around Town Radio May 19 2022
Image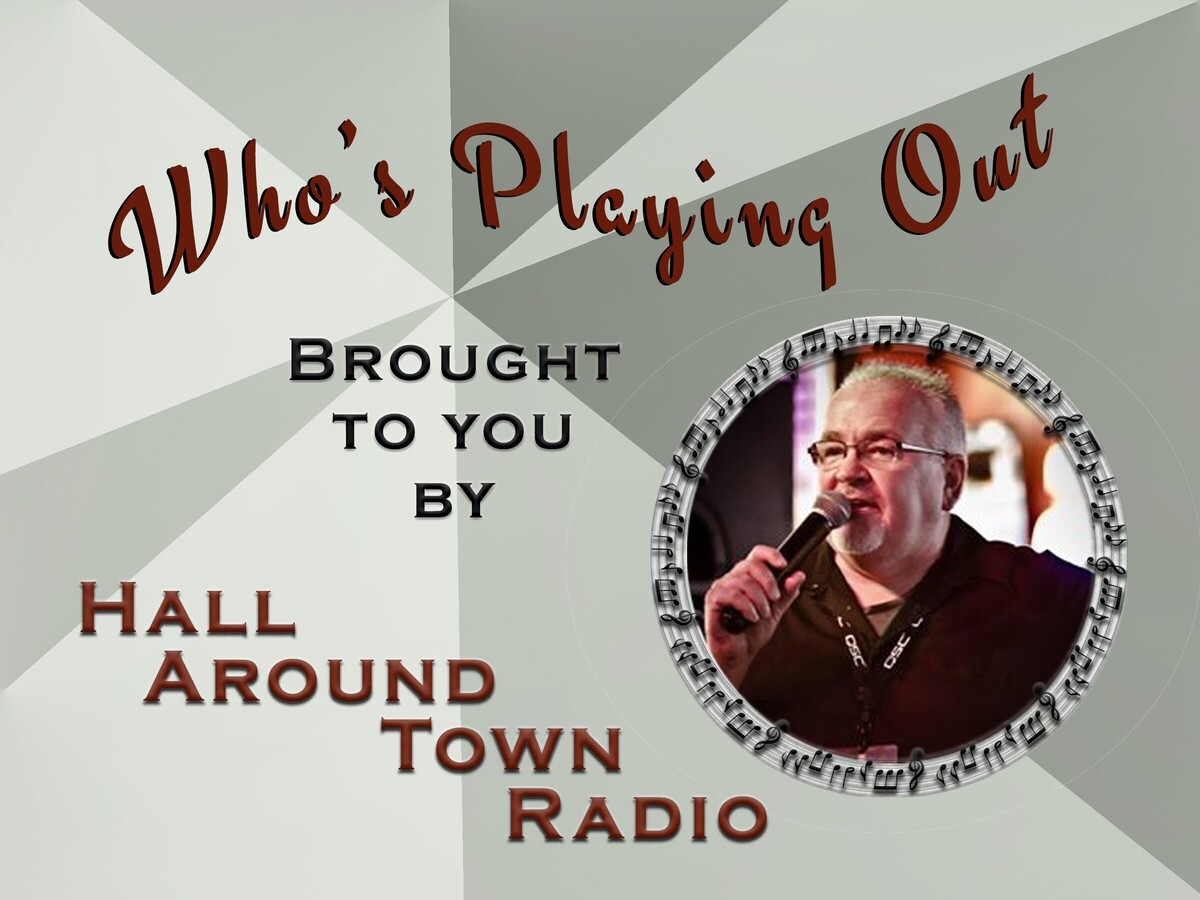 Brought to you by Scott Hall from "Hall Around Town Radio"
A little live music can turn an ordinary day into a memorable experience. The area's top musicians take center stage at some of the tri-states best restaurants and nightspots, bringing live music to our region nearly every night of the week. Make your first stop here weekly to find out "Who's Playing Out" at one of our live local music venues.
Bands and solos brought to you by our friends at Froggy's in Monroe, Ohio and Hall Around Town Radio (follow the on Facebook)
Froggy's in Monroe – Sponsor of our Thursday LIVE show on Facebook
**Froggy's has one of the newest American citizens ! Their bartender, Martina, (from Germany) just passed her citizenship test today !!!!!!!
Friday at 4pm till 7- happy hour acoustic with Blue September
Friday 9p-1a Jamie Combs
Saturday - Fundraiser for Next Level softball team. 7p, Burress Brothers (Jacob William )
Tuesday - 6-9pm Not far from the Tree..a Father & Daughter duo
Wednesday - 6-9pm Jordan Wood on the patio
Wednesday 8pm Karaoke with (a fill in ) Dj Boombox Brian
Online seating reservations / tickets at www.gotofroggys.com
---
Mr. Boro's Tavern Springboro 
Thursday - Brad Wehlitz & Dennis O'Hagen AND Special Smirnoff Peach Lemonade promo!!
Friday - Spungewurthy 8 to 11pm
Saturday – Jay Clark Band with Nick Wheeler from Truk - 8 to 11
Sunday –– Southern Summer - 2 to 5 pm
Tuesday – Trivia with Scott at 7pm
Wednesday – Queen of Hearts Drawing. 8pm
---
Heathers Café
Tuesday – Open Mic Night with Junior and the Queen of Hearts Drawing at 7pm
Wednesday – Name That Tune with Scott. 7pm Call for reservations
Thursday – Grey Days 6:30pm
Friday – Nothing But Treble 7pm
Saturday – No Refunds Band 7pm
---
The Belle & The Bear (Montgomery)
Thursday "The Jam" featuring a host of local music celebrities at 7:30 pm
Friday – The Billy Rock Band 9pm
Saturday – Second Wind 8:30 PM
Sunday – Strumday with Dave Taylor at 1pm
Sunday – Torched 4pm
Monday Game Night - 6pm
Tuesday – Jamie Combs 7pm
---
Soft Rock Café
Karaoke – Thursday 7pm - Friday 8pm - Saturday 8:30 pm.
---
Lebanon Grand Opry House
Saturday – Country Music Dinner Show with Jessie Lynn and the TNT Opry Band…Mike Hitchinson and Sean Poole Dinner at 6pm… show at 7pm. Reservations by calling 513-850-1770
---
Sorg Opera House
No Musical Shows this week
Future Show Tickets available at Cincyticket.com
---
Crooked Handle Brewing Co.
Thursday – Joe Jordan at 7pm
Friday – Ben and Pete at 6pm
Little River Bar and Grill (Oregonia)
Thursday – DJ Songz – Karaoke at 7pm
Friday – Amy Newhart 7pm
Saturday – 4 Reel 7pm
Tuesday – Bike Night with music
---
The Blue Note Harrison
Friday - Tantric returns to the Blue Note Playing with Tantric it's Russell Jenkins XL - New Machine and Xero Hour! Rocking in the pub it's White Mass and Sick Serenity! Doors 6pm
Saturday – The Moonshine Bandits 6pm
Tickets available at …. CincyTicket.com
---
Pohlman Lanes & Scott's Bar & Grill (Hamilton Ohio)
Family Entertainment Complex 954 Pyramid Hill Blvd., Hamilton Ohio
Friday 7pm to 11pm Fat Chance
Saturday 7pm to 11pm the Jim Burns Band
Monday - Big Band Swing 7pm to 9pm
Wednesday – The Standard Country Time Band 1pm to 3pm
---
Hidden Gem Music Club
Thursday – Blues Jam 8pm
Friday –Reggae Remixer with Luv Locz Experiment 8pm
Saturday – I Dig Pig – 8pm
Sunday – Andy Brown Organ Trio 7pm
Wednesday – Open Mic Night 7PM
---
Lori's Roadhouse
Thursday - Thursday Night Live Country Disco 4pm
Friday – County Wide at 6pm
Friday – Jason Owens at 9:30pm
Saturday – Jake Taylor Band 8pm
---
Miami Valley Gaming
Friday- Chuck Brisbin & The Tuna Project – 9pm Center Bar
Saturday – Kevin McCoy Band – 9pm Center Bar
---
Brick Tap Tavern
Thursday – Open Mic Night with Scott Houchens 7:00pm
Friday – Mark Gearo 8:30
Saturday – Curious Animals 8:30pm
Scott Hall – Hall Around Town Radio
Tuesday Trivia at Mr. Boros Tavern 7pm
Wednesday – "Name That Tune" at Heathers Café on the patio 7pm "Call for Reservations"
---
Live Monday to Thursday On Hall Around Town Radio
Scotty Long / DJ Songz
Thursday - Little River Bar & Grill 7pm Karaoke Party.
Check out DJ Songz Page for where Karaoke is along with who's Hosting while they're out of town.
Bands, Solos, Duos and Events
Full Metal Mountain Festival

Saturday in Independence Ky. 9 Bands starting at noon
The Eternal Now, Black Tractor, Blessed Black, Skunk Dog, Undone, Crooked Rook, Draculas, Technicolor Nightmare and Smoke Healer $10 Admisiion
---
Spring Fest in the Burg
Crafts, Food, Kids Fun and Live Entertainment
Friday – 9Eight Central 5:30pm – Lakes Ridge 7pm
Saturday – The Times 1pm – Short of Stable 3pm – Flash and Top Secret 7pm
Sunday – Fleming Creek at noon - Ben and Pete 1:30 pm – Heath Bowling 3:30pm – Jim Kelly 4:45
---
Tyler VanB
Friday – Station 1 in Springfield (his debut there) 8:30pm
---
Gerhard Albinus Band
Saturday at Down By the River (Riverside Marina) 8pm with new member Walter Piper on drums
---
Lil Heat
Saturday at Foleys Irish Pub in Reading 7 to 11pm
---
The Scott Luck Band
Saturday at the Reading Eagles from 8pm to midnight
---
Johnny Fink
Thursday solo at Smoke Justice 7-11
Friday full band at Mutts in Trenton 8-12
Saturday solo at Mecklenburg garden 630p-730p
---
Lätter
Friday on the patio at Wings in Vandalia! 9pm
---
Crown Watts
Saturday - 9:00pm at the Knotty Pine
---
Kevin Cooper
Thursday 730-1130pm: Belle & Bear Jam
Saturday 8pm-midnight: The Hanky Panks at Trillions
Wednesday 7-11pm: Kevin Cooper solo at Corner Pub
---
StrangeLove
Saturday at Monkey Bar 7-11
---
Acoustic Blue
Thursday May 19th at Pars Place, Fairfield Oh. 6:30 to 9:30pm
Saturday May 21st at Harrison Oh. Food Truck Rally 5 to 7pm (100 - 200 block of Harrison Ave.)
---
Michelle Robinson Band:
Friday - Big Bulls Roadhouse 9-1
Saturday at Borderline 8-12
---
Audio Graffiti
Friday 10-2 Mt. Lookout Tavern
---
RED HOT RIOT
Saturday at the American Legion in Mt Washington- 7:00pm
---
Seiter Haus
Thurs - 7PM at Hamilton's Urban Backyard
Saturday 7PM at Dickmann's Sports Cafe
---
Joe Lipinski
Next Thursady - jersey joe at Dayon Courthouse Square 11:30 AM - 1 PM
---
Don't tell Steve
Saturday 7-11 pm Kreimer's
---
Blind Faith Duo
Friday - Acoustic Quaker Steak and Lube - Florence on the patio 6-9pm
Sunday - Blind Faith Duo Acoustic at the Anderson Kroger's wine bar 12-3pm
---
White Knuckle Weekend
Friday 5/20 from 8-12 Setters Volleyball Club Dayton
---
Chris Lee Acoustic
Wed., May 25 Little Miami Brewing Co., Milford OH. 6:30pm-9:30pm
---
Liars for Hire-
Saturday - private graduation party outside Tipp City
---
Short of Stable
Saturday at Spring Fest in the Burg 3:30 - 6:30
---
The HomeGrown Band
Saturday at Jayne's On Main 7-10
---
Ben & Pete
Crooked Handle Brewing in Springboro Friday 5/20 6:00 to 9:00 pm and playing at The Spring Fest in Miamisburg Sunday 5/22 from 1:30 to 3:00 PM
---
David Thornton
Thursday - Jayne's On Main (Miamisburg) 7:30
Friday - Middletown ELKS LODGE #257 7:00
---
Wesley Green Music
Friday with 9eight Central at Spring Fest in the Burg 5:30-6:30
Saturday with Bourbon Road at Mutts 8pm -12am
---
Matthew Allen
Friday - White Dog Distilling Co. & Saloon (Middletown). 8-11
---
Spungewurthy
Friday 8 to 11 at Mr Boros
Saturday at Wings Beavercreek 9 to 1
---
Heath Bowling
Friday at Misery & Jens 6-10p Hamilton, OH
Saturday at AJ's Franklin Tavern 8-11p Franklin, OH
Sunday Springfest 330-430p Miamisburg, OH
Sunday Open Mic (Good Time Charlies) 5-9p Miamisburg, OH
Wednesday Dayton City Park 1130-1p Dayton, OH
Wednesday Open Mic (AJ's) 8-11p Franklin, OH
---
Thom Stephenson
Saturday at Bircus Brewing 7pm with Gee Your Band Smells Terrific
​Sunday at Little Miami Brewing 4-7pm
Thom Stephenson featuring Brother Stretch
---
Jay Clark Band
Saturday at Mr Boros 8-11pm with special guest Nick Wheeler from Truk
---
Until Rust
Thursday 5/19 Hidden Valley Orchards Lebanon, Oh 6-9
Friday 5/20 Rip Rap Roadhouse Dayton, Oh 7-10
Saturday 5/21 Dublin Pub Dayton, Oh 8-11
---
Billy Brown
Friday May 20 at 6pm- Lori's Roadhouse opening for Craig Morgan in West Chester OH
Saturday May 21 at 9pm - Barrett's Pour House in Alexandria KY
Sunday May 22 at 2pm - Bristol Republic in Columbus OH
Monday May 23 at 11:30am - Ole Red in Gatlinburg TN
---
Benny Bodine
Saturday 5/21 Old Dayton Pizza Riverside, Oh 7-10
Wednesday 5/25 The Barrel Springboro, Oh 7-10
---
Shawn Bell
Saturday at Norwood Moose Lodge 7 to 11
---
Six String Hustle
Thursday at the Liberty Inn 6-10 Liberty Township, Ohio
Friday at The Game 8-11. Cincinnati, Ohio
Saturday at Your Neighborhood Bar 8-12 Cincinnati, Ohio
Sunday at Zazou 1-5 Covington, KY
Wednesday at Jimmy Bs 6-10 Cincinnati, Ohio
---
Linus Tate
Saturday May 21 Strawberry Days at Blooms and Berries Farm Market Loveland, OH 10am
Monday May 23rd Mutts brewery lounge Trenton, OH 6PM
If you would like to have your musical act featured on our weekly podcast or in Warren County Post the contact us @Hall Around Town Radio on Facebook! For additional Band information follow our daily Facebook "Live at Five" program @Hall Around Town Radio