From the Desk of Brian Bales: Week of Jan., 21, 2022
Image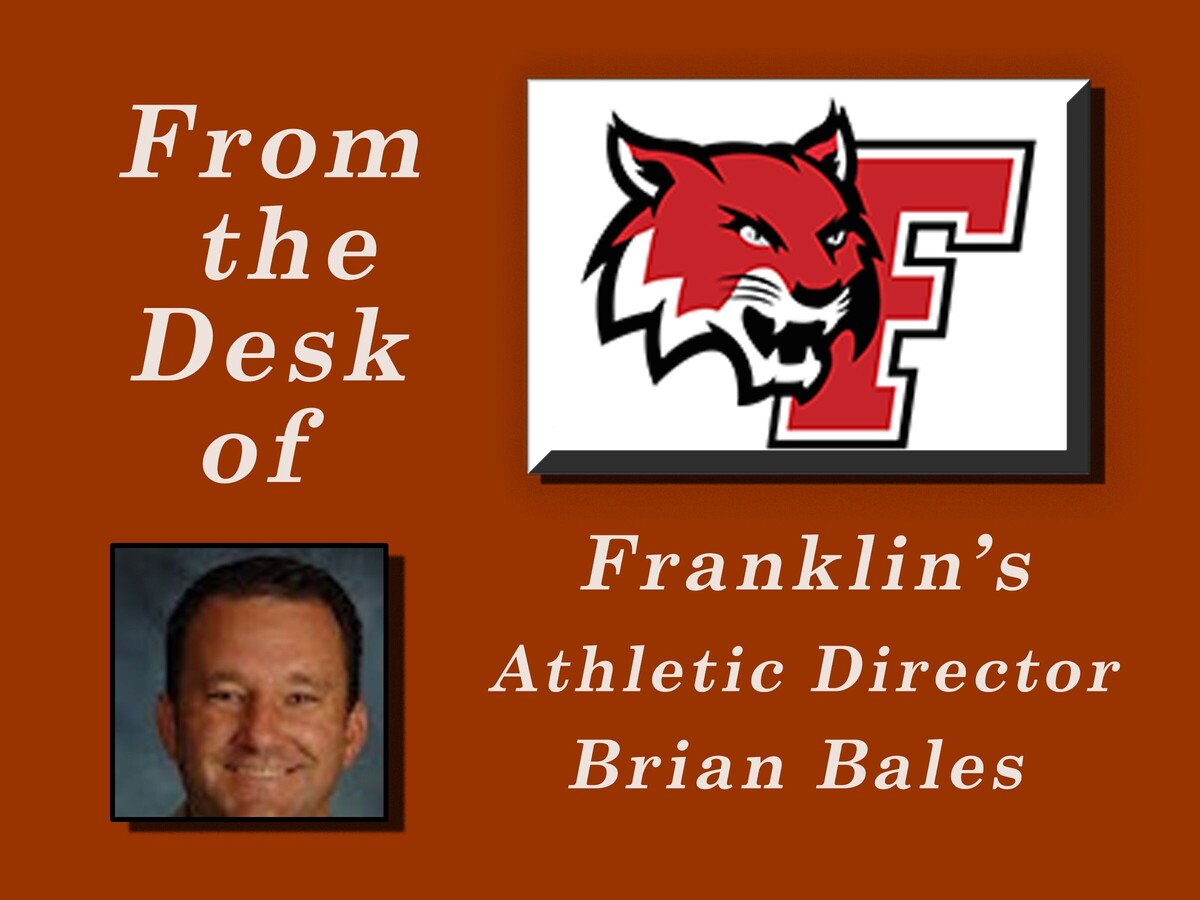 Franklin, OH -- A HUGE shoutout to our Athletic Boosters! They just recently donated thousands of dollars to help several of our sports programs with equipment and tools for their athletes. We are so very thankful for their partnership with us!
Wrestling
The Wrestling team defeated the Carlisle Indians last night in the annual River Cup Grudge match that was started in 1996. The Cats won 46-21. The whole team wrestled tough and represented our school very well. I am very proud of the way this team wrestled. 
Over the weekend the varsity team wrestled in the Hammer and Anvil Tournament. Gage Anderson took 2nd at 120 and Garrett Tacket placed 6th at 190. 
The Freshman team wrestled in an all freshman tournament at Centerville High School.
Placing for the cats were:
Kaizer Downey - 4th
Carter Reed - 3rd
Achreon Marcum - 6th
Mike Hall - 6th
Swim
Swimming had a fantastic weekend in a return to the pool from winter training! We had multiple prs and several top ten list swims. Captain Camille Lafferety even broke the school record in the 200 BR. Swimming is back in action at Wright State this weekend against Waynesville.
Basketball Sideline Cheer
The girls have been working really hard. We are excited about cheering at upcoming games. Let's go Cats!
Competition Cheer:Our FHS Competition squad has been working really hard on and off the mat. On Sunday they got first place in the Varsity division and were Grand Champs of the session, meaning they got the highest score and beat multiple D1 teams. On Sunday we will be traveling to The Ohio State University to compete in the OHSCCA Best in the State Cheer Championship! 
Good luck to our Varsity Comp Squad this weekend as well as our sideline cheerleaders and the boys basketball team as they face Oakwood at home tonight!
Boys Basketball
The boys basketball team had (2) big wins in the past week. Last Friday, the Cats had their best performance of the season. The team shot over 65% from the field while playing relentless defense. The final score vs. Monroe was 79-33. Leading the way for the Cats was Noah Rich with 30, Nate Paarlber with 18 and Pierce Bauerle with 13 points. Noah Rich added 10 rebounds to go with his high scoring night. 
This past Tuesday, the Cats took on Edgewood who is currently undefeated in the SWOC in a non league battle. We were victorious by a score of 76-66. Leading the way were Paarlberg with 26, Rich with 21 and Bauerle with 17 points and 11 rebounds. Kai Cook was 2/2 on the night from the 3 point range and Isaiah Bales had 5 assists. Again, we got great play from Evan Fry, Ashton Everitt and Rocky Williams.

Currently, the Cats have won 13 games in a row. Tonight, we take on Oakwood, which is ranked #8 in the latest Ohio State AP poll. We need home court advantage and hope you can make it to the game!
Girls Basketball
The Lady Cats opened this week with a win over Dayton Christian 42-31 on Monday night. Thursday, we hosted rival Waynesville led by Franklin Graduate and Hall of Famer Tim Gabbard but came up short in a losing cause 46-30 in a game more competitive than final score. 
On Saturday, we will travel to Brookville for a 12:00 Varsity only game. Next week we travel to AP D2 State ranked Kettering Alter on Monday and host the Monroe Hornets on Thursday.
Good Luck to Boys Basketball as they host state ranked Oakwood in what should be an electric atmosphere!!  Best of luck to all Winter Sports!!
Bowling
Boys Bowling - The Boys Bowling Team dropped a match on Thursday to Valley View. Ashton Smiley had a season best 258 game and 470 series to lead the team. The Cats return to action next Monday versus Springboro at JD Legends. 
Girls Bowling - The Girls Bowling Team won their match on Thursday against Valley View. The girls had a massive second game with the following scores: 
Bailey Judy 185 (season best), 
Cheyenne Jones 180, 
Arebella Lloyd 178 (season best), 
Payton Perez 161, 
 Brenna Clifford 137.
The energy on the lanes was electrifying. Come out to JD Legends next Monday at 3:45 as we take on the Springboro Panthers.

Lacrosse
For those interested in playing lacrosse this year, please review the dates and times in January where you can attend activities and workouts to get ready for the upcoming season.
Lacrosse Weight Room Dates and Times:
January 21st, 24th, 26th, 28th, and 31st from 4:00-5:00
Lacrosse Stick Work Skill Sessions in Back Gym Dates and Times:
January 21st, 24th, 26th, 28th, and 31st from 3:00-4:00
Link for Youth LAcrosse
https://wildcatlacrosse.sportngin.com/page/show/6285866-registration
---
Jersey Retirement Ceremony
Travis Lakins - Saturday, January 29th at the boys basketball game
Luke Kennard - Tuesday, February 1st at the boys basketball game
Both games will be in the Darrell Hedric gym at Franklin High School, 750 E. 4th St. Varsity games tip off at 7:15 p.m. Tickets must be purchased online for the games; there will be NO ticket sales at the gate.
For the Sat., Jan. 29 game, tickets will go on sale Thurs., Jan. 26.
For the Tues., Feb.1 game, tickets will go on sale Sun., Jan. 30.
We will keep the purchase window open until game time or until we are sold out. See ticket links below.