MHA names Highlander Man and Woman of the Year
Image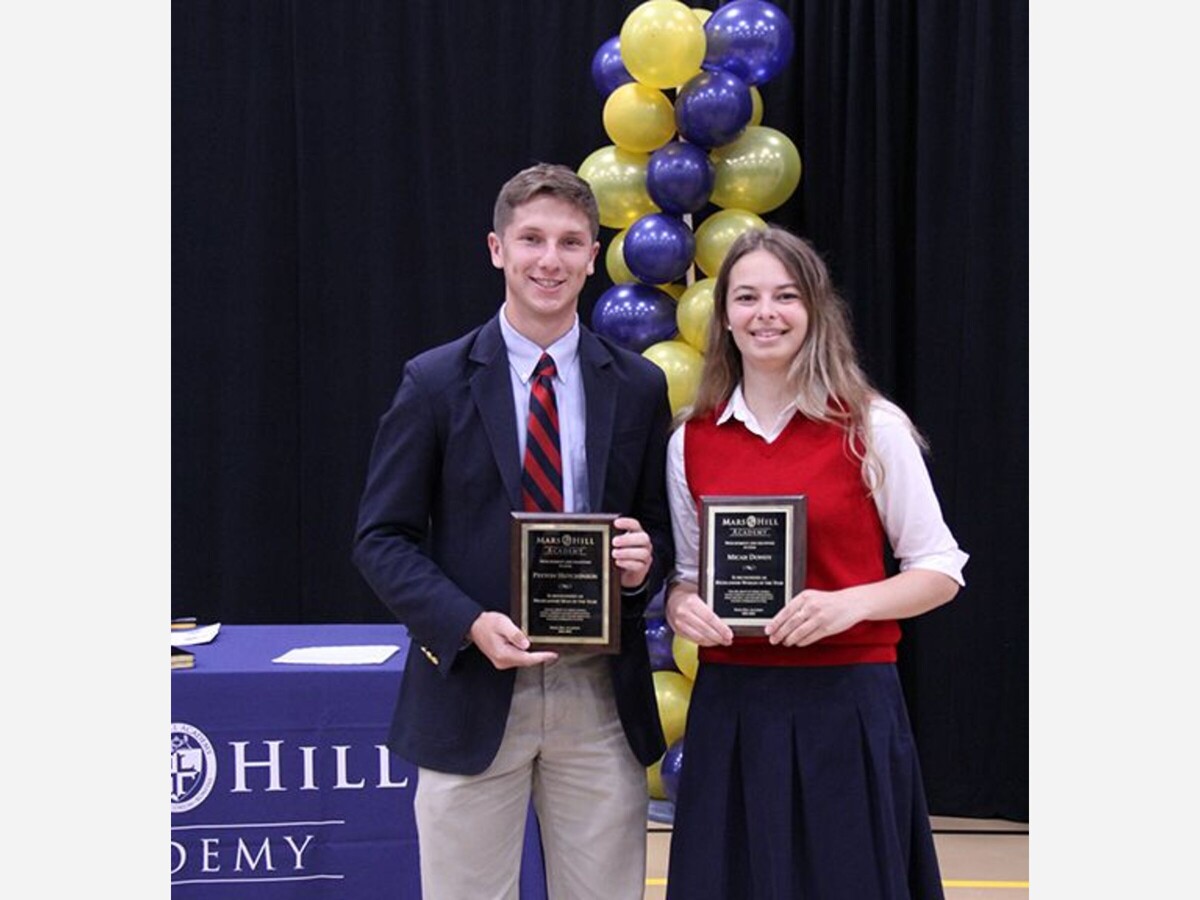 MASON, OH -- The Mars Hill Academy community came together for the first-ever all-school awards assembly to celebrate the academic, athletic, and service achievements of the year.
Seniors Peyton Hutchison of Cincinnati and Micah Dowdy of Maineville were named Highlander Man and Highlander Woman of the Year, respectively. New this year, these awards were given to two senior students who most exemplify the vision of a Mars Hill Academy graduate — those who "think clearly and listen carefully with discernment and understanding, who reason persuasively and speak precisely, who are capable of evaluating all human knowledge and experience in the light of the Scriptures, and who do so with eagerness in joyful submission to God."
Micah began her MHA journey in Kindergarten. She enjoyed playing volleyball and participating in the annual art show. She said her favorite class was Biblical Interpretation, because it deepened her understanding of Scripture and how every book is divinely inspired. Micah feels blessed to have attended a school where the teachers want the students to succeed and grow in their faith, and she will miss the community of great friends and teachers at MHA. In her spare time, Micah enjoys painting, reading, crocheting, and watching Netflix. Next fall she plans to attend the University of Cincinnati and major in graphic design as part of the College of Design, Architecture, Art, and Planning (DAAP).
Peyton began attending Mars Hill Academy in seventh grade. He said American Humanities class was a delight, because of the way his teacher "incorporated the study of poetry, art, literature, and philosophical ideas into the study of history." Outside the classroom, he enjoyed participating in soccer, drama, and the performance choir. Peyton appreciated that his teachers at Mars Hill challenged him to think more deeply about life's great questions. Peyton plans to attend Hillsdale College in the fall to major in philosophy and religion.
Photo courtesy of Lisa Knodel, Marketing & Communications Director of Mars Hill Academy