Who's Playing Out – Brought to you by "Hall Around Town Radio"
Image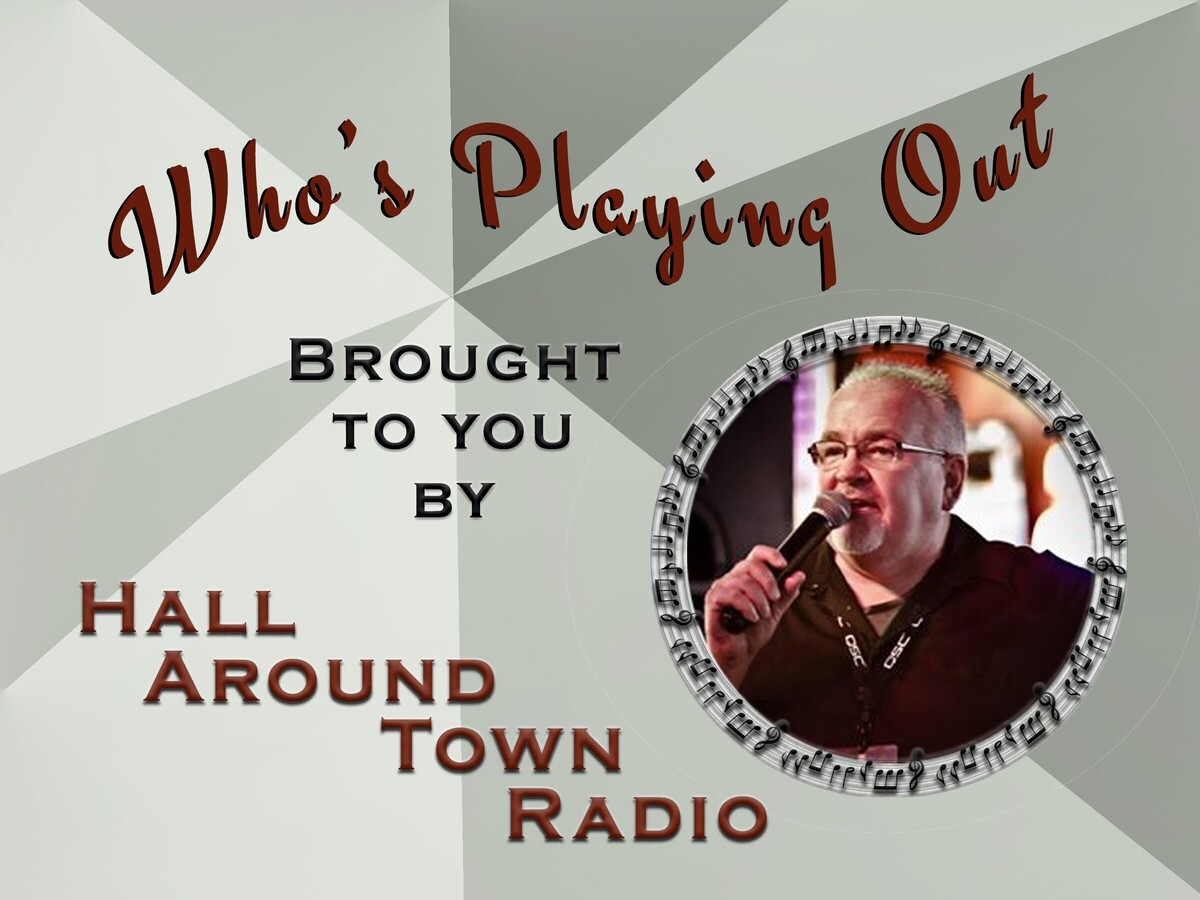 Brought to you by Scott Hall from "Hall Around Town Radio"
A little live music can turn an ordinary day into a memorable experience. The area's top musicians take center stage at some of the tri-states best restaurants and nightspots, bringing live music to our region nearly every night of the week. Make your first stop here weekly to find out "Who's Playing Out" at one of our live local music venues.
Bands and solos brought to you by our friends at Froggy's in Monroe, Ohio and Hall Around Town Radio (follow the on Facebook)
Froggy's in Monroe – Sponsor of our Thursday LIVE show on Facebook
Friday at 9pm – Due South
Saturday - 9pm Rock Star
Tuesday - 7p Music trivia with a twist
Tuesday at 7:30 Queen of Hearts Drawing
Wednesday - Karaoke 7p-11p with Dj Songz
---
Heathers Café
Friday and Saturday Christmas in the Boro With Timestamp Friday at 7 and Vynil Countdown on Saturday at 7pm plus open Sunday at noon
---
Mr. Boro's Tavern Springboro 
Thursday – Ashley Martin 7 to 10 pm
Friday –– No Refunds 8 to 11pm
Saturday – Last Call with Kelly Morelock 8pm
Sunday – NFL Football
Tuesday – "Quiztastic" Q&A Trivia with Scott at 7pm
Wednesday – Queen of Hearts Drawing. 8pm over 18K
---
The Belle & The Bear (Montgomery)
Thursday "The Award Winning Jam" 7:30ish
Friday – The Whammies Glow Party at 9 pm
Saturday Partry Town at 9 PM
Monday Game Night - 6pm
Tuesday – Jamie Combs Acoustic Jam 7pm
Wednesday – Thanksgivin Eve with Caffeine 9pm
---
Crooked Handle Brewing Co.
Thursday – Cory Breath 6 to 9 pm
Friday – Scott Houchens at 7pm
---
Pohlman Lanes & Scott's Bar & Grill (Hamilton Ohio)
Family Entertainment Complex 954 Pyramid Hill Blvd., Hamilton Ohio
Friday at 7pm - 90 Proof Twang
Saturday at 7pm - Drive
Monday - After Hours Big Band 7pm
Wednesday – WKRP Turkey Drop with the H&R Rock Band at 7pm
---
Sorg Opera House
Friday at 8pm Signs of Life – The American Pink Floyd
Saturday – Captain Fantastic – The music of Sir Elton John 8pm
Tickets available at Cincyticket.com. visit SORG page for more info
---
Lebanon Grand Opry House
Saturday Dinner Show – Featuring Jessie Lyn and the TNT Band – Plus Special Guests Alan Burton and Josh Richardson Doors at 6pm
Reservations by calling 513-850-1770
---
Little River Bar and Grill (Oregonia)
Thursday –– DJ Songz Karaoke Party at 7pm
Friday –The Party Foul Band at 7pm
Saturday – Weston Papp –7pm
Wednesday – Thanksgiving Eve Party with Slippery Creek 7pm
---
The Blue Note Harrison
Friday - Puddle of Mudd with openers Flatline and Life After This. In the pub it's The New Machine & Agnauseum. 6pm
Saturday –Motley Crue tribute "Wreking Crue" with openers - Sammy Hager tribute "One Way To Rock". In the pub it's Sweet Sister Mercy! 6pm
Wednesday – Heart Tribute Dreambot Annie – Doors are at 5:30
Tickets are available at …. CincyTicket.com
---
Hidden Gem Music Club
Thursday – RIND snf Toxic Nobility at 8pm
Friday – Lil Ed and the Blues Imperials at 8pm
Saturday – Wild Front Tears at 7pm
Sunday – Dayton Jazz Orchestra at 7pm
Tuesday – Open Mic Night 8PM
---
Lori's Roadhouse
Thursday – Service Industry Night and Football
Friday – Hunter Girl and Noah Thompson 8pm
Saturday – Carter New at 6pm
Saturday – Whiskey Cash and Roses at 9:30pm  Tickets available at LRHLIVE.COM
Tuesday – Line Dancing 7pm
Wednesday – Karaoke at 9pm
---
Miami Valley Gaming
Friday – 3 Piece Revival at 9pm Center Bar
Saturday – 3 Day Rule – 9pm Center Bar
Wednesday – Retrobution 9pm Center Bar
---
Soft Rock Café
Karaoke – Thursday 7pm - Friday 8pm - Saturday 8:30 pm.
---
Rex Patrick and the Country Legends Show in Germantown
Saturday – November 19th Terry Lee Ridley at the Rex Patrick
Country Legends Show. Doors open at 5:30pm show is 7-10pm
Reserve your table now 513-594-1282 -
---
Soft Rock Café
Karaoke – Thursday 7pm - Friday 8pm - Saturday 8:30 pm.
---
Brick Tap Tavern
Thursday - Open Mic Night with Scott Houchens 8:30
Friday – The Blue LeafsBand at 8:30pm
Saturday – Flat Out at 8:30 pm
---
Scott Hall – Hall Around Town Radio
Tuesday "Qiztastic" Trivia at Mr. Boros Tavern 7pm
Live Monday to Thursday On Hall Around Town Radio
---
Scotty Long / DJ Songz
Thursdays - at Little River Bar and Grill 7pm Party.
Tuesdays The Barrel Springboro, OH 7pm-11pm Karaoke
Wednesdays Froggys Monroe, OH 7pm-11am Karaoke Xperience
---
Bands, Solos, Duos and Events
Joe Cowels
Friday - The Joe Cowels Band 9pm-midnight The Knollwood Tavern, Beavercreek, OH
Saturday - Joe Cowels solo 8p-10:30p Marty's Hops and vines, Cincinnati, OH
---
Kevin Cooper
Thursday 730-1130pm: the Belle & Bear Jam
Friday 7-10pm: Kevin Cooper and Mike Roberts at Grainworks
Saturday 8pm-12am: The Hanky Panks at Trillions
---
Latter
Saturday at Sloopy's in Greenville Ohio Show will start at 9pm!
---
DRIVE
Saturday at Pohlman Lanes, Hamilton 7-11pm
---
---
Crown Watts
Saturday at Latitudes – show starts at 8:30
---
Dat Band
Saturday at Fretboard Brewing Co.8pm
---
GAMUT
Friday at the Pirates Den 8:30-12
Saturday at Silverton Cafe 8-12
---
DV8
Friday at the Knotty Pine 9 to 12:30
---
ReDD
Friday at Lounge 24, 8-11pm
---
Marsha Brady
Wednesday November 23rd, the night before Thanksgiving - Latitudes, Anderson Ohio - 9pm - 1am
---
RED HOT RIOT
Saturday at Macadu's in Milford -8:00 PM
---
Audio Graffiti
Wednesday 11/23 Tin Roof Cincinnati 10-2
---
Johnny Fink
Wednesday 11/23 Johnny Fink and the Intrusion at Mansion Hill Tavern 8-midnight
---
Strange Love
Wednesday Nov 23rd - at Monkey Bar 7-11pm
---
The Whammies
Friday at the Belle and The Bear for Ceris' 1st Annual Glow Party. The Whammies start up 8:30 and play until 12:30.
Saturday night the Whammies next stop is at Rick's Tavern and Grill in Fairfield. We'll go "Back in Time" to play your favorite 80s hits, beginning around 8 o'clock, and won't "Stop 'til You Get Enough" at midnight. please call ahead for seating. 513-874-1992
---
Donnie Hall and Mike Lieser
Thursday at Fairfield Pub 8pm
---
That One Party Band
Saturday at Jockos pub in Delhi 9:30-10:30
Wednesday at the Pirates Den in Western Hills 8:30-12:30 for The night before Thanksgiving.
---
The Trouble with Tina
Saturday at Miller's Fill In in Bellevue 8:30pm
---
Loop Man Dan
Friday at Fretboard Brewing 8-11
---
Benny Bodine
Friday at Lucky Star Brewery 8 to 11pm Miamisburg, OH
Saturday at Miamisburg Eagles 2306 **OPEN TO THE PUBLIC** 8-11 Miamisburg, OH
---
Until Rust
Friday at Franklin Orioles Franklin, Oh 8-11
Saturday at Moe Harrigan's Tavern Kettering, Oh 8-11
---
White Knukle Weekend
Friday at the Phone Booth Lounge from 8-12
---
6 String Hustle
---
Linus Tate
Thursday at Hebron Grille Hebron, KY 6PM
Friday at Brink Brewing Company Cincinnati, OH 7:30PM
Saturday at The Phone Booth Lounge Kettering, OH 8PM
---
Kevin McCoy Band
Sunday Monkey Bar & Grill 1-4pm Lucas' Legs Benefit
---
Spungewurthy
Saturday at Kingspoint Pub 9 to 1
Wednesday at the Phone Booth Lounge 8 to 12
---
The Weekend Effect
Saturday at O'Conners Pub 9-1
---
Donna Kennedy Band
Wednesday - Pre Thanksgiving Bash from -8 to 12 at DC Roadhouse
---
Matthew Allen
Friday at White Dog Distilling Co Middletown 7:30pm to 10:30pm
---
Heath Bowling Music
Thursday 11/17 Knollwood Tavern 8-11p Beavercreek, OH
Friday 11/18 Harrigan'sTavern 8-11p Kettering, OH
Saturday 11/19 Bushrod Brew Works 7-10p Eaton, OH
Tuesday 11/22 O'Conner's Irish Pub 8-11p Springfield, OH
Wednesday 11/23 Milano's 7-10p Miamisburg, OH
---
Wesley Green Music
Saturday with the Bourbon Road Band at Good Time Charlie's from 9-1
---
David Thornton
Thursday at Jayne's On Main (Miamisburg) 7:30-10:30
Friday at Middletown Elks Lodge #257 7:00-10
Saturday at The Common Beer Company (Mason) 7:30-10:30
---
Liars for Hire Acoustic
Wednesday Nov 23 at No Place in Particular Cabinet of Curiosities Kettering 7pm.
---
The Eagles Project
Friday at Memorial Hall – Cincinati 8pm
---
Blue September
---
T-Bone and Nikki Star
Friday at 8pm Acoustic Show at Jd Legends
---
Doug Hart Band
Friday at Ricks Tavern 8pm
---
The Marthas
Friday at Zinks Meats and Fine Wines 8pm
If you would like to have your musical act featured on our weekly podcast or in Warren County Post contact us @Hall Around Town Radio on Facebook! For additional Band information follow our daily Facebook "Live at Five" program @Hall Around Town Radio