Who's Playing Out: Brought To You By Hall Around Town Radio Feb., 1
Image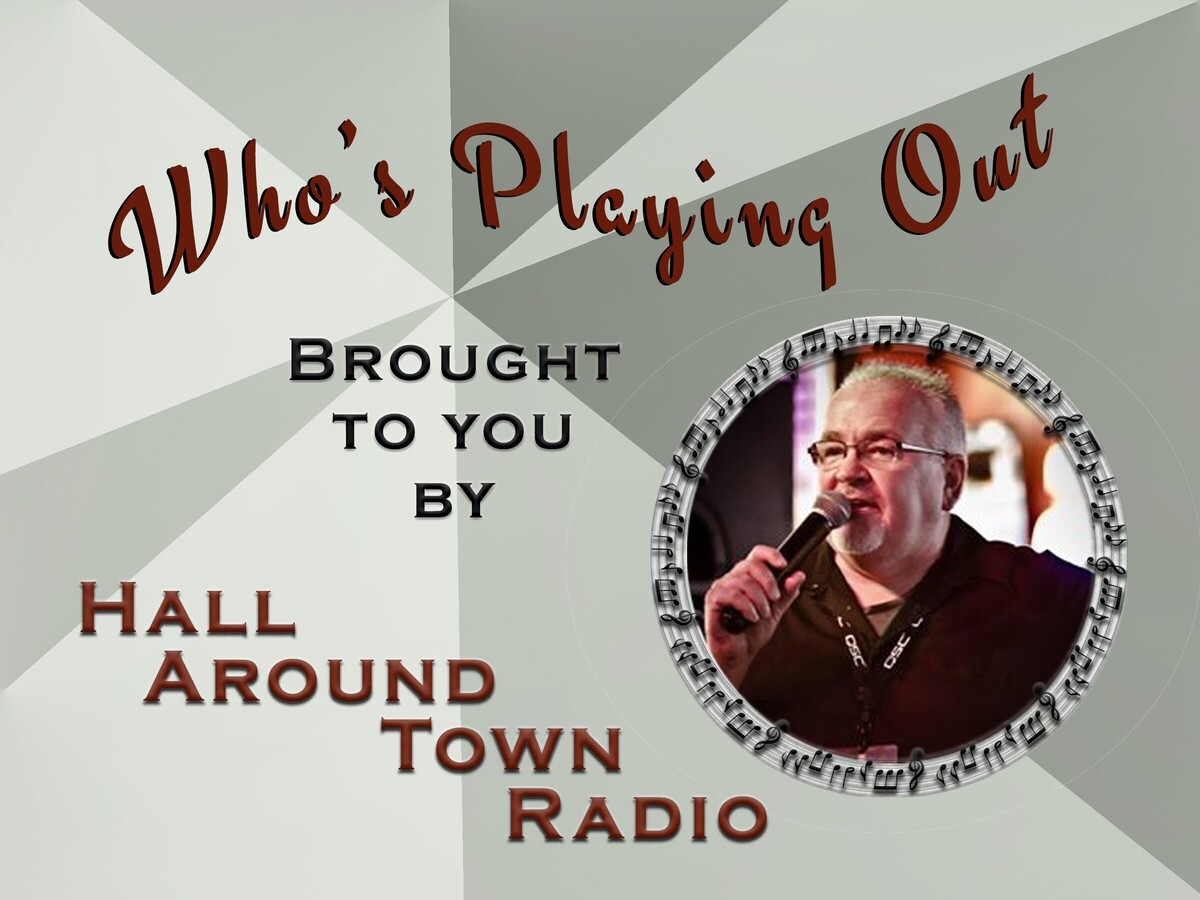 Brought to you by Scott Hall from "Hall Around Town Radio"
A little live music can turn an ordinary day into a memorable experience. The area's top musicians take center stage at some of the tri-states best restaurants and nightspots, bringing live music to our region nearly every night of the week. Make your first stop here weekly to find out "Who's Playing Out" at one of our live local music venues.
Bands and solos brought to you by our friends at Froggy's in Monroe, Ohio and Hall Around Town Radio (follow the on Facebook)
---
Froggy's in Monroe – Sponsor of our Thursday LIVE show on Facebook
Friday at 9pm Quiet Storm
Saturday at 9pm Montoge
Tuesday – 7:30pm Queen of Hearts jackpot is over $1K
Wednesday - 7pm Karaoke with DJ Songz
---
Mr. Boro's Tavern Springboro 
Thursday – Joe Cowels 7 to 10
Friday – Last Call 8 to 11pm
Saturday – Missing November 8 to 11pm
Tuesday – "Quiztastic" Q&A Trivia with Scott at 7pm
Wednesday – Queen of Hearts Drawing. 8pm over 37K
---
The Belle & The Bear (Montgomery)
Thursday "The Award Winning Jam" 7:30ish
Friday – Brent James and the Vintage Youth at 8:30 pm
Saturday - Billy Rock Band at 9:00pm
Monday Game Night - 6pm
Tuesday – Jamie Combs Acoustic Jam 7pm
Wednesday – Name That Tune with Scott Hall 7pm
---
Crooked Handle Brewing Co. Springboro
Thursday – Dennis Chrisman 7pm to 9pm
Friday – Scott Houchens 7pm to 10pm
---
Crooked Handle Brewing Co. Piqua
---
Pohlman Lanes & Scott's Bar & Grill (Hamilton Ohio)
Family Entertainment Complex 954 Pyramid Hill Blvd., Hamilton Ohio
Friday at 7pm – Linus Tate
Saturday 7pm – Time Stamp
Monday at 7pm The After Hours Big Band on the lanes
Wednesday at 1pm matinee performance with the Standard Country Time Band
---
Sorg Opera House
Lorrie Morgan – Friday February 3rd
Future show tickets available at Cincyticket.com visit SORG page for more info
---
Soft Rock Café
Karaoke – Thursday- 7:30 pm - Friday 8:30pm - Saturday - 8:30 pm.
---
Little River Bar and Grill (Oregonia)
Thursday –– DJ Songz Patioke Party at 7pm Party on the covered enclosed patio
Friday – TBA at 7pm
Saturday – TBA 7pm
---
The Blue Note Harrison
Saturday –Flatline with Sweet Sister Mercy and Swan 6:00pm
Future show tickets available at Cincyticket.com
---
Hidden Gem Music Club
Thursday – First Thursday Blues Jam with The West Side Players ,Feat Gary Guitar Williams 8pm
Friday – The Distance at 8pm
Saturday – Floyd and the Walkmen 8pm
Sunday – Blue Wisp Big Band 7pm
Tuesday – Open Mic Night 7:30PM
---
Lori's Roadhouse
Thursday – Football and Wings
Friday – 4 Low at 7pm
Saturday – Kaleb Hensley 7pm
Tuesday – Line Dancing 7pm
Wednesday – Boozy Bingo and Karaoke at 6pm
---
Miami Valley Gaming
Friday – 3 Day Rule 9pm Center Bar
Saturday – 90 Proof Twang 9pm Center Bar
---
Rex Patrick and the Country Legends Show in Germantown
Saturday – E-Flatt Band starring Ernie Flatt, Duece Collins, Larry Miller & Tony Williams 7pm Reserve your table now 513-594-1282
---
The Brick Tap and Tavern
Thursday – Open Mic with Scott Houchens 8:30
---
Avenue Sports and Spirits Lebanon
Wednesday – Open Jam with Wishlist 6:30pm
Friday – The Donna Kennedy Band 8pm
Saturday – TBD 7pm
---
Ricks Tavern
Friday – The Whammies at 8pm
---
Scott Hall – Hall Around Town Radio
Tuesday "Qiztastic" at Mr. Boros Tavern 7pm
Weddnesday at The Belle & Bear for Name That Tune 7pm
Live Monday to Thursday on Hall Around Town Radio
---
Scotty Long / DJ Songz
Wednesdays Froggys Monroe, OH 7pm-11am Karaoke Xperience
Thursdays at Little River Bar and Grill 7pm
Bands, Solos, Duos and Events
Standard Counttry Time Band
Friday at Hunter Pizzareia 6 to 8pm
Junior
Thursday – With Guitar Mike at the Pub at the Greene 6:30 to 9:30pm
Wednesdays – Dublin Pub Open Mic Wednesdy 7 to 10
Liquor Store Dogs
Saturday at 8:30pm The Rusty Nail in Middletown
Side Piece
Saturday at Oconnors Pub in Springfield 9pm
Rockstar
Saturday at "1st and 10" in Florence Ky 9 to 1am
Benny Bodine
Wednesday 2/8 at Milano's from 7-10 Miami Township, OH
Shane deMoss
Thursday - Shane deMoss solo at Moe Harrigan's Tavern Kettering, Oh 8-11
Friday - Until Rust at Oleary's in Centerville, Oh 8-11
Chad Applegate
Friday - Chad Applegate solo from 10 til 2 at Borderline in West Harrison IN..
Ithika
Saturday at Wings - Vandalia 9pm-1am
6 String Hustle
Thursday – Trillions in West Chester from 6 to 10
Friday from 9-12 at Knollwood Tavern in Beavercreek, Ohio
Saturday from 8-12 at the Hitching Post in Oxford, Ohio
Full Band Featuring Cody Doench- lead guitar, Rambo Stacey - Bass and Greg Goforth on Drums.
Truk - full band
Saturday at Crooked Handle Piqua Official Grand Opening party! From 6-9pm
Billy Brown
Friday Feb 3 at 10pm - Old Crow Smokehouse in Chicago IL (Wrigleyville)
Saturday Feb 4 at 10pm - Old Crow Smokehouse in Chicago IL (Wrigleyville)
Shawn Bell
Saturday – The Trio at Reading Eagles FOE Reading OH from 8 to 12 pm
Linus Tate
Friday February 3rd at Pohlman Lanes and Family Entertainment Complex Hamilton, OH 7-11PM
GAMUT
Friday at TRILLIONS from 8-12 9933 Cincinnati-Columbus Rd
Saturday—Turfway Park & Casino Bourbon & Brew 7500 Turfway Rd Florence, Ky 9:30pm-12:30am
Latter
Saturday at The Phone Booth Lounge 8pm.
Sweet Sister Mercy
Saturday - Flatline & Sweet Sister Mercy at the Blue Note Harrison , Oh Doors open at 6:30
Joe Cowels
Thursday - Joe Cowels solo at Mr. Boro's Tavern 7p
Friday - The Joe Cowels Band at the Grub Pub 8:30pm
Saturday - Joe Cowels solo at Hamilton's Urban Backyard 8pm
Jet Pack Academy
Friday at Madtree Taproom 7p-11p
RED HOT RIOT
Saturday at Silverton Café - 8:00 PM
Crown Watts
Saturday at Fretboard Brewing 8:00pm
Acoustic Blue Band
Saturday at the IceHouse, 7pm - Lawrenceburg, In.Lee Dixon
Friday February 3 with the Kevin McCoy Band at Bristol Republic Columbus 10pm
Marsha Brady
Friday at the Knotty Pine - 9pm - 1am
Saturday at Moonbird - Dry Ridge Kentucky, 8pm - 12am
Kevin Cooper
Thursday 730-1130pm: Belle & Bear Jam
Saturday 7-11pm: Eyes Up Here at Gano Tavern
Saturday February 4th - Moonbird - Dry Ridge Kentucky - 8pm - 12am
Ben & Pete
Friday at Jayne's On Main in Miamisburg from 7:30 to 10:30 PM
David Thornton
Under the weather … check his page for gig status
Joe Lipinski
Friday Jersey joe Lipinski at The Blind Lemon, Mt. Adams, Cincinnati 8:30PM - 1:00 AM.
Blind Faith Duo
Friday at Quaker Steak and Lube in Florence from 6-9pm.
The Weekend Effect
Saturday debuts at McSobers from 9-1. Introducing our new keyboardist JT.
Tyler VanBuskirk
Friday Tyler VanB Music with James Zornes: 8:30 - 11:30 at The Rusty Nail Middletown, Ohio
Spungewurthy
Saturday at Kingspoint Pub from 9 to 1
Don't Tell Steve
Saturday from 9:30 – 1:30 at Jimmy B's
Missing November
Saturday at Mr Boros Tavern from 8-11 pm.
Heath Bowling Music
Friday at Cadillac Jacks in Shelbyville, IN 8:30-12:30
Britches Down
Margo and Adam
Saturday from 7 to 10 at Little Miami Brewing
Cross River Junction
Saturday at the Courtyard Lounge 9 to 1am
Matt Clarkson Band
Saturday at the Ole Brick Tavern in Springfield 8 to midnight
Pearl Street
Friday at McSobers in Coldwater 8pm
Nothing But Treble
Friday at Lucky Star Brewing 7pm
If you would like to have your musical act featured on our weekly podcast or in Warren County Post contact us @Hall Around Town Radio on Facebook! For additional Band information follow our daily Facebook "Live at Five" program @Hall Around Town Radio