Who's Playing Out: Brought To You By Hall Around Town Radio Feb., 9th
Image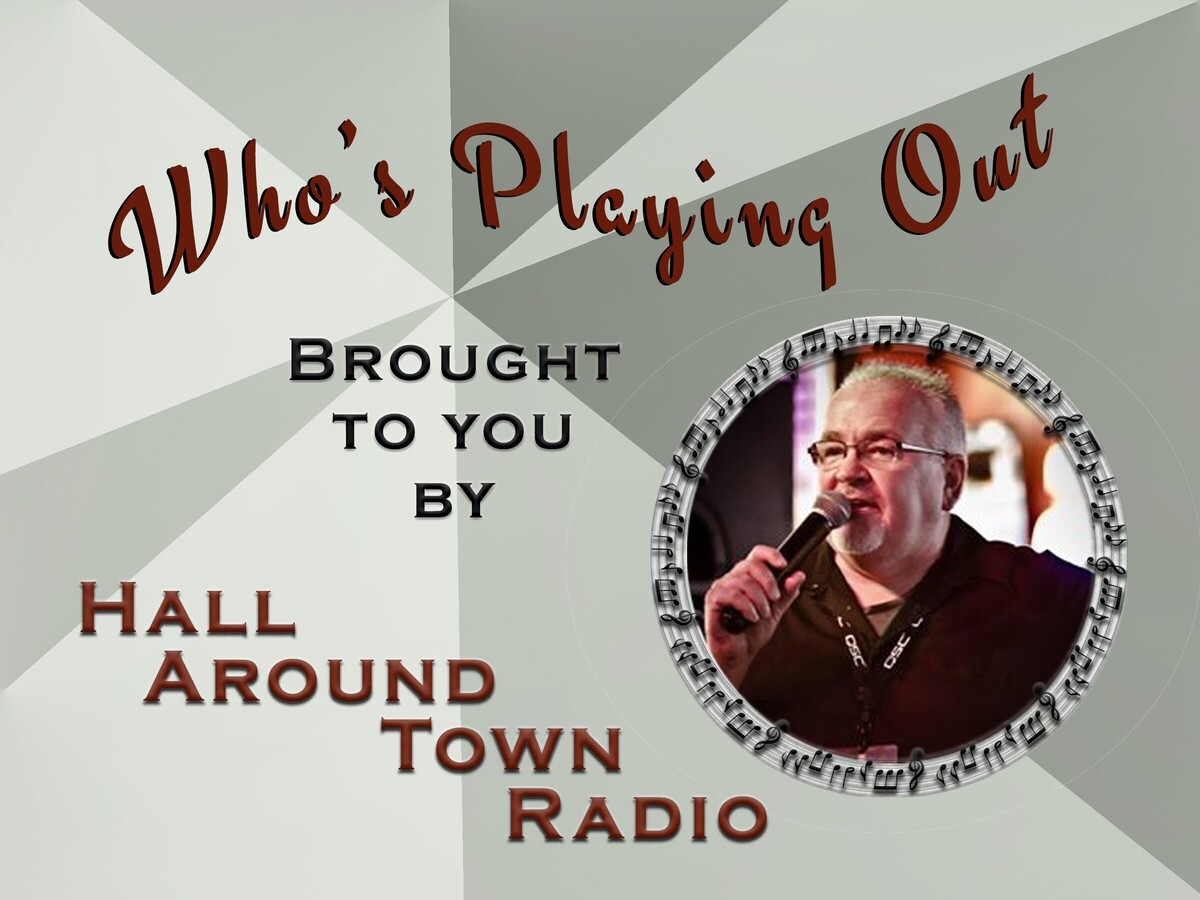 Brought to you by Scott Hall from "Hall Around Town Radio"
A little live music can turn an ordinary day into a memorable experience. The area's top musicians take center stage at some of the tri-states best restaurants and nightspots, bringing live music to our region nearly every night of the week. Make your first stop here weekly to find out "Who's Playing Out" at one of our live local music venues.
Bands and solos brought to you by our friends at Froggy's in Monroe, Ohio and Hall Around Town Radio (follow the on Facebook)
---
Froggy's in Monroe – Sponsor of our Thursday LIVE show on Facebook
Friday from 8p-12 Stone Mountain Mafia
Sunday- Super bowl food and drink specials
Tuesday at 7:30 Queen of Hearts $1500+
Wednesday - 7pm Karaoke with DJ Songz
---
Mr. Boro's Tavern Springboro 
Thursday – Heath and Tessa "Beauty and the Beast \ 7 to 10
Friday – Daved and Confused 8 to 11pm
Saturday – Jay Clark Band 8 to 11pm
Sunday – Huge Superbowl Party
Tuesday – "Quiztastic" Q&A Trivia with Scott at 7pm
Wednesday – Queen of Hearts Drawing. 8pm over 39K
---
The Belle & The Bear (Montgomery)
Thursday Live at Five "On Location and "The Award Winning Jam" 7:30ish AR14 kick off
Friday – Audio Graffiti at 8:30 pm
Saturday - Britney's Lipstick at 9:00pm
Sunday Superbowl Party Monday Game Night - 6pm
Tuesday – Jamie Combs Acoustic Jam 7pm
Wednesday – Gina and Johnny 7pm
---
Crooked Handle Brewing Co. Springboro
Friday – Ricky Veeneman 7pm to 10pm
---
Crooked Handle Brewing Co. Piqua
Saturday – Scott Houchens at 7pm
---
Pohlman Lanes & Scott's Bar & Grill (Hamilton Ohio)
Family Entertainment Complex 954 Pyramid Hill Blvd., Hamilton Ohio
Friday 7pm Midwest Artist Group Talent Showcase Alexa Michelle & Charlie John
Saturday 7pm – The Hanky Panks
Monday at 7pm The After Hours Big Band on the lanes
Tuesday - Valentines Day Karaoke With Dj KODIE
Wednesday at 1pm matinee performance with the Standard Country Time Band
---
Sorg Opera House
Future show tickets available at Cincyticket.com visit SORG page for more info
---
Soft Rock Café
Karaoke – Thursday- 7:30 pm - Friday 8:30pm - Saturday - 8:30 pm.
Little River Bar and Grill (Oregonia)
Thursday –– DJ Songz Patioke Party at 7pm Party on the covered enclosed patio
Friday – Jordan Wood at 7pm
Saturday – Shawn Bell & Blowin' The Damn Fuses 7pm
Wednesday, Brad Hatfield & Reece Shelton are performing a duo on the patio! 7pm
---
The Blue Note Harrison
Friday it's the SOB's annual Valentines Dance and fundraiser at the Blue Note. This year The Renegades are rocking the house. Come on out for a great time and a great cause! 6pm
Saturday it's the Blue Notes Valentines Bash with DV8 - Excalibur and Flipside! 3 stages of great Rock N Roll! Rock \ Doors open at 5:30pm and music starts at 6:30pm.
Future show tickets available at Cincyticket.com
---
Hidden Gem Music Club
Thursday – You're the DJ – All Request Night 7pm
Friday – Abbygeddon 90s Grunge Night at 7pm
Saturday – Aja … a tribute to Steely Dan at 8pm
Sunday – Jazz Brunch with The Burns/Berg/Leslie Trio 11am
Tuesday – Open Mic Night 7:30PM
---
Lori's Roadhouse
Friday – Kolby Cooper with Kevin McCoy at 8pm
Saturday – Tyler Moore Band 7pm
Sunday – Super Bowl Party at 4pm
Tuesday – Line Dancing 7pm
Wednesday – Boozy Bingo and Karaoke at 6pm
---
Miami Valley Gaming
Friday – The Menus 9pm Center Bar
Saturday – Red Hot Riot 9pm Center Bar
---
Rex Patrick and the Country Legends Show in Germantown
Saturday – Valentines Dance with the Richard Lynch Band 7pm Reserve your table now 513-594-1282
---
The Brick Tap and Tavern
Thursday – Open Mic with Scott Houchens at 8:30pm
Friday – Five Rivers Band at 8:30pm
Saturday – Lights Out at 8:30pm
Sunday – Superbowl Party 5pm
---
Avenue Sports and Spirits Lebanon
Wednesday – Open Jam with Wishlist 6:30pm
Friday – Jag WaJessie Lyn and the TNT Express 7pm
---
Ricks Tavern
Friday – Stays In Vegas at 8pm
Saturday – Don't Tell Steve 8pm
---
Scott Hall – Hall Around Town Radio
Tuesday "Qiztastic" at Mr. Boros Tavern 7pm
Weddnesday at The Belle & Bear for Name That Tune 7pm
Live Monday to Thursday on Hall Around Town Radio
---
Scotty Long / DJ Songz
Wednesdays Froggys Monroe, OH 7pm-11am Karaoke Xperience
Thursdays at Little River Bar and Grill 7pm
Bands, Solos, Duos and Events
Cincy Winter Blues Experience IV
Saturday at 5pm The Manor House Event Center in Mason 11 incredible national, regional and local acts featuring Ivy Ford, King Soloman Hicks, Tulle Brae, GA-20, Tempted Souls, Doug Hart Band, Gabe Stillman, Misterman and the Mojo Band, Johnny Fink and the Intrusion, Lady Joya Band and the Mojo Blues Cats …. Advance Tickets $25 at Cincyticket.com/bluesiv
Butch Jones and Standard Counttry Time Band
Friday at Hunter Pizzareia 6 to 8pm
Saturday at The Woodshed in Lebanon 6 to 8:30
Wednesday at 1pm Pohlman Lanes
Sean Poole
Saturday with Darren Michael & Curt Landis from Buckin' Crazy at Kelli Jo's in Ashville, Oh 7:30 pm
Cryin Out LOUD
Friday, February 10th at Little York Tavern from 8-12
Saturday, February 11th at the Milton Athletic Club from 7-11, open to public
Controversy for Breakfast
Thursday – Dayton Battle of the Bands at the Brightside Event Center 7pm
Saturday Chris Lee Acoustic
Friday at FIBONACCI BREWING Cincinnati/Mt. Healthy OH. 7pm-9pm
Saturday at the LUCKY TURTLE Cincinnati/Finneytown OH. 8pm-10:30pm
Wednesday at MAC'S PIZZA BLUE ASH. Blue Ash OH. 7pm-10pm
The Weekend Effect
Friday at Wings - Vandalia 9:30pm -1:30am - 5$ cover at the door.
Short of Stable
Friday (full band) at the Dublin Pub 8:30-12
Saturday (full band) at the Hitching Post 8-12
Sunday (Mike&Tiff) - NO OPEN MIC FOR SUPER BOWL
Don't Tell Steve
Saturday at Ricks Tavern from 8-12
Michelle Robinson Band
Friday at Hollywood Casino 8-12
Saturday at Moonbird 8-12
Joe Cowels
Friday - Job Cowels solo at Woolly's in Franklin 9p-11p
Saturday - Joe Cowels solo at Streetside Brewery 6p-9p
RED HOT RIOT
Saturday at Miami Valley Gaming from 9:00-12:00
Johnny Fink
Saturday at the Winter Blues Experience Johnny Fink and the Intrusion Manor House in Mason 8:45 pm
Wednesday - Gina and Johnny Band at The Belle and Bear with special guest Casey Gomez 7:30 pm
Sweet Sister Mercy
Saturday at Froggy's in Monroe from 8pm-12pm
Kevin Cooper
Thursday 730-1130: Belle & Bear Jam
Friday 8pm-12am: The Hanky Panks at Trillions
Saturday 7-11pm: The Hanky Panks at Pohlman Lanes
GAMUT
Saturday at the Pirates Den 8:30pm 3670 Werk Rd Cincinnati
The BillyRock Band
Friday at The Crow's Nest 9pm
Marsha Brady
Saturday at Club Trio - 9:30pm - 1:30am
Michelle Robinson Band
Friday from 8-12 at Hollywood Casino Lawrenceburg
Saturday from 8-12 at Moonbird in Dry Ridge, KY
Night Reign
Saturday at the Troy Eagles. 8-12
The Whammies
Saturday debuting at Anderson Tap House i- 8pm . You can reserve tables at 513-232-3233.
Benny Bodine
Friday at Knollwood Tavern from 9-12 Beavercreek, OH
Saturday at Jayne's On Main 7:30-10:30 Miamisburg, OH
Jay Clark Band
Saturday at Mr Boros from 8-11
6 String Hustle
Thursday from 6-10 at the Liberty Inn Liberty Twnshp, Ohio
Saturday from 7:30-9 at Bobby Mackeys Wilder, KY Full band featuring Lee Dixon, Rambo Stacey and Greg Goforth
Wednesday from 8-11 Olde Village Tavern West Chester, Ohio
Ashley Knapp & JRoy
Friday from 9-12 at Olearys Pub Centerville, Ohio
Ithika
Saturday at the Corner Club from 7-11pm
Linus Tate
Friday February at MadTree Brewing Cincinnati, OH 7PM
Mad Hatter a
Saturday at Kingspoint Pub 8pm
Heath Bowling Music
Thursday at Mr Boros with Beauty and the Beast 7pm
Saturday at St. Paul Tavern 9-12 in St. Paul, IN
Wednesday at Milano's from 7-10p Miamisburg, OH
Truk
Friday, WO Wrights final ever happy hour extravaganza from 6-9pm
David Thornton
Thursday at Jaynes on Main 7pm Tuesday at Firehouse Grill Blue Ash at 7pm
Tuesday at Firehouse Grill Blue Ash at 7pm
Chad Applegate
Saturday February 11th. Chad Applegate and Johnny A acoustic - Valleyview in Williamsburg. 8pm
Shawn Bell
Saturday 3 Piece at Little River Bar and Grill Orgonia Ohio 7 to 11
Black Bone Cat
Friday from 8 to 12 at 1 More Bar and Grille
Kevin McCoy
Thursday at Trillions 6pm
Miss Jacque
Saturday debut at Nicc and Norms 9pm
That One Party Band
Friday at the Fairfield Pub 9pm
Nothing But Treble
Friday at Jaynes on Main 7:30
Xero Hour
Saturday playing Nitro West Virginia opening for Alien Super Jesus. 8pm
After The Party
Saturday at The Phone Booth Lounge 8pm
If you would like to have your musical act featured on our weekly podcast or in Warren County Post contact us @Hall Around Town Radio on Facebook! For additional Band information follow our daily Facebook "Live at Five" program @Hall Around Town Radio