Who's Playing Out: Brought To You By Hall Around Town Radio June 8
Image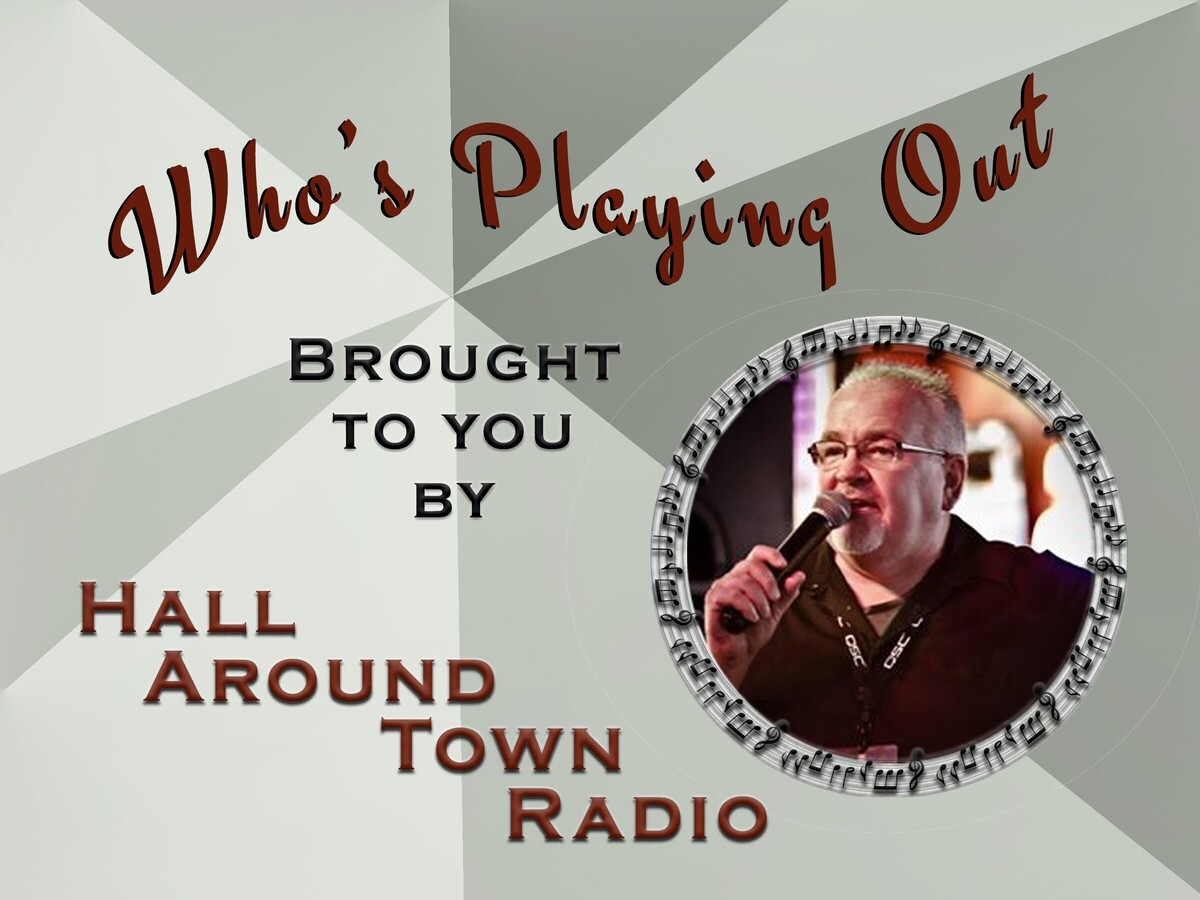 Brought to you by Scott Hall from "Hall Around Town Radio"
A little live music can turn an ordinary day into a memorable experience. The area's top musicians take center stage at some of the tri-states best restaurants and nightspots, bringing live music to our region nearly every night of the week. Make your first stop here weekly to find out "Who's Playing Out" at one of our live local music venues.
Bands and solos brought to you by our friends at Froggy's in Monroe, Ohio and Hall Around Town Radio (follow both on Facebook)
Froggy's in Monroe – Sponsor of our Thursday LIVE show on Facebook
Thursday – TAPS – Tursday Acoustic Patio Sessions – David Thornton 6 to 10pm
Friday at 8pm – Quiet Storm
Saturday at 8pm – Drive
Tuesday 7pm Frog-ingo, 7:30 Queen of hearts $4000 14 cards left
Wednesday – Jeep Night (Collect Frogs) from 6 to 10pm Patio with Jordan Wood
---
Heathers "On the Patio"
Thursday – Benny Bodine from 7 to 9:30
Friday – Trapper Keepers at 7pm
Saturday – Marsha Brady Band at 7pm
Tuesdays – Heathers Bingo & Queen of Hearts
Wednesdays –Name That Tune Trivia with Scott 7pm - Resrvations Reccomended
---
Mr. Boro's Tavern Springboro
Thursday – Kevin McCoy 7 to 10
Friday – No Refunds 8 to 11pm
Saturday – 94.o4 8pm
Sunday – Funday with Element 3 from 2 to 5pm
Tuesday – "Quiztastic" Q&A Trivia with Scott at 7pm
Wednesday – Queen of Hearts Drawing. 8pm 35K.
---
The Belle & The Bear (Montgomery) - Award Winning
Thursday "The Award Winning Jam" 7:30ish a
Friday – Vynil Countdown at 8:30 pm
Saturday - Dat Band at 8:30 pm
Monday - Game Night - 6pm
Wednesday – Gina and Johnny - 8pm
---
Crooked Handle Brewing Co. Springboro
Thursday – Ricky Veeneman – Live 6 to 9pm
Friday – Christopher Arellano - 6pm to 9pm
---
Crooked Handle Brewing Co. Piqua
Saturday – Until Rust from 6pm to 9pm
---
Soft Rock Café
Karaoke – Thursday- 7:30 pm - Friday 8:30pm - Saturday - 8:30 pm.
---
Pohlman Lanes & Scott's Bar & Grill (Hamilton Ohio)
Family Entertainment Complex 954 Pyramid Hill Blvd., Hamilton Ohio
Friday - Tyler Brindley at 7pm
Saturday – "Honky Tonk Saturday" Raelyn Nelson Band with Stagger Lee, Michelle Robinson Band and Justin Back at 5pm
Monday – After Hours Band 7pm
Wednesday - Standard Country Time Band 1pm
---
Hamilton's Urban Backyard
Friday – Linus Tate 7at pm
Saturday – Justin Back and The Borrowed at 7pm
---
O'Connors Irish Pub Springfield
Thursday – Open Jam from 7 to 10pm
Thursday – Karaoke 9pm in the dining room
Friday – Route 88 Band at 9pm
Saturday – The Dillon Band at 9pm
Monday – Trivia with Matt Allen
Tuesday – Finding Melissa at 8pn
Wednesday – Karaoke 10pm
---
Sorg Opera House
No Shows this Weekend
Future Show Tickets available at Cincyticket.com visit SORG page for more info
---
Stubbs Park in Centerville
Sunday – Simply Queen from 7 to 9pm
---
Lofino Park in Beavercreek
Sunday – The Unity Sax Quartet 7pm
---
The Heights Summer Music Series at Eichelberger
Saturday – Retrobution 7 to 9pm
---
Springboro Summer Concert Series – North Park
Sunday – Ohio Valley British Brass Band 7pm
---
Little River Bar and Grill (Oregonia)
Thursday –– DJ Songz Patioke Party at 7pm Party on the covered enclosed patio
Friday – The Mello Fellows at 7pm
Saturday – Heather Roush Band at 7pm
Tuesday – Little River Bike Night
The Blue Note Harrison
Saturday - Jack Russell's Great White…. Opening the show it's Joe Riley and the Hellhounds & Russell Jinkens XL! Rocking in the pub it's the New Machine and Kick n Steel. Doors at 6pm
Tickets available at Cincyticket.com
---
Miami Valley Gaming
Friday - The Gamut 9pm Center Bar
Saturday – Danny Frazier 9pm Center Bar
---
Hidden Gem Music Club
Thursday – Central Jazz Big Band 7pm
Friday – 8pm Then Gillespie Express with Evil Eye Gypsy
Saturday – The Doug Hart Band with the Wright Brothers III at 8pm
Sunday at 7pm – Brian Cashwell Trio
Tuesday – Open Mic Night 7:30PM
---
Lori's Roadhouse
Thursday – Boozy Bingo and Karaoke at 6pm plus Queen of Hearts …
Friday – Jason Owens at 8pm
Saturday – Dave Campbell II at 4:30pm
Saturday – Martin McDaniel 8pm
Tuesday – Line Dancing Lessons 7pm
Tickets at LRHLIVE.com
---
Milanos (Miami Township)
Wednesday – Live Music at 7pm
---
Rex Patrick and the Country Legends Show in Germantown
Saturday – The Country Legends Band with special guest Tim Hembree & Ron Liggett…. doors open at 5:30 Music 7 to 10
Reserve your table now 513-594-1282
---
Moe Harrigan's Tavern
Thursday – Until Rust at 8pm
Friday – Scott Houchens 8pm
Saturday – Reyna and Dana 8pm
Sunday – Open Mic hosted by Acoustic Junior 5:30 to 9:30
Wednesday – Nick Mitchell 8pm
---
The Brick Tap and Tavern
Thursday – Scott Houchens LIVE at 8:30pm
Friday – Mike Willis at 8:30pm
Saturday – Comstock Lode from 8:30 to 11:30
Wednesday – Doug Hart Solo 7:30pm
---
Ricks Tavern
Friday – Miss Jacque at 8pm
Saturday – Pandora Effect at 8pm
---
KnottyPine
Friday and Saturday from 9 to 1 … Flatline
---
Scotty Long / DJ Songz
Thursdays - Little River Oregonia, OH. PatiOKE Party 7pm!
Scheduled Fridays: Township Tavern - Hamilton, OH 8pm Karaoke & Dance Party! Check out his Facebook pages at Scotty Long or DJ Songz for all Friday night shows!
---
Scott Hall
Tuesday at Mr Boros Taver for Quiztastic Tuesday Trivia at 7pm
Wednesday – Heathers Name That Tune - Weekly Residency 7pm sharp
Bands, Solos, Duos and Events
That Arena Rock Show
Friday at the Fraze Pavillion with special Guest JFrost 5 doors at 6:30
Gerhard Albinus
Friday – Solo at The Bar and Grill, under new management. Formerly Major Leagues, formerly The Columbia Inn in Hamilton - 7pm on the Patio!
Saturday – Full Band at the Gano Tavern - 7pm on the Patio!
Grocery Store Vodka
Saturday at Rip Rap Roadhouse from 7 to 10pm
Visitor
Saturday at the Trail Town Brewery 7-9:30 at the Yellow Springs Street Fair
Swan
Saturday at the Saint Pauls Festival 7pm start time
Side Piece
Sarturday at Katz in Kettering 8pm
Lakes Ridge
Saturday at Jaynes on Main in Miamisbursg 7pm
Tim Blakeny
Friday at Putters in Mainville 7pm
Saturday at the Whit Dog Distilling Company in Middletown 8pm
Sunday at the Barrel in Springboro from 4 to 7
Monday – every week for bike nightat Billies Burgers and Beers 6 to 8
Acoustic Junior
Wednesdays at the Dublin Pub hosting Open Mic 7 to 10pm
No Refunds
Friday at Mr. Boro's 8pm
Saturday at Beavercreek VFW on Saturday for their Poker Run for Mission 22. Open to the public. The 22 is to bring attention to the number of veterans who commit suicide on a daily basis. Door Prizes – auctions – Dinner doors at 6pm music at 6:30
Lindsey Ellen and the Track Hounds
Saturday The Wine and Art Fest at The Greene from 6pm to 9pm
Thom Stephenson
Saturday at 9am Power Keg Harley Davidson
​Saturday with ZaaZoo at the Pirates Den on Werk Rd. 8:30pm
Sunday - Little Miami Brewing - 2pm
Carpool – Cars Tribute
Thursday at JD Legends in Franklin 7pm
Courtney Jo Band
Saturday at "Shenanigan's & Shine" in Falmouth, KY (about 30 min from Cincinnati) 8pm-Midnight
Liars for Hire
Friday at the Kettering VFW 7:30 - 11:30p
Bourbon Road Band
Wednesday at Quaker Steak and Lube, Milford 6-10
Joe Lipinski
Friday - Jersey Joe at Devil Wind brewery, Xenia, 7-9PM
David Thornton
Thursday at Froggys (Monroe) from 6-10pm
Friday at Central Connections (Middletown) 7-10pm
Saturday at Brown's Run County Club (Middletown) 6-9pm
Sunday at Third Eye Brewing Company (Sharonville) 4-7pm
Ben & Pete
Friday at Lucky Star Brewery in Miamisburg from 8 to 11pm
Saturday at Dayton Beer Company from 7 to 10pm
Heath Bowling
Friday at O'Connors Irish Pub with Route 88 9-1am Springfield, OH
Saturday at Alleyway Café from 3-5p in Germantown, OH
Saturday with Route 88 at the St. Helens Festival 7-8:30pm Dayton, OH
Tuesday at CrackerJaks from 7-10p in Germantown, OH
Blind Faith Duo
Friday ar Tucker's Landing from 7-10pm
The Fast Forward Band
Saturday at Sis's Tavern from 7-11p - Monmouth St. Newport Ky.
Donna Kennedy Band
Friday—Little River Bar & Grill, Oregonia 7-11
Mike & Tiff w/ Short of Stable
Saturday at O'Learys from 8-11
Spungewurthy
Thursday at Bargos 6 to 10
Saturday at the St Helen Festival 8 to 10.
Michelle Robinson
Saturday from 1:15-2:15 Lebanon Country Music Festival
Saturday from 6:00-7:00 opening for Raelyn Nelson at Pohlman's in Hamilton
Until Rust
Thursday at Moe Harrigan's Tavern Kettering, Oh 8 - 11
Friday at Hidden Valley Orchards in Lebanon, Oh 6:30 - 9:30
Saturday at Crooked Handle in Piqua, Oh 5:30 - 8:30
Saturday at St. Helen's Festival Dayton, Oh 10 – 11pm
Wednesday at Oleary's Pub & Grub Centerville, Oh 7 - 10
Benny Bodine
Thursday at Heathers Café 6:30-9:30 Springboro, OH
Friday at O'Leary's Pub & Grub 8-11 Centerville, OH
Jamie Cress
J Frost 5 W/ TARS This Friday at the Fraze Pavilion Show Starts @ 8pm
Billy Brown
Friday at 8pm - Trillions in Cincinnati OH
Saturday at 10pm - Bristol Republic in Columbus OH
Sunday at 2pm - Zazou in Covington KY
Velvet Crush
Saturday at Dayton art institute "Art Ball" from 6-10
Truk
Saturday at St Helen's Spring Festival - School Lawn Stage 9-11
Linus Tate
Friday at Hamilton's Urban Backyard Hamilton, OH 7PM
Saturday at The Hitching Post Saloon in Darrtown, OH 7PM
Sunday at Loveland Summer Concert Series at Nisbet Park Loveland, OH 6PM
Six String Hustle
Thursday from 8-11 at Scottie's Tavern in Middletown, OH
Friday from 9:30-12:30 at Turfway Park in Florence, KY
Sunday from 7-9 at the St. Helen Festival Dayton, OH
Liquor Store Dogs
Saturday at the Fairfied Pub 9pm
Joe Cowels
Thursday - Joe Cowels solo at the Flying Pig Tavern in Fairborn ohio, 6p-9p
Friday - The Joe Cowels Band at the Riverside Athletic Club, Hamilton Ohio, 7p-10p
Saturday - The Joe Cowels Band at Cappy's, Loveland Ohio, 7:30p-10:30p
Monday - Joe Cowels solo st Joey's Roadhouse, Mount Healthy Ohio, 7p-10p
Wednesday - Joe Cowels solo at Club Trios Lounge [Cincinnati west side], 7p-10p
Vinyl Countdown
Friday at The Belle & The Bear 8:30 (ish)
Saturday at The Newport Italianfest from 5:30-8:30
The GAMUT
Friday at Miami Valley Gaming 9-12
Saturday at the Monkey Bar from 7-11pm
Brandy and The Beard
Saturday June 10th from 2-5pm at the Monkey Bar in Mainville…. first show back since her vocal surgery
Dat Band
Saturday at The Belle and The Bear - 8:30ish
Rick Kern
Saturday – With the The Eagles Project - Federal Hills Commons, Noblesville,IN - 7:00 - 10:00
Sunday - Rick Kern So Low Show - Club Trio Lounge - 3:00 - 7:00
Crown Watts w Larry Feldner on keys
Saturday - Fretboard Brewery 8pm
Kevin Cooper
Thursday from 730-1130pm: Belle & Bear Jam
Friday from 630-1030pm - Eyes Up Here at Gano Tavern
Saturday from 8pm-12am: Eyes Up Here at Trillions
Johnny Fink
Thursday Johnny Fink inducted into the Northern Kentucky Music Hall Of Fame - Ceremony-Tower park in FT Thomas Ky 6pm
Friday at the St Helens Fest Dayton Oh 630pm
Saturday the Gina and Johnny duo at Paradise Pavilion Eastgate 730pm
Sunday the Gina and Johnny Band at the Cincy blues challenge/ Element Eatery 230pm
Abes Lincoln
Thursday from 5-9 at MadTreein Oakley
Saturday from 7-10pm at Bellvue Beach Park in Bellvue, KY for the Second Saturday Concert in the Park series
RED HOT RIOT
Friday at the Cabana On The River- 8:00PM
Sweet Sister Mercy
The Whammies
Saturday at St. Antoninus Festival from 8-12
Marsha Brady
Thursday - Quaker Steak & Lube Colerain, Bike Night - 5:30pm - 9:30pm
Saturday - Heathers Cafe, Springboro Ohio - Marsha Brady debut - 7pm - 11pm
Whiskey Town
Friday at Kings Landing from 8 to 12
Saturday at Dixie Station from 9:30 to 1:30
The BillyRock Band
Friday at Kreimer's Bier Haus 7pm
The Beez Kneez
Friday at Woolly's in Franklin 9-11
Dv8
Thursday - Take over the square at UNION CENTER. West Chester OH 6pm til 9pm
Friday at the St Paul Festival in Florence Ky from 7pm til 10:30
Saturday at the St Michaels Festival in Cincinnati from 7:30 til 11:30
Drive
HayWired
Friday at the Fairfield Pub 9pm
Mojo Rizin
Saturday at Little Miami River Brewing company 7:30Pm
Timestamp
Friday at the Monkey Bar 7pm
If you would like to have your musical act featured on our weekly podcast or in Warren County Post contact us @Hall Around Town Radio on Facebook! For additional Band information follow our daily Facebook "Live at Five" program @Hall Around Town Radio
---
More News from Springboro