Who's Playing Out: Brought To You By Hall Around Town Radio August 17
Image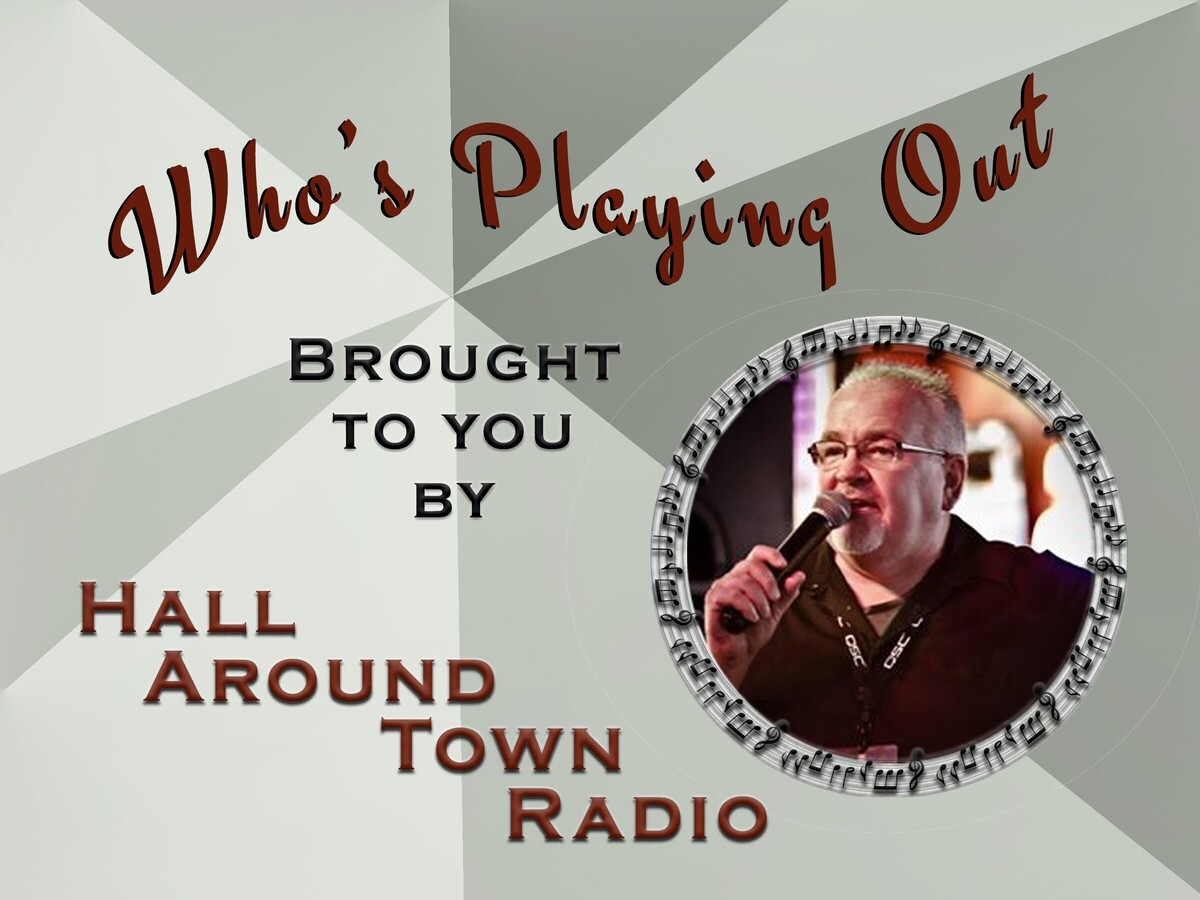 Brought to you by Scott Hall from "Hall Around Town Radio"
A little live music can turn an ordinary day into a memorable experience. The area's top musicians take center stage at some of the tri-states best restaurants and nightspots, bringing live music to our region nearly every night of the week. Make your first stop here weekly to find out "Who's Playing Out" at one of our live local music venues.
Bands and solos brought to you by our friends at Froggy's in Monroe, Ohio and Hall Around Town Radio (follow both on Facebook)
Froggy's in Monroe – Sponsor of our Thursday LIVE show on Facebook
Thursday – TAPS – Tursday Acoustic Patio Sessions – Joe Jordan 6 to 10
Friday at 8pm – No Band
Saturday at 8pm – Liars For Hire
Tuesday 7pm Frog-ingo, 7:30 Queen of Hearts –at $700
Wednesday – Jeep Night (Collect Frogs) from 6 to 10pm Patio with Jordan Wood
Check out the expanded patio! Live and Follow Froggys on Facebook
---
Heathers "On the Patio"
Thursday The Marthas from 6:30 to 9:30 ½ off Wine night … Bourbon Flights
Friday – Shuffle at 7pm
Saturday – More than Zero at 7pm
Tuesdays – Heathers Bingo 7pm
Wednesdays –Name That Tune Trivia with Scott 7pm - Resrvations Reccomended
---
Mr. Boro's Tavern Springboro
Thursday – Junior and Guitar Mike 7 to 10pm
Friday – Joe Cowles Band 8 to 11pm
Saturday –Ethan and Joey with Jada at 8pm
Sunday Funday - Classic Jam from 3 to 6pm
Tuesday – "Quiztastic" Q&A Trivia with Scott at 7pm
Wednesday – Queen of Hearts Drawing. 8pm 40K.
---
The Belle & The Bear (Montgomery) - Award Winning
Thursday "The Award Winning Jam" 7:30ish with an amazing cast and the Faded Cow food truck
Friday – The Hanky Panks 8:30 pm
Saturday - Red Hot Riot at 8:30 pm
Monday - Game Night - 6pm
Tuesday – "Singo" 7 to 9pm
Wednesday –- Gina and Johnny 7:30pm
---
Crooked Handle Brewing Co. Springboro
Friday – Until Rust 6 to 9pm
---
Crooked Handle Brewing Piqua
Saturday – The Homegrown Band 6 to 9 pm
---
Soft Rock Café
Karaoke – Thursday- 7:30 pm - Friday 8:30pm - Saturday - 8:30 pm.
---
Hamilton's Urban Backyard
Friday – Noah Smith and Friends at 7pm
Saturday – Justin Back and the Borrowed at 7pm
Tuesday – Turntable Tuesday All Vinyl with host Hollewood
Wednesday – Team Tune Trivia 7pm
---
Pohlman Lanes & Scott's Bar & Grill (Hamilton Ohio)
Family Entertainment Complex 954 Pyramid Hill Blvd., Hamilton Ohio
Friday - 90 Proof Twang 7pm
Saturday – ReDD 7pm
Monday – After Hours Band at 7pm
Wednesday – Standard Country Time Band at 1pm
---
O'Connors Irish Pub Springfield
Thursday – Open Jam at 7pm
Thursday – Karaokre in the dining room at 9pm
Friday – Matt Clarkson Band 9pm
Saturday – DJ EZ at 9:30
Monday – Jeep Invasion 5pm - Trivia with Matt Allen 7pm
Tuesday – Lilo 8pm
Wednesday – Karaoke dining room 10pm
---
Sorg Opera House
No Music Shows this Weekend - Friday September 8th – The Oak Ridge Boys
Future Show Tickets available at Cincyticket.com visit SORG page for more info
---
Stubbs Park in Centerville
Sunday – Hillbilly Rockstars from 7 PM to 9 PM
---
The Heights Summer Music Series at Eichelberger
Little River Bar and Grill (Oregonia)
Thursday –– DJ Songz at 7pm
Friday - Little River Bluegrass Festival
Saturday = Little River Bluegrass Festival
Sunday - Little River Bluegrass Festival
Tuesday – Little River Bike Night plus the Queen of Hearts Drawing
---
Miami Valley Gaming
Friday - The Chuck Taylors 9pm Center Bar
Saturday – 3 Piece Revival 9pm Center Bar
---
The Blue Note Harrison
Saturday - Metallica tribute "Battery" with Pantera tribute "Walk on Homeboys"! Rocking in the pub it's Strange! Doors at 5:30pm Tickets available at Cincyticket.com
---
Hidden Gem Music Club
Thursday – Open Mic Night Special Full Band Edition 7pm,
Friday – The Intergalactic Music Festival 8pm
Saturday – Engine of Chaos and Blackwater Voodo 8pm
Sunday at 7pm – Dayton Jazz Orchestra
Tueday - Open Mic Night 7:30PM
---
Lori's Roadhouse
Thursday – Line Dancing Lessons Boozy Bingo
Friday – 4 Low at 8pm
Saturday – Leah Crose at 4:30pm
Saturday – Blake Tyler at 8pm
Tuesday – Line Dancing Lessons 7pm
Tickets at LRHLIVE.com
---
Milanos (Miami Township)
Wednesday – Live Music with Shane DeMoss at 7pm
---
Rex Patrick and the Country Legends Show in Germantown
Saturday – Rick Henderson and the 50 Caliber Band …. doors open at 5:30 Music 7 to 10
Reserve your table now 513-594-1282
---
Moe Harrigan's Tavern
Thursday – Doug Hart 7:30
Friday – Jamie Combs 7pm
Saturday – TRUK 7pm
Sunday – Kyle Mercer at 5:30pm
Wednesday – Nick Mitchell 8pm
---
The Brick Tap and Tavern
Thursday – Scott Houchens 7pm
Friday – Benny Bodine at 8:30pm
Saturday – Pearl Street from 8:30 to 11:30
Wednesday – Doug Hart Solo 7:30pm
---
Ricks Tavern
Thursday – TBA
Friday – Acoustic Blue at 5:30
Thursday – Doug Hart at 8pm
Saturday – The Remains at 8pm
---
KnottyPine
Friday – Naked Karate Girls at 10pm
Saturday – Flatline at 9pm
---
Scotty Long / DJ Songz
Thursdays - Little River Oregonia, OH. Throwback Thursday Party 7pm!
Check out his Facebook pages at Scotty Long or DJ Songz for all shows!
---
Scott Hall
Saturday – Ridin & Rockin for Autism – 10am Queen City Harley Davidsom – Live Music with Melodic Connection and the Summit
Tuesday at Mr Boros Tavern for Quiztastic Tuesday Trivia
Wednesday – Heathers Name That Tune - Weekly Residency 7pm sharp RESERVATIONS AVAIL
---
Bands, Solos, Duos and Events
Bellbrook Lions Club Summerfest
Fun Food and Family This Weekend at 51 S East St in Bellbrook
Rides – Games - Food Parade Saturday at 4pm plus a Car Show
Friday Britches Down 7pm
Saturday Alexis Gomez at 8pm Bri Vermillion opend at 7pm
---
Side Piece
Saturday at the Barrel in Springboro for a debut show 8pm
Grocery Store Vodka
Saturday at Kingspoint Pub 9:00-1:00am
Rockstar
Saturday at 1st and 10 sports bar in Florence Ky 9:00pm
MULESHINE
Saturday at Mt Carmel Brewery 8pm
Paully and The fall From Grace
Saturday - (full band) will be at The Fairfield Pub from 9-1.
Sunday Pauly solo acoustic at Pirates Cove Tropical Bar and Grill from 4-8
Visitor
Friday at Hanks Local from 8 to 11
Until Rust
Thursday at Elsa's in Springboro, Oh from 7-10
Friday at Crooked Handle in Springboro, Oh 6-9
Saturday at B. A. A. B. S Middletown, Oh 8-11
Wednesday at Milano's in Miami Twp. Oh 7-10
Chad Applegate
Friday - Chad Applegate solo at Edgewater Sports Park , racers appreciation party 10pm to 1am
Every Wednsday at Hanks in Mt Carmel from 7 to 10
Benny Bodine
Thursday at Wings Sports Bar and Grille from 7-10 in Vandalia, OH
Friday at The Brick Tap & Tavern 8:30-11:30 Huber Heights, OH
Saturday at Romer's Bar & Grill 7-10 Bellbrook, OH
Truk
Saturday at Moe Harrigan's Tavern from 8-12
Billy Brown
Thursday Aug 17 at 8pm - Grizzly Rose in Denver CO
Friday Aug 18 at 8pm - Grizzly Rose in Denver CO
Saturday Aug 19 at 8pm - Grizzly Rose in Denver CO
Sunday Aug 20 at 8pm - Grizzly Rose in Denver CO
Velvet Crush Unplugged
Friday at Wright Station in Springboro, oh from 7-9
Saturday at the Art fair Waynesville, oh 10-1
Spungewurthyin
Friday at Wings Vandalia at 9pm
Ben & Pete
Friday - Ben & Adam at Lucky Star Brewery 8 to 11 PM,
Saturday - Ben & Pete at Moeller Brew Barn in Dayton 7 to 10 PM
Liars for Hire
Saturday at 8pm Froggy's Monroe
Blind Faith Duo Acoustic
Friday from 5-8pm at The Wicked Pickel on the Loveland bike trail in Loveland.
Rick Henderson and the 50 Caliber Band
Saturday at Rex Patrick – Music at 7pm
The Fast Forward Band
Saturday at AJ Jolly Park "Festival on the Lake" in Alexandria KY. time slot is 5:30 - 6:45 4 bands starting at 4pm with $5 cover
David Thornton
Thursday at Jayne's On Main from 7:00-10
The Weekend Effect
Friday at Mother Stewart's Brewing in Springfield from 7-10pm
Matthew Allen
Friday at White Dog Distilling Co. in Middletown 7pm
Short of Stable
Saturday Full band at The Hitching Post Outside patio 7-11
Sunday - Good time Charlie's Open Jam - Full backline available 5-9
Heath Bowling
Thursday at the Liberty Inn West Chester, OH. 6-10p
Friday at the Hitching Post Darrtown, OH from 8-11p
Saturday at the Corner Club with (Route 88) Dayton, OH 7-11p
Kevin McCoy Band
Saturday - St Bernadette Festival 7-11pm
Sunday- Zazou Covington Acoustoc with Erik Sears 2pm
Hooper and the Chief
Thursday – Streetside Brewry 6pm
Friday - Waynoka Marina Pointe at 7pm
Chris Lee Acoustic
Friday at Rivertowne Marina Cincinnati OH. 7pm-10pm
Sunday at Caesar Creek Flea Market in Wilmington OH. 11am-3pm
Michelle Robinson Band
Saturday at Hollywood Casino from 8-12
Joe Cowels
Friday at Mr Boros Tavern – full band show 8pm to midnight
Saturday at Tommies – (Solo) 7pm to 10pm
Whiskey Town
Friday at The Knott from 7 to 11
Saturday at Music on Main Williamstown, Ky 6 to 9
RED HOT RIOT
Saturday at the Belle & The Bear- 8:30 PM
Crown Watts
Thursday - Rockin The Roebling outside Moerlein Lager House - 7:00
Saturday - Club Trio - 8:00pm
Kevin Cooper
Thurs 730-1130pm: B&B Jam
Fri 830pm-1230am: The Hanky Panks at The Belle & The Bear
Sat 7-11pm: The Hanky Panks at Pirates Cove
The Whammies:
Friday at St. Mary's Festival in Hyde Park 7-11
Saturday at Kriemer's Bier House and River Bar 7-11.
Rick Kern
Thursday - The Eagles Project, 7:00-9:30pm at Delhi Park
Latter l
Friday live on the patio Little York Tavern in Vandalia Ohio 8pm
Audio Graffiti
Saturday at Jimmy B's Bar and Grille 9:30-1:30
Johnny Fink
Friday - Gina and Johnny full band ay Trillions 8pm
Wednesday - Gina and Johnny duo at the Belle and the Bear 7pm
Vinyl Countdown
Saturday at the St. Bernadette Festival 2-6 PM
Tuesday at the City of Edgewood Summer Concert Series 7-9 PM
Marsha Brady
Saturday at Lakeside RV Park - Indian Lake Ohio - 7pm - 11pm
The Billy Rock Band
Friday at 8pm - Hooters/Newport Landing
Saturday at 8p - Fretboard Brewing
The Beez Kneez
Friday at Woolly's from 9-11
ReDD
Friday at Borderline from 10-1
Saturday at Pohlman Lanes from 7-11
1330
Saturday at the VFW Cabana on the Whitewhater 8pm
Doug Hart Band
Saturday – Phone Booth Lounge 8pm
Templin Road
Satuday at the Monkey Bar 7pm
Last Call Trio
Jim Jones as Elvis
Saturday at El Rancho Nuevo – Menards Drive 6 to 8pm
If you would like your band or musical act featured on our weekly podcast or shared in the Warren County Post contact us @Hall Around Town Radio on Facebook! For additional Band information follow our daily Facebook "Live at Five" program @Hall Around Town Radio
More News from Springboro