Who's Playing Out: Brought To You By Hall Around Town Radio September 28, 2023
Image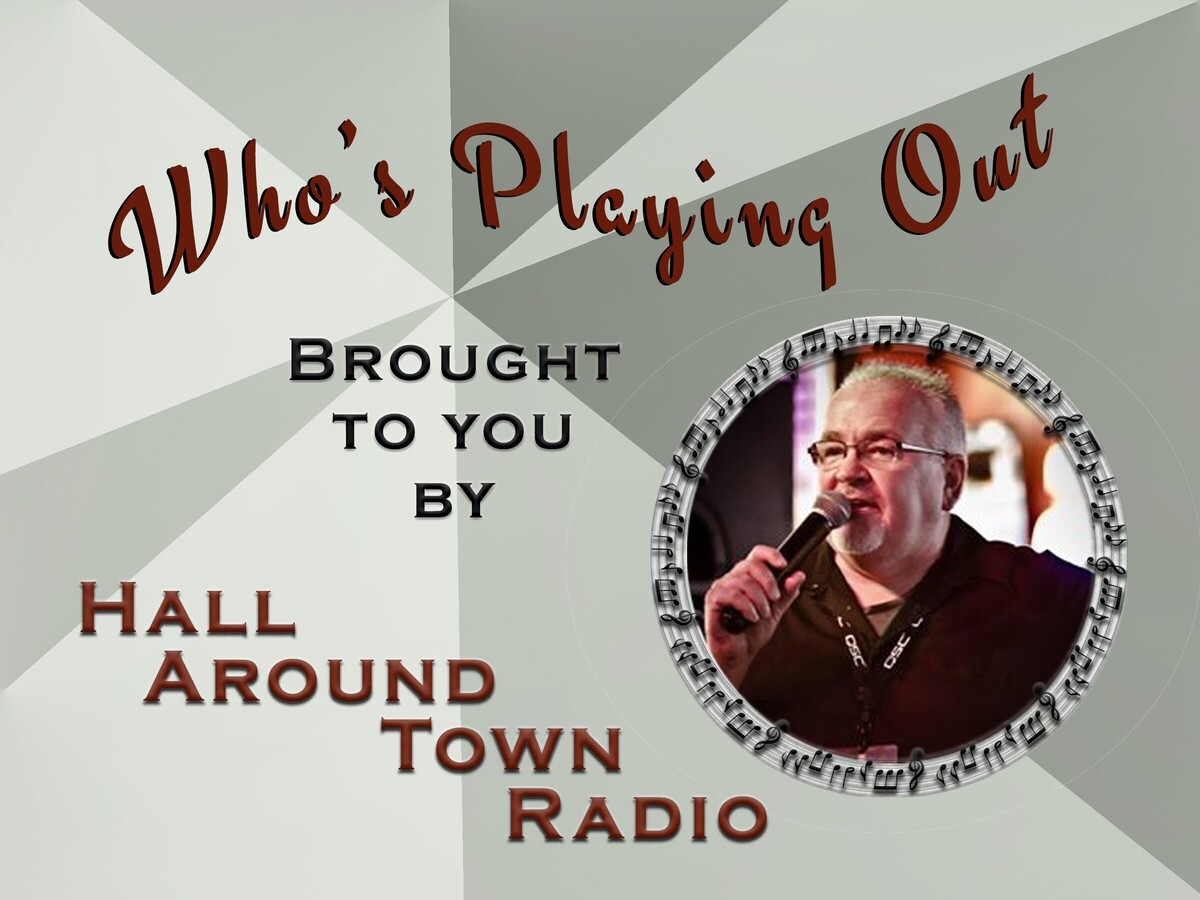 Brought to you by Scott Hall from "Hall Around Town Radio"
A little live music can turn an ordinary day into a memorable experience. The area's top musicians take center stage at some of the tri-states best restaurants and nightspots, bringing live music to our region nearly every night of the week. Make your first stop here weekly to find out "Who's Playing Out" at one of our live local music venues.
Bands and solos brought to you by our friends at Froggy's in Monroe, Ohio and Hall Around Town Radio (follow both on Facebook)
Froggy's in Monroe – Sponsor of our Thursday LIVE show on Facebook
Thursday – No Music this No Live Music
Saturday at 8pm – Dirthy Water Revival
Sunday - Bengals Game at noon
Tuesday 7pm Frog-ingo, 7:30 Queen of Hearts – over $1500
Wednesday – Jeep Night from 6 to 10pm Patio with Until Rust
Check out the expanded patio! Live and Follow Froggys on Facebook
---
Heathers "On the Patio"
Thursday – Spungewurthy at 6:30
Friday –Top Secret at 7pm
Saturday – My Day Off 7pm
Tuesdays – Heathers Bingo 7pm
Wednesdays – Week 23 - Name That Tune Trivia with Scott 7pm - Resrvations Reccomended
---
Mr. Boro's Tavern
Thursday - Velvet Crush Unplugged 5:30 to 8pm Packers Lions at 8:15pm
Friday – Bourbon Road Band 8 to 11pm
Saturday –Drive at 8pm
Sunday NFL Football on Surround
Tuesday – "Quiztastic" Q&A Trivia with Scott at 7pm
Wednesday – Queen of Hearts Drawing. 8pm 43K.
---
The Belle & The Bear (Montgomery) - Award Winning
Thursday "The Award Winning Jam" 3rd Anniversary Party 7:30ish and the Faded Cow Food Truck
Friday – CFG and The Family at 8:30 pm
Saturday - Miss Jacque at 8:30 pm
Monday - Game Night - 6pm
Tuesday – "Singo" 7 to 9pm
Wednesday –- Special Entertainment Night at 7:30pm
---
Soft Rock Café
Karaoke – Thursday- 7:30 pm - Friday 8:30pm - Saturday - 8:30 pm.
---
Crooked Handle Brewing Co. Springboro
Thursday – Ricky Veeneman 6pm
Friday – Jake "Hambone" Davis 6pm
---
Crooked Handle Brewing Piqua
Thursday – Until Rust 6 to 9 pm
Saturday – Doug Hart 6pm
---
Hamilton's Urban Backyard
Friday at 7pm Josh Lawson & The KoKotto Comback
Saturday at 7pm No Guarantees
Tuesday – Turntable Tuesday All Vinyl with host Hollewood
Wednesday – Team Tune Trivia 7pm
---
Pohlman Lanes & Scott's Bar & Grill (Hamilton Ohio)
Family Entertainment Complex 954 Pyramid Hill Blvd., Hamilton Ohio
Friday - Brett and Danny 7pm
Saturday – H&R Rock 7pm
Monday - The After Hours Band at 7pm
Wednesday – The Standard Country Time Band at 1pm
---
O'Connors Irish Pub Springfield
Thursday – Karaokre in the dining room at 9pm
Friday – DJ Frost at 10pm
Saturday – Cryin Out Loud 8pm
Monday – Trivia with Matt Allen 7pm
Tuesday – Ryan Fyffe at 8pm
Wednesday – Music Bingo 7pm and Karaoke at 10pm
---
Sorg Opera House
Future Show Tickets available at Cincyticket.com visit SORG page for more info
---
Little River Bar and Grill (Oregonia)
Thursday –– DJ Songz at 7pm
Friday – Road Trip at 7pm
Saturday – Mike Lieser and the Conga Kings 7pm
Tuesday – Bar Bingo Queen of Hearts Drawing
---
The Blue Note Harrison
No Shows this weekend – Future Show Tickets available at Cincyticket.com
---
Milanos (Miami Township)
Wednesday – Live Music at 7pm
---
Miami Valley Gaming
Friday - Buzzbin 9pm Center Bar
Saturday – DJ Big Daddy Walker – 9pm Center Bar
---
Rex Patrick and the Country Legends Show in Germantown
Saturday – The Richard Lynch Band …. doors open at 5:30 Music 7 to 10
Reserve your table now 513-594-1282
---
Hidden Gem Music Club
Thursday – The Flying Ivories 7pm,
Friday – 9pm Neo American Pioneers, Thunderlover, Grey Cloud Nein
Saturday – Barre at the Bar with Day Yoga Studio 4pm
Saturday – Wild Front Tears 7pm
Sunday at 7pm – Kelli Campbell Jazz Quintet
Tueday - Open Mic Night 7:30PM
---
Lori's Roadhouse
Thursday –Football
Friday – John Michael Montgomery at 8pm
Saturday – Aaron Goodvin 8pm
Sunday – Football
Tuesday – Line Dancing Lessons 7pm
Tickets at LRHLIVE.com
---
Moe Harrigan's Tavern
Thursday – Doug Hart 7:30
Friday – Acoustic Jr and guitar Mike 8pm
Saturday – Adam West and the Beez Kneez 8pm
Sunday – Open Mic with Acoustic Junior 7pm
Wednesday – Nick Mitchell 8pm
---
The Brick Tap and Tavern
Thursday – Scott Houchens 8:00pm
Friday – Finding Melissa at 8:30pm
Saturday – TRUK 7pm
Wednesday – Doug Hart Solo 7:30pm
---
Ricks Tavern
Friday – Social Chemists at 8pm
Saturday – Three Day Rule at 8pm
---
KnottyPine
Thursday – Mitch Grevie at 7pm
Friday – 1330 at 9pm
Saturday – Under The Sun at 9pm
---
Scotty Long / DJ Songz
Thursdays - Little River Oregonia, OH. Party 7pm!
Check out his Facebook pages at Scotty Long or DJ Songz for all shows!
---
Scott Hall
Tuesday at Mr Boros Tavern for Quiztastic Tuesday Trivia
Wednesday – Heathers Name That Tune – Week 23 7pm sharp RESERVATIONS AVAIL
---
Bands, Solos, Duos and Events
Rick Henderson & The .50 Caliber Band
Friday at Hunter Pizzeria 6:00 to 8:00.
5th Friday food, fun, friends, and live music!
---
HALL PASS – ROCK BAND
Saturday at Rip Rap Roadhouse 7 to 10pm
Cryin Out LOUD
Friday at the Miamisburg Moose 8-11:30
Saturday at O'Connors Irish Pub in Springfield 8-12 *it's Tina's birthday
Joe Lipinski
Sunday jersey joe at Moeller Brew Barn downtown Dayton, 3-5PM.
Retroactive Band
Saturday at Great 18 from 6-9 PM. Dinner reservations required. 513-398-7700.
Chris Lee Acoustic
Thursday at Voodoo Brewing Co. – Cincy Cincinnati OH. 6pm-9pm
Friday at Fibonacci Brewing Company Cincinnati/Mt Healthy OH. 6pm-9pm
Saturday at Kroger-Anderson Towne Center Anderson OH. Noon-3pm
Spungewurthy
Thursday at Heathers Cafe from 630 to 930
Saturday - The Greene Oktoberfest 6 to 9
Ethan & Joey 8 piece band
Friday at the Hard Rock Cafe Cincinnati starting at 1030pm.
The Fast Forward Band
Friday at Jerzees Pub in Covington Ky 8-12.
Donna Kennedy Band
Saturday at DC Roadhouse Middletown 8-12
Wesley Green
Friday with the Bourbon Road Band at Mr. Boro's 8-11
Kevin McCoy Band
Saturday at 9:30pm Anderson Tap House
Michelle Robinson
Friday at Shiners on the Levee 10:30-1:30
David Thornton
Thurs, 9/28 Jayne's On Main (Miamisburg) 7-10
Fri, 9/29 Grainworks Brewing Co (West Chester) 7-10
The GAMUT—
Saturday 9/30 at The Monkey Bar 7pm-11pm
Black Bone Cat
Friday at Kriemer's Bier Haus, 7-11
CFG & the Family
Friday at the Belle and Bear from 8:30-12 30
Saturday at the Cornstand Jam festival RiversEdge Hamilton. 8-9:30
Kevin Cooper
Thurs 730-1130pm: B&B Jam (3rd anniversary celebration, more to tome)
Fri 7-11pm: The Hanky Panks at Pirate's Cove
Sat 8pm-12am: The Hanky Panks at Riverside Marina (Dayton, KY)
Lätter
Friday Wings in Vandalia 9:30
Saturday at McSobers in Coldwater 9:30
-Vinyl Countdown-
Friday - Wright-Patt Air Force Base "Planes, Tunes & BBQ" 4-6 PM
Saturday - Harvest Fest at Camp Joy 2:30-6:30 PM
Joe Cowels
Friday from 7p-10p Putters in Liberty Township
Saturday Full band from 6p-9p Southern Ohio Brewing, Beavercreek
Sweet Sister Mercy
Friday at Element Eatery 7pm-10pm
Drive
Saturday at Mr. Boro's Tavern, Springboro 8pm
Johnny Fink
Saturday the Gina and Johnny full band at Mansion Hill tavern 8pm
Marsha Brady
Friday September 29th - The Monkey Bar - Maineville Ohio - 7pm - 11pm
BillyRock Band
Friday at 8pm Bishop's Quarter
Adam West and the Beez Kneez
Saturday from 8-midnight at Moe Harrigans
Finding Melissa
Friday at Brick Tap & Tavern 8:30p
More Than Zero
Saturday at 9:00p - Wings Vandalia
The Whammies:
Friday (9/29) - Trio's 8-12
Saturday (9/30) - Kriemer's Bier Haus 7-11
OVERDRIVE
Saturday at the Urbana Moose Lodge. 7:30PM
Dv8
Saturday - Operation Thank You -Sawyer Point Event starts at 3 pm til 9 with fireworks following from Rozzis Fireworks
That One Party Band
Thursday acoustic at Trillions 7-11
Friday That one party band acoustic at voodoo brewpub 6-9
Sunday Rae Renee back at Trillions 7-10
Until Rust
Thursday 9/28 Crooked Handle Piqua, Oh 6-9
Friday 9/29 Jayne's On Main Miamisburg, Oh 7:30 - 10:30
Wednesday 10/4 Froggy's Monroe, Oh 6-10
Shane deMoss Music
Saturday - "SugarCreek-Bellbrook Community Picnic & Business Expo" Next to Bellhop Café Downtown Bellbrook
-Heath Bowling - 1pm
-Mike Combs - 2pm
-Benny Bodine - 3pm
-Shane deMoss - 4pm
Benny Bodine
Friday 9/29 Franklin Orioles 7-10 Franklin, OH
Saturday 9/30 Live Music at Sugarcreek-Bellbrook Community Picnic & Business Expo
Featuring Shane Demoss, Heath Bowling, Benny Bodine & Mike Combs 1-5 Bellbrook, OH
Wednesday 10/4 O'Leary's 7-10 Centerville, OH
Jamie Cress
Friday - The Prince Experience w/ JFrost5 Gates open at 630 JF5 8-9 TPE 930-11pm
Truk
Saturday at The Brick Tap Huber Heights 8:30-12
VCU
Thursday Mr Boros tavern Springboro oh 530-8
Friday at Pour Haus in Centerville oh 8-12
Saturday at Dublin pub in Dayton oh 830-1230
Billy Brown
Friday Sept 29 at 10pm - Red Rock Saloon in Madison WI
Saturday Sept 30 at 10:30pm - Outlaws in Ames IA
Adam & Jalen
Friday at Anderson Tap House 7-11pm
If you would like your band or musical act featured on our weekly podcast or shared in the Warren County Post contact us @Hall Around Town Radio on Facebook! For additional Band information follow our daily Facebook "Live at Five" program @Hall Around Town Radio
More News from Springboro