Who's Playing Out Brought To You By Hall Around Town Radio
Image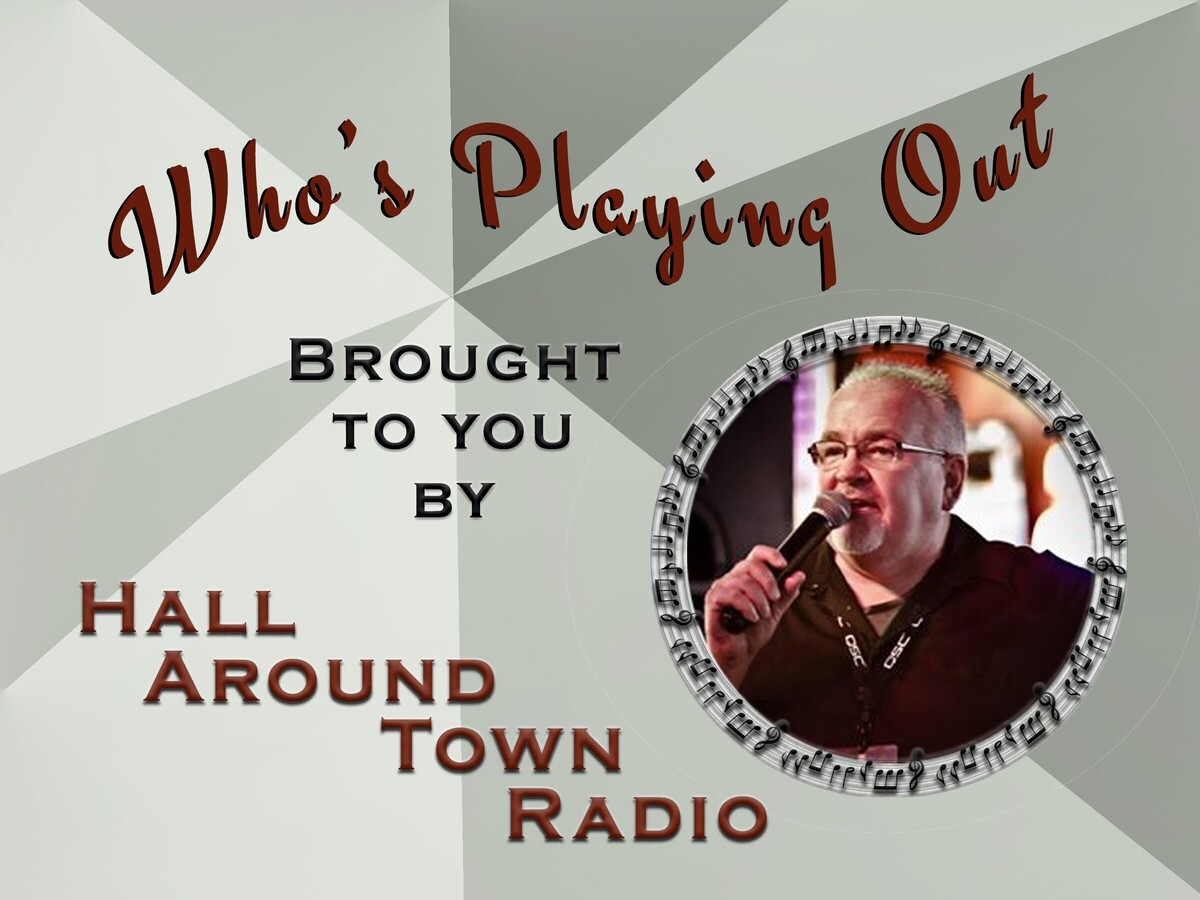 Brought to you by Scott Hall from "Hall Around Town Radio"
A little live music can turn an ordinary day into a memorable experience. The area's top musicians take center stage at some of the tri-states best restaurants and nightspots, bringing live music to our region nearly every night of the week. Make your first stop here weekly to find out "Who's Playing Out" at one of our live local music venues.
Bands and solos brought to you by our friends at Froggy's in Monroe, Ohio and Hall Around Town Radio (follow us on Facebook)
Froggy's in Monroe – Sponsor of our Thursday LIVE show on Facebook Now open at 11am daily.
Band cancelled for Friday
Sat — 9PM Miss Jacque 
Sun —2pm Chili cook off with 3:30 PM Bengals game
Tues — 7 :30 What's That Tune Bingo
Wed — 8 PM Karaoke with DJ Songz 
Online seating reservations / tickets at www.gotofroggys.com
---
Mr. Boro's Tavern Springboro.
Thursday — Kevin McCoy and Lee Dixon Duo 7pm
Friday — Michelle Robinson and Brian Gilliam Acoustic Duo 8 to 11pm
Saturday — Route 88 - 8 to 11pm
Sunday — NFL AFC Championship Watch Party 3pm
Tuesday — Trivia with Scott at 7pm
Wednesday — Queen of Hearts Drawing Pot is over $3K
---
The Belle & The Bear (Montgomery)
Thurs., — Jam featuring the Cincy area's best musicians -  local music celebrities at 7:30 pm
Fri., — Kevin McCoy Band 8:30 pm
Sat., — Black Bone Cat 8:30 PM
Sun., — Football AFC Championship at 3pm
Mon., — Game Night 6pm
Tues., — Jamie Combs 7pm
---
Lebanon Grand Opry House
Saturday — The Avalons – Rock N Roll Oldies Sensations Dinner at 6 Show at 7
---
Sorg Opera House
Saturday — Night of 1000 Harlees!
Tickets at Cincyticket.com
---
Soft Rock Café
Karaoke – Thursday 7pm - Friday 8pm - Saturday 8:30 pm
---
BAABS Bar and Bistro
No music this week
---
Crooked Handle Brewing Co.
Thursday — Anita and the Daves at 7pm
Friday — Until Rust at 7pm
---
Little River Bar and Grill (Oregonia)
Thursday —Karaoke with DJ Songz 7pm
Friday — Just Jayson 7pm
Saturday — The Relic's 7pm
---
The Blue Note Harrison
Friday — Framing Hanley with ENMY, Mr. Mason and Saints Among Us 5:30pm
Saturday — Flatline on one stage and Sweet Sister Mercy on another Doors at 6
Tickets available at …. CincyTicket.com
---
Pohlman Lanes & Scott's Bar & Grill (Hamilton Ohio)
Family Entertainment Complex 954 Pyramid Hill Blvd., Hamilton Ohio
Friday 7pm - Eyes Up Here
Saturday 6pm - Opener The Okeanas with Headliner Stagger Lee (HoelleWood's Birthday Bash)
Monday 01/31/2022 After Hours Big Band Swing 7pm
Wednesday 02/02/2022 Honky Tonk Wednesday Standard Country Time Band 1pm
---
Hidden Gem Music Club
Thursday – Belly Dance by Browen 8pm
Friday – The Mind Reels 7pm
Saturday – Wild Front Tears 8pm
Sunday – Janice Codispoti with the Bright Moments Trio 7pm
Wednesday – Open Mic Night
---
Lori's Roadhouse
Thursday – John and Eddie 6pm
Friday – Whiskey Town 5:30pm
Friday – John Morgen Band 8:30 pm
Saturday – Kaleb Hensley at 6pm
Saturday – Chase Matthew 8pm
---
Miami Valley Gaming
Friday- 90 Proof Twang - 9pm Center Bar
Saturday - Chuck Brisbin & The Tuna Project – 9pm Center Bar
---
Scott Hall – Hall Around Town Radio
Tuesday Trivia at Mr. Boros Tavern 7pm
---
Scotty Long / DJ Songz
Tonight - Little River B&G 7-11pm
Sunday - The Barrel Bengals vs Chiefs Watch Party. 2:30pm-?
Tuesday - The Barrel 7pm-11pm
Wednesday - Froggys 8-12am
---
Bands, Solos and Duos
Marsha Brady Band
Friday Jan 28th - Club Trio - 9pm - 1am - Colerain Ohio
Saturday Jan 29th - Latitudes - 9pm - 1am - Anderson Ohio
---
DV8
Saturday at The Knotty Pine 9:30 pm
---
Bohemian Funk
Friday – Phone Booth Lounge in Kettering 8 to midnight
---
Reyna
Friday at WO Wrights 6pm
---
Model Behavior
Friday – Belterra Stadium Sports Bar 8pm
---
Templin Road
Friday at The Monkey Bar & Grill 7pm
---
Ithika
Saturday – Wings in Vandalia 9:45 pm
---
HiFi Honey
Saturday – Covington Yard 7:30 pm
---
13:30
Friday at the Knotty Pine – 9pm
---
The Marthas
Friday at Rumbleseat Wine – 7pm
---
Vaughn Sutherland
Country Roads Music are at Heroes Pizza in Springboro Friday night 7-10pm.
---
Shawn Bell
Friday at Jens Bar in Hamilton 830 to 1230
Saturday - Shawn Bell Band at The Moose Lodge in Norwood Norwood Ohio 7 to 11 pm
---
Route 88 Unplugged
Friday at Good Time Charlie's at 9-1 Miamisburg, OH
---
Route 88 Full Band
Sat at Mr. Boro's Tavern 8-11 Springboro, OH
---
Chad Applegate
Saturday - Chad Solo at Little Miami Brewing Company. 730 til 1030.
---
Jacob William
Thursday 1/27 at Fig Leaf Brewing 6-9pm
---
Until Rust
Friday 1/28 Crooked Handle Springboro, Oh 7-10
Saturday - Until Rust & Short Of Stable (Until Stable) The Barrel Springboro, Oh 8-12
---
Shane deMoss Solo
Wednesday 2/2 Milano's Miamisburg, Oh 7-10
---
Six String Hustle
Fri 1/28 8-12 Flintlocks Bar California, KY
Sat 1/29 7-10 Heroes Pizza Springboro, Ohio
Tues 2/1 6-10 Jimmy Bs Cincinnati, Ohio
Wed 2/2 7-11 The Hangar Bar West Chester, Ohio
---
David Stautberg
Friday - 7 to 10pm - Acoustic Blind Faith Duo Alexandria Brewing Company in Nothern Kentucky
---
Don't Tell Steve
Saturday Private Gala
---
The Weekend Effect
Sat 29th at Wings Beavercreek. 9-1
---
Linus Tate
Friday — January 27th New Boswell Brewery Richmond, IN 7:30PM
Saturday — January 28th Smoke Justis Covington, KY 7PMMon 8:35 PM
---
HAMMER AND NAILS
Friday Jan 28–Beavercreek Moose. 7:30 to 11:30
---
Chris Lee
Friday, Jan. 28 Chris Lee Instrumental at Red Rose Jems Pizzeria, in the carryout area (dining room will not be open). 6pm-8pm
Saturday, Jan. 29 Chris Lee Acoustic at Swine City Brewing. 8pm-10pm
Sunday, Jan. 30 Chris Lee Acoustic at Caesar Creek Flea Market. 11:30am-2:30pm
---
Short of Stable
Saturday - 1/29 The Barrel 8-12 "Until Stable" - Mike, Tiff and Nick from SOS with @Shane and Rob from Until Rust
---
Michelle Robinson
Friday Acoustic with Brian at Mr Boro's 8-11
Saturday Big Bulls Roadhouse 9-1
---
Heath Bowling
Friday 1/28 at Misery and Jens 630-1030p Hamilton, OH
Saturday 1/29 at Cadillac Jacks 8-12a Shelbyville, IN
Wednesday 2/2 Open Mic(AJ's) Franklin, OH 8-11p
---
Ben & Pete
Thursday, 1/27 at The Pub at The Greene in Beavercreek 6 to 9 PM
---
Spungewurthy
Friday Jan 28th at Katz Lounge 9pm
---
Kevin McCoy Band
Thursday Jan 27: Mr. Boros 7-10pm
Friday Jan 28: The Belle & The Bear 8-12midnight
---
Wesley Green
Saturday with the Bourbon Road Band - MVP Sports Bar and Grill Kenwood 9-1
---
Seiter Haus and Scott Seiter
Solo Thurs at 8PM - Squeaky Squirrel
Duo Sat at 8PM - Tony's Ole Saloon
Solo Sun at 7PM - Flintlocks Bar & Grill
---
Crown Watts
Saturday at Ricks Tavern 8:00 pm
---
Kevin Cooper
Thurs 730-1130pm: B&B jam
Fri 7-11pm: Eyes Up Here at Pohlman Lanes
Sat 8pm-12am: The Hanky Panks at Trillions
---
Whiskey State Line
Saturday at The Madison inn 9-1. Thanks Michele Hopp a new edition
RED HOT RIOT-
Saturday at the Talon's Tavern in Milford - 8:00 pm
---
Audio Graffiti
Friday 1/28- The Banks Downtown For the Official Cincinnati Bengals Pep Rally Appearances by: Who Dey, The Ben-Gals, Anthony Munoz, Ickey Woods, David Fulcher and More…. 4:00-7:00
Saturday 1/29- Mt. Lookout Tavern 10:00-2:00
---
ReDD
Friday at Route 50 - 8-12am
---
Carey Hunley & Amy Sailor
Saturday at Hebron Grill - 7-10pm
---
Sabbath - The Complete Black Sabbath Experience
Friday – JD Legends w/ Hollow A.I.C. Tribute 7pm
---
Emily Rose
Friday at Bock Family Brewing 6pm
---
Two Mississippi
Friday at Mutts Brewery Lounge – 8pm
---
Jordan Wood
Thursday 1/27 at Twenty Mile Tavern Open Jam - 9pm Landen
Friday 1/28 at Ron's Place 9pm Blanchester
Saturday 1/29 Grub Pub - full band 9pm Hamilton
Monday 1/31 Misery & Jens Open Jam 8pm - ? Hamilton, OH
Thursday 2/3 Twenty Mile Tavern Open Jam 9pm Landen
---
Brian Morrow
Thursday – Open Mic Night – West Side Pub and Grub 8pm
If you would like to have your musical act featured on our weekly podcast or in Warren County Post the contact us @Hall Around Town Radio on Facebook! For additional Band information follow our daily Facebook "Live at Five" program @Hall Around Town Radio