Who's Playing Out: Brought To You By Hall Around Town Radio Nov., 2
Image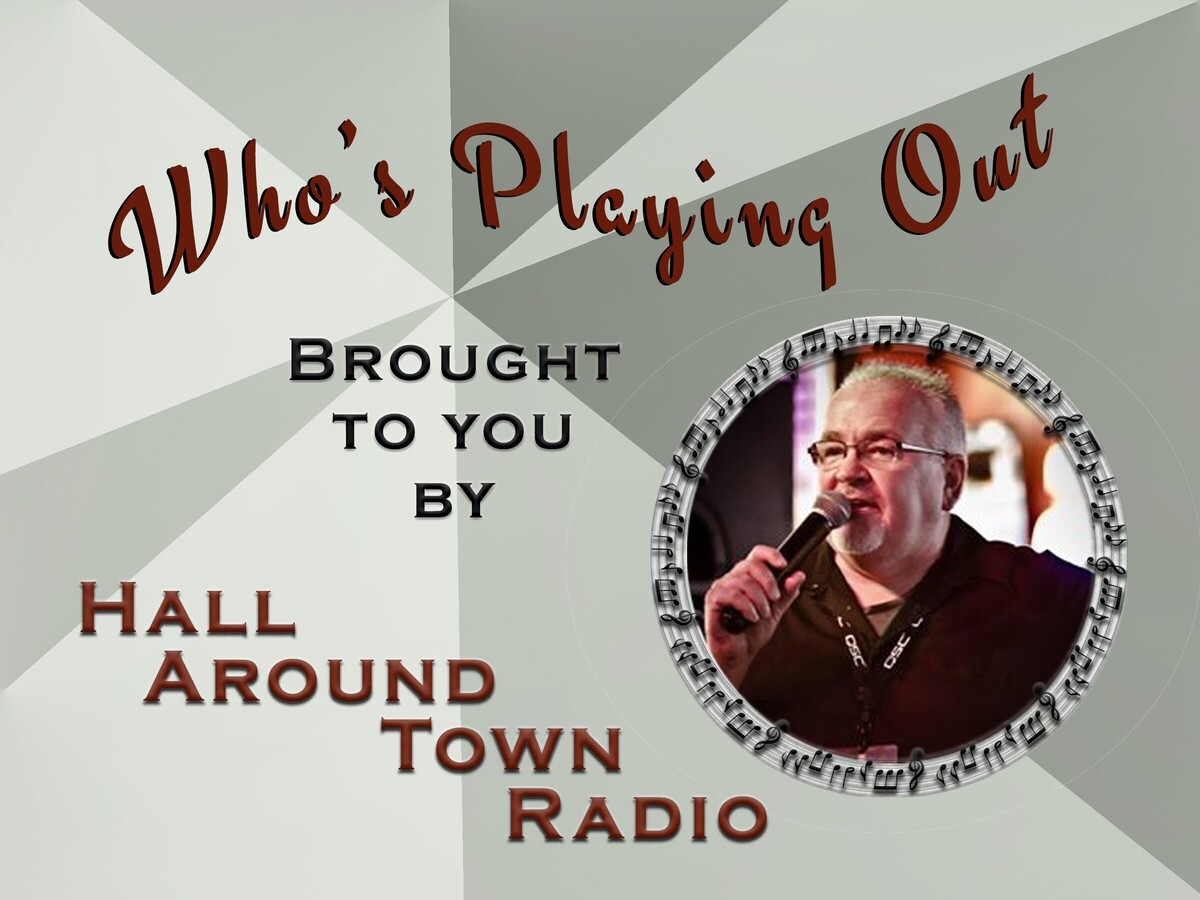 Brought to you by Scott Hall from "Hall Around Town Radio"
A little live music can turn an ordinary day into a memorable experience. The area's top musicians take center stage at some of the tri-states best restaurants and nightspots, bringing live music to our region nearly every night of the week. Make your first stop here weekly to find out "Who's Playing Out" at one of our live local music venues.
Bands and solos brought to you by our friends at Froggy's in Monroe, Ohio and Hall Around Town Radio (follow both on Facebook)
Froggy's in Monroe – Sponsor of our Thursday LIVE show on Facebook
Friday – Angela Combs Band 8pm
Saturday – Brittneys Lipstick 8pm
Sunday - Football
Monday – Football with Jess
Tuesday 7pm Frog-ingo, 7:30 Queen of Hearts – over $2100
Wednesday – Karaoke returns with Kj Love 6 - 10p
---
Heathers "On the Patio"
Tuesdays – Heathers Bingo 7pm
Wednesdays – Week 28 – Final Regular Season Name That Tune Trivia with Scott 7pm
---
Mr. Boro's Tavern – New Menu Items
Thursday - TRUK 5:30 to 8pm Footballl at 8:15pm
Friday – Velvet Crush Unplugged 8 to 11pm
Saturday – White Knuckle Weekend at 8pm
Sunday NFL Football on Surround
Tuesday – "Quiztastic" Trivia with Scott at 7pm
Wednesday – Queen of Hearts Drawing. 8pm $700
---
The Belle & The Bear (Montgomery) - Award Winning
Thursday "The Award Winning Jam" 7:30ish and the Faded Cow Food Truck
Friday – Black Bone Cat at 8:30 pm
Saturday - Miss Jacque at 9 pm
Monday - Game Night - 6pm
Tuesday – "Singo" 7 to 9pm
Wednesday –- Rare Whiskey Wednesday at 5pm
---
Soft Rock Café
Karaoke – Thursday- 7:30 pm - Friday 8:30pm - Saturday - 8:30 pm.
---
Crooked Handle Brewing Co. Springboro
Thursday – Zane Gerlach 6pm
Friday – Doug Hart 6pm
Sunday – The Music Bingo Show at 6pm
---
Crooked Handle Brewing Piqua
Saturday – The Homegrown Band at 6pm
---
Hamilton's Urban Backyard
Friday at 7pm – Nate Jenkins
Saturday at 7pm – Dad Bods
Tuesday – Turntable Tuesday - All Vinyl with host Hollewood
Wednesday – Team Tune Trivia 7pm
---
O'Connors Irish Pub Springfield
Thursday – Karaoke in the dining room at 9pm
Friday – DJ Frost at 9:30 pm
Saturday – Premonition at 9:00pm
Monday – Trivia with Matt Allen 7pm
Tuesday – Ryan Fyffe at 8pm
Wednesday – O'Comedy at 7pm
Wednesday - Karaoke at 10pm
---
Pohlman Lanes & Scott's Bar & Grill (Hamilton Ohio)
Family Entertainment Complex 954 Pyramid Hill Blvd., Hamilton Ohio
Friday -
Saturday –
Monday - The After Hours Band at 7pm
Wednesday – The Standard Country Time Band at 1pm
---
Sorg Opera House
No Music Shows This Weekend
Future Show Tickets available at Cincyticket.com visit SORG page for more info
---
Little River Bar and Grill (Oregonia)
Thursday –– DJ Songz at 7pm
Friday – Shady Pine at 7pm
Saturday – Element 3 at 7pm
Tuesday – Bar Bingo Queen of Hearts Drawing
---
The Blue Note Harrison
Friday – Micromania Wrestling – All Ages 6pm
Saturday – Journey Tribute "The Rock Show" returns to rock the house! Opening the show it's "Sammy Hagar Tribute "One Way To Rock" Rocking in the pub it's Flipside! 6pm
Show Tickets available at Cincyticket.com
---
Milanos (Miami Township)
Wednesday – Live Music each week at 7pm with Shane Demoss next week
---
Miami Valley Gaming
Friday - 3 Piece Revival 9pm Center Bar
Saturday – Audio Graffiti – 9pm Center Bar
---
Rex Patrick and the Country Legends Show in Germantown
Saturday – The Country Legends Band 7 to 10pm - Doors open at 5:30 …
Reserve your table now 513-594-1282
---
Hidden Gem Music Club
Thursday – Mambo Combo at 7:30pm
Friday – 8pm Source with Far From Eden, and Law of One
Saturday –8pm Nasty Bingo "The Band"
Sunday at 7pm – The Blue Whisp Band
Tueday - Open Mic Night 7:30PM
---
Lori's Roadhouse
Thursday –Football and Line Dancing
Friday – Chayce Beckham with support from Blake Tyler at 8pm
Saturday – Chris Cagle opening acts The Roasters and East of Austin at 8pm
Sunday – Football
Tuesday – Line Dancing Lessons 7pm
Wednesday – Karaoke 9pm
Tickets at LRHLIVE.com
---
Moe Harrigan's Tavern
Thursday – Tony Peters 8pm
Friday – Pearl Street 8pm
Saturday – Scott Houchens 8pm
Sunday – Open Mic with Acoustic Junior 7pm
Wednesday – Nick Mitchell 8pm
---
The Brick Tap and Tavern
Thursday – Scott Houchens 8:00pm
Friday – Music Bingo at 8:30pm
Saturday – Pulse at 8:0pm
Wednesday – Doug Hart 7:30pm
---
Ricks Tavern
Friday – Naked Karate Girls at 9pm
Saturday – NKG Glow Party
---
KnottyPine
Thursday – TBA at 7pm
Friday – Final Order at 9pm
Saturday – Dv8 at 9pm
---
Voodoo Brewing Cincy
Thursday Last Call Trivia 7pm
Friday - Nathan Taylor acoustic 6-9pm
Tuesday - Karaoke with Rae Renee 6-11pm
---
Scotty Long / DJ Songz
Thursdays - Little River Oregonia, OH. Party 7pm!
Friday - Township Tavern 8pm-1am.
Check out his Facebook pages at Scotty Long or DJ Songz for all shows!
---
Scott Hall
Tuesday at Mr Boros Tavern for Quiztastic Tuesday Trivia
Wednesday – Heathers Name That Tune – Week 28 7pm RESERVATIONS
Weekly on Hall Around Town Radio for all your music news and needs
---
Bands, Solos, Duos and Events
Queen City Blues Fest
Saturday Southgate House Revival from 6 to 11:30
Gina Cullen
Sunday at Cold Beer and Cheeseburgers in Beavercreek 5 to 8
Wednesday at the Hidden Gem from 7 to 9pm
Acoustic Junior
Friday from 8 to 11 – Junior and Friend at the Buckin Donkey on South dixie in Kettering
Standar Country Time Band
Friday at Hunter Pizzeria 6pm
Wednesday at Pohlman Lanes 1pm
Truk
Thursday at Mr Boro's from 5:30 - 8
Steve Kracus
Saturday with DV8 at the Knotty Pine 9:30-12:30
Bennie Bodine
Thursday - Private Event 6-8 in Beavercreek, OH
Friday at The Hitching Post Saloon from 8-11 Oxford, OH
Wednesday at O'Leary's from 7-10 Centerville, OH
Until Rust
Thursday Dayton Music Scene (DATV) 7pm
Wednesday at Milano's Miami Twp, Oh 7-10
Velvet Crush Unplugged
Friday at Mr Boros in Springboro Oh 8-11
Velvet Crush full band
Saturday at Timothy's by UD Dayton oh from 11-2am
Chad Applegate
Friday Chad Applegate Solo at Talon Tavern in Milford. 830 to 1130.
Ashley Paige Duo
Thursday from 6-10 Liberty Inn Liberty, Twp
Rise II Reign
Friday from 9-1am at the Possum Saloon in Bright, Indiana
Linus Tate
Friday at Element Eatery in Cincinnati, OH 7PM
Saturday at Mutts Main Bar Middletown, OH 9PM
Joe Cowels
Friday at The Grub Pub Full Band 9pm To 1am
Saturday at the Southern Ohio Brewing Solo 6pm To 9pm
Kevin Cooper
Thursday from 730-1130pm: Belle & Bear Jam
Friday from 7-11pm: Eyes Up Here at Gano Tavern
Saturday from 830pm-1230pm: The Hanky Panks at Pirate's Den (Western Hills)
Rick Kern
Friday with Black Bone Cat at Belle & Bear 9:00-1:00
Crown Watts
Friday with Crown Watts and Billy Rock Band at MVPs 8:00
Saturday at Fretboard Brewing 8:00
finding Melissa acoustic
Saturday at the Fairborn Moose 7:30pm.
Johnny Fink
Saturday Johnny Fink and the Intrusion at Queen City blues fest ~ Soughtgate house revival 8pm
Whiskey town
CFG & the Family
Saturday at the Southgate House Queen CityBlues Fest 8pm
Overdrive
Friday at the Miamisburg Moose Lodge 1645 8:00pm - Members and Qualified guest.
The BillyRock Band
Friday at 8pm MVP's w/ Crown Watts super Jam
Saturday at 9pm - Crow's Nest
Marsha Brady
Saturday at Moonbird - Dry Ridge, Kentucky - 8pm - 12am
Rae Reneé
Friday - That One Party Band at the Fairfield pub 9-1
Tuesday - Karaoke with Rae Renee at Voodoo Brewing Cincinnati 6-11pm
Lätter
Friday at the Eagles in Celina Ohio 8pm
Saturday at The Mug & Jug in a Piqua Ohio at 9:30pm
Drive
Saturday at Satch's in Trenton from 8-12
Rick Kern
Subbing for Jonathan Grooms with the Belle jam house band Thursday 7:30-10:30ish
Dv8
Saturday at the Knotty Pine 6947 Cheviot Rd Cinci OH 45242 9:30 -12:30
Jet Pack Academy
Thursday at Madtree Brewing 7p-11p
Rockstar
Saturday at Peecox Erlanger 9:30 pm
Liars for Hire
Saturday from 9p-1a at Katz lounge Kettering.
Ben & Pete
Friday at Jayne's On Main in Miamisburg, 7:30 to 10:30 PM
David Thornton
Thursday - Jayne's On Main (Miamisburg) 7-10
Friday - Grainworks Brewing Company (West Chester) 7-10
Saturday - The Swire Inn (Middletown) 7-10
White Knuckle Weekend
Satuday at Mr Boro's from 8-11
Spungewurthy
Friday at Katz Lounge 9pm
Short of Stable
Friday at Sugar Mellons in Fairborn 8 to 11
Heath Bowling
Friday at Cadillac Jacks in Shelbyville, IN 9-1a
Saturday at O'Learys in Centerville, OH 8-11p
Chris Lee Acoustic
Thursday at Little Miami Brewing Co. Milford OH. 6:30pm-9:30pm
Grey Days Acoustic Duo
Alexandra Rosie on vocals, me on acoustic guitar Fulton Yards Coffeehouse and Spirits Cincinnati OH. 7pm-10pm
Michelle Robinson Band
Friday at Pohlman's 7-11
Saturday at Jim & Jacks 8-12
Sunday at Trillions (acoustic) for fall revival 4-6
Simple Daze
Saturday from 8 to 12 at Frosty's in Springfield
Frayed Covers
Sunday Weidemann's pre game show 4:00-7
Lost Henry
Saturday at Thompson House in Newport ky
SideShow Band
Saturday, at the EndZone Sport Lounge, in Covington Ohio, 7pm.
Just Strange Brothers
Friday at Fretboard from 8-10pm an Elton John Tribute
Heather Lynn with Adam
Saturday at RJ Paradise Pavilion at Jungle Jim's Eastgate 7:30-10:30pm
If you would like your band or musical act featured on our weekly podcast or shared in the Warren County Post contact us @Hall Around Town Radio on Facebook! For additional Band information follow our daily Facebook "Live at Five" program @Hall Around Town Radio
More News from Lebanon