Tis the Season to Enjoy Holiday Festivals In and Around the County
Image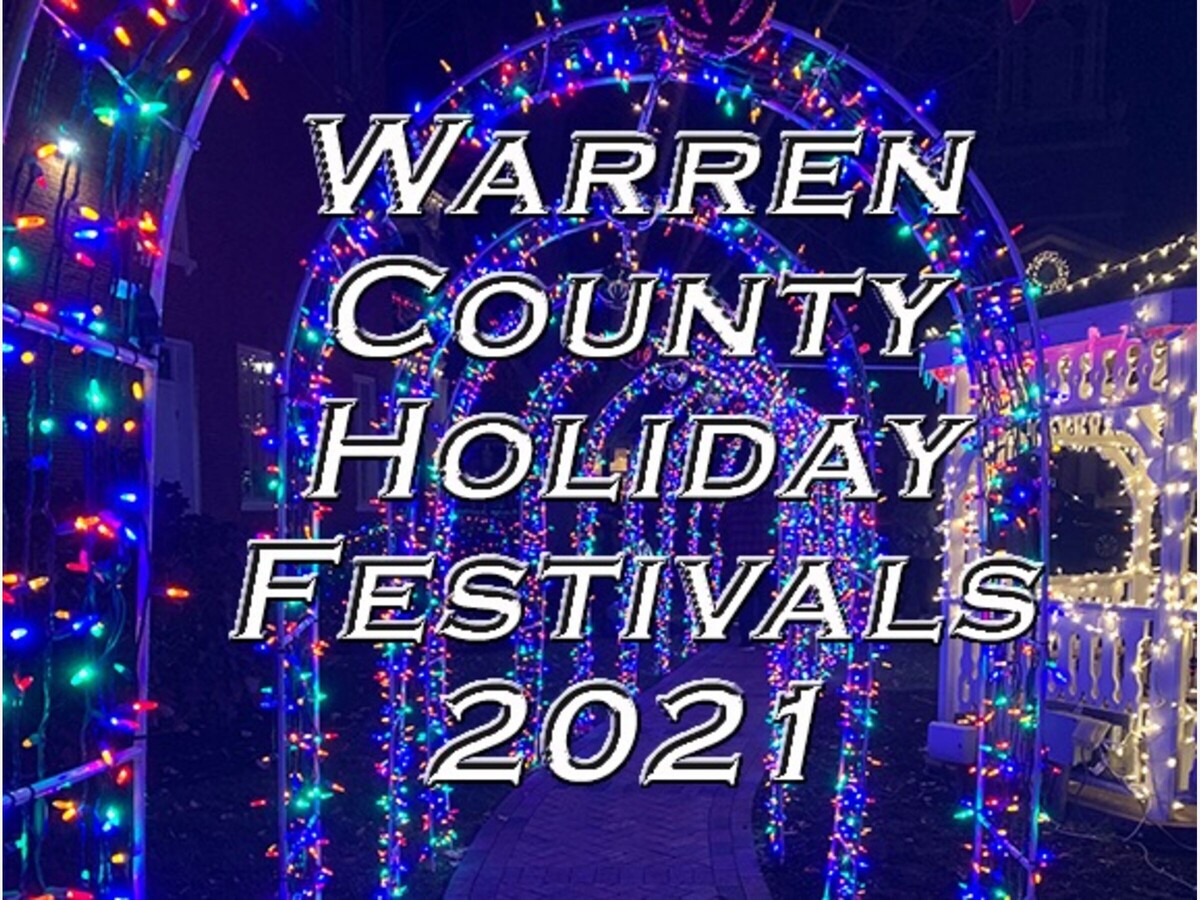 Warren County, OH -- With Christmas just around the corner, the next few weeks are extremely busy with area towns and cities holding parades, tree lightings, visits with Santa, home tours and even fireworks to celebrate this year's holiday season. Sometimes it is hard to find when and where things are happening.
Below is a small list that the Warren County Post was able to gather for our readers convenience.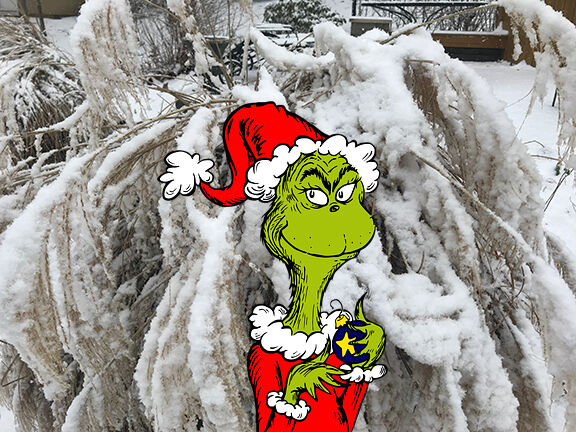 CARLISLE
Dec. 2 (Thursday) @6pm — Nestled in the very northern western corner of Warren County, Carlisle will be holding its tree lighting festivities at Town Hall. After the lighting ceremony, festive-goers are invited to cross the parking lot and head into the Carlisle Community Church to snack on cookies and drink some hot chocolate with Santa.
This family friendly event is free and open to the public.
Dec. 7 (Tuesday) @ 5pm till 8pm — Santa and Mrs. Claus will be stopping in at 767 Central Ave., (Old Pizza Hotline building) with their special friend The Grinch. Children of all ages are invited to stop in and take a photo with these famous holiday characters. This FREE event is sponsored by Valley Real Estate and Church in the Village of Carlisle
---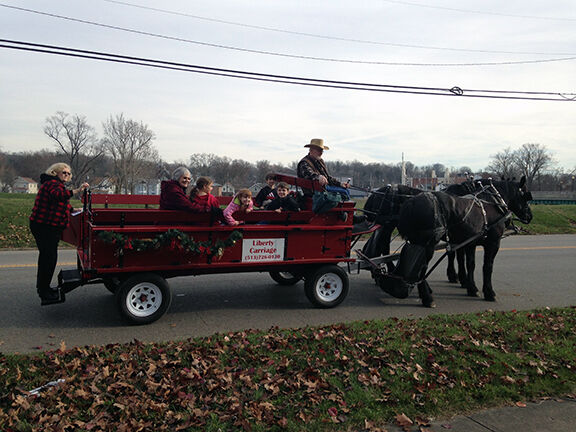 Horse drawn carriage rides touring Franklin's Historic District are part of the fun events available at Franklin in Lights.

FRANKLIN
Dec. 4 (Saturday) @ 1pm till 8pm — Franklin, which is in the north west top of the county, is hosting  Franklin in Lights, an all day event in its downtown area.
Its been described as a winter version of the its Farmer's Market but amplified. Along with the many of the summer vendors setting up shop, there will be food trucks, other craft vendors, a petting zoo, horse drawn carriage rides touring the Downtown Franklin Historic District, the lighting of the city's new tree and a performance by the Wildcat Jazz Ensemble and the Franklin High School Acappella Groups. 
There will also be photo opportunities with Santa and Mrs Claus along with a bonfire to help stay warm.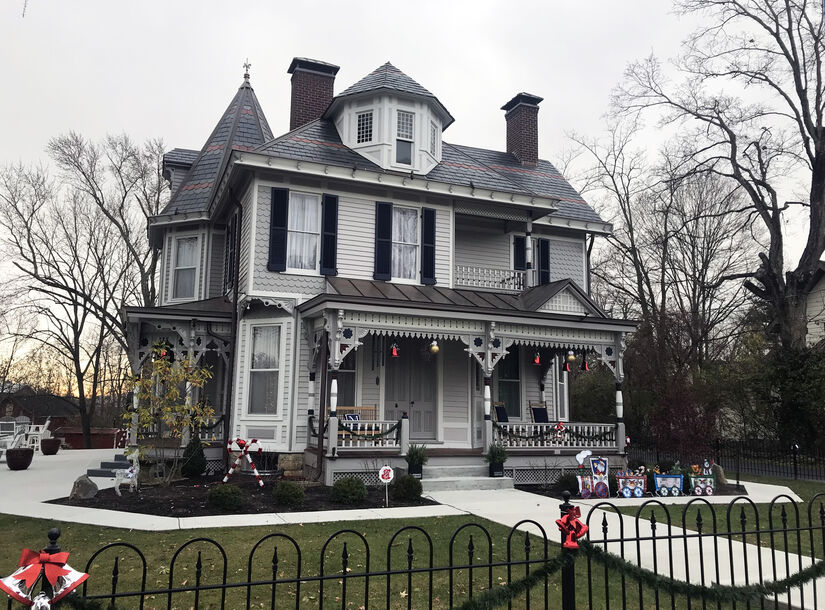 The same day from 1pm to 5pm The Holiday Historic Home Tour will be taking place. The Franklin Area Historical Society along with the Carlisle Area Historical Society are hosting this year's event together.
The tour will begin at Franklin's Harding Museum, which has been professionally decorated for the holidays using the theme "Twas the Night Before Christmas."
Along with getting a peek into some of the historical homes, museums and churches in Franklin Township's cities of Carlisle and Franklin, ticket holders will also be greeted by carolers at various stops. Also, Santa will be at the Carlisle Lions Club building from 3pm to 5pm for photo opportunities.
Tickets are $20 each and can be purchased HERE. or are available in person at these outlets: Franklin Public Library, A Country Peddler, Butter Street Barn, Franklin Area Chamber of Commerce, and Gross Lumber (cash or checks, only). Tickets can be purchased at the door on day of event for $25.
For the safety of the homeowner(s) and their family, we ask that masks be worn while touring the private homes.
For more information and see a schedule for event times go to …
https://www.franklinohio.org/community/events-activities/franklin-in-lights
---
HAMILTON TOWNSHIP & MAINEVILLE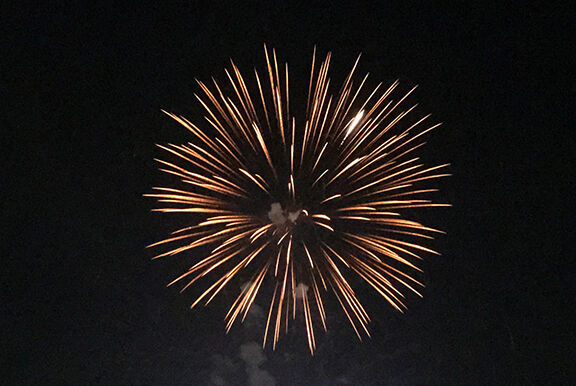 Rozzi Fireworks will end the festival night with a bang.
Dec., 11 (Saturday) @ 4pm till 6pm — The township and the city are working together to bring their residents a fun way to bring in the holiday by not only lighting up a tree... but lighting up the sky with Rozzi Fireworks. Activities and entertainment will be held at Station 76. For more information visit.... To end the festival Rozzi Fireworks will light up the sky
https://www.facebook.com/events/276242277757208?ref=newsfeed
---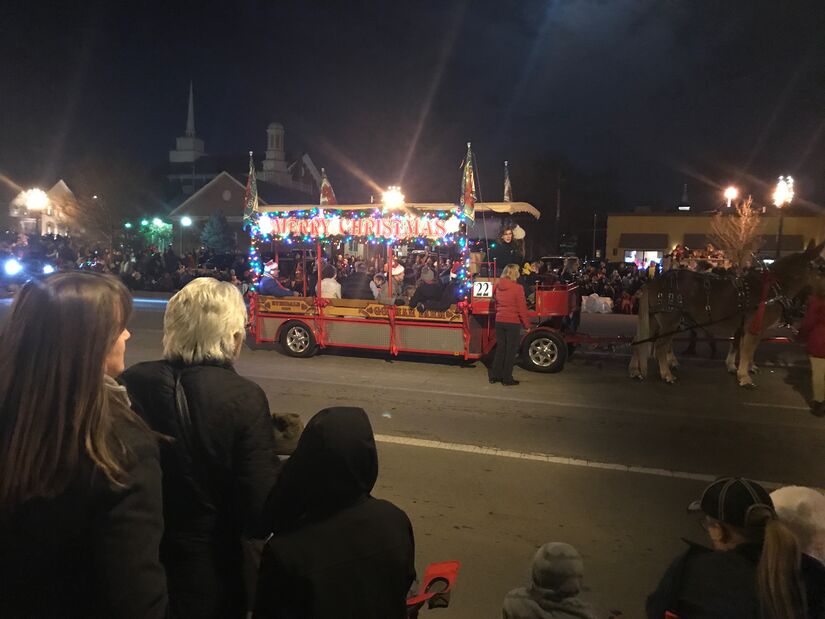 People line the streets to watch the lit up carriages and horse go by at night.
LEBANON 
Dec., 4 (Saturday) @ 10 am till 10 pm —The City of Lebanon, Warren County's Seat, will be the site for the Lebanon Chamber of Commerce's annual Horse Drawn Carriage Parade and Festival.
The event has both a day parade that starts at 1 pm and an evening parade that starts at 7pm. While the horses, carriages and passengers are dressed in holiday attire, the evening parade adds a special touch. The carriages and even many of the horses are decorated with lights.
For more information visit ... https://www.lebanonchamber.org/carriage-parade/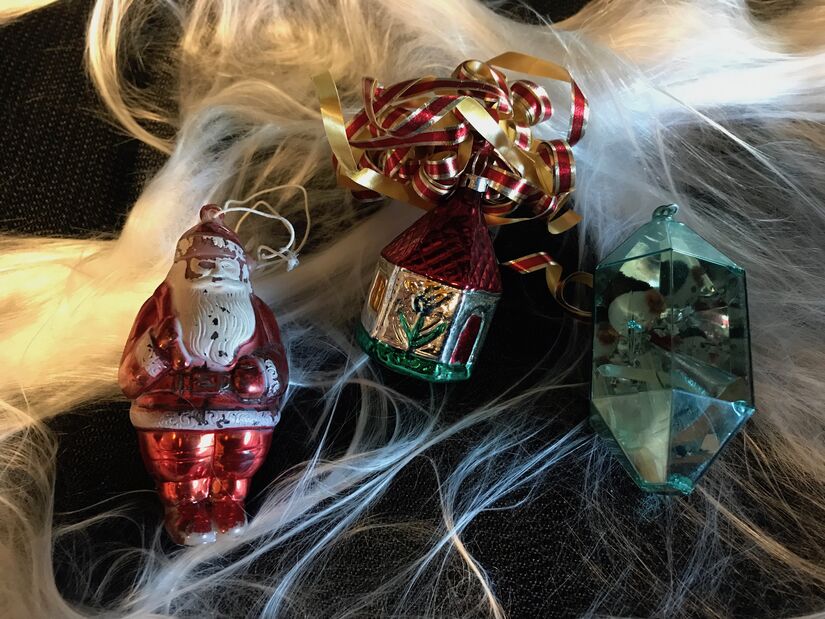 Century old ornaments are just a view of the items found in the Glendower Holiday Tour.
Glendower Holiday Tours

December 3rd through January 8th (open Fri & Sat)
12pm-4pm (tours stop at 3:00 pm)
Wander through time in a docent-led tour of the historic Glendower Mansion in Lebanon and see 100 years of Christmas traditions. For more information visit... https://www.wchsmuseum.org/glendowerchristmas.html
---

LOVELAND
Loveland has two major events happening on Saturday Dec. 4 with another on Dec. 18.
Dec., 4 (Saturday) @ Noon till 4PM — Loveland Santa Land at the Loveland Plaza located on Loveland-Madeira Road has Santa arriving at Noon.  Assisting Santa on his scheduled arrival will be the Loveland-Symmes Fire Department.
Santa Land will have a Christmas Train for children to ride, balloon elves, face painting and a caricature artist.This is a FREE community event sponsored by RP Diamond Printing & Embroidery and Jarvis Global Investments.
For more information… https://www.lovelandoh.gov/calendar.aspx?eid=1726
Dec., 4 (Saturday) 4pm till 8pm — Jackson Street Market area in Downtown Historic Lovelenad will be the setting for the first Loveland Community Christmas Tree Lighting. The market will have food trucks, artists and craters, holiday entertainment and kids activities. 
At 7pm the switch is to be flipped for the lighting of the community Christmas Tree with fireworks scheduled to follow to help wrap up the celebration. For more information go to...
https://lovinlifeloveland.com/events/city-tree-lighting/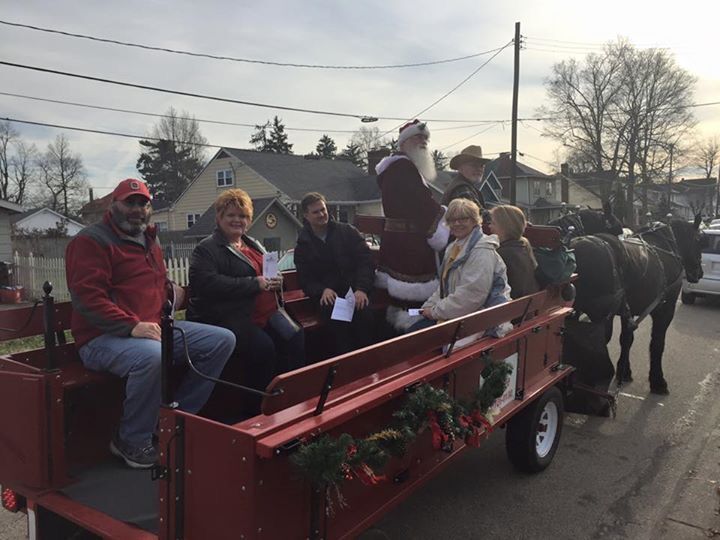 Sometimes even Santa needs a ride.
Dec., 18 (Saturday) 4pm till 8pm — Christmas in Loveland is an outdoor holiday tradition held throughout the city's downtown district. Along with the many vendors, there are carriage rides, a live nativity, live entertainment and the Claus Family.
While Santa sits outside on the front lawn of City Hall meeting and greeting people of all ages, Mrs. Claus and the Elves are inside the lobby doing story time. Then, at 7pm in the council chambers Madcap Puppet Theater presents The Nutcracker. For more information visit ...
https://lovinlifeloveland.com/events/christmas-in-loveland/
---
MASON
Dec, 3 (Friday) @ 6:30pm till 8:30 pm — Mason, which is the county's largest city, will be holding its annual Tree Lighting Ceremony in its Downtown Plaza Area.
Along with free photos with Santa, there will be food and refreshments, ice-less skating, trackless train rides and a mechanical snowboard. For more information visit...
https://imaginemason.org/things-to-do/christmas-in-mason/
Dec., 5 (Sunday) @ 9am till 11am — Breakfast with Santa at the Mason Golf Center CourseView Pavilion. Participants get a one-on-one visit and photo opportunity with Santa, as well as a horse drawn carriage ride through the golf course. To add to the special morning, Christmas Carolers will be performing throughout the event! Registration is required.
Register today for Breakfast with Santa!
---
MIDDLETOWN
Dec., 23 (Thursday) @ 6:30pm — Join Santa at the SORG Opera House Theatre for an evening of stories as he reads "The Polar Express" and "The Night Before Christmas." This event is FREE and while it is geared for small children all are welcome. Runtime is about an hour total. Please emaillynnelakeman@gmail.com with the number of children and total number of your party.
Open Every Night Thanksgiving Through New Year's Eve @ 6pm till 10pm — Smith Park in Middletown makes driving an holiday adventure in its Drive - Through Fantasy Light Display. Open in all weather & Holidays. You set the price for admission is by cash donation.
For more information visit https://www.lightupmiddletown.org
---
MONROE
Dec., 4 (Tuesday) @ 6pm till 8pm —  The annual tree lighting ceremony takes place at the Plaza, 233 South Main Street where Santa will be flipping the switch at 6pm. Once he gets the tree lit up  stop by and get a free photograph with him. There will also be free  cookies, hot chocolate and coffee. For more information visit.... 
http://www.monroeohio.org/CivicAlerts.aspx?AID=139
---
WAYNESVILLE
Dec., 3 (Friday) @ 6pm till 9pm; Dec., 4 (Saturday) @ 1pm till 8pm; & Dec., 5 (Sunday) @ 1pm till 4pm — Waynesville Area Chamber of Commerce along with Keith Sider of Farmer's Insurance are sponsoring Waynesville's Christmas in the Village.
Come and experience small town charm during the holidays with 1300 luminaries on Friday and Saturday evenings, strolling characters, photo ops, cookies and cocoa, and of course, strolling entertainment throughout the downtown area.
Santa arrives on firetruck daily, and will be available for visits at The Hammel House Inn during the hours of Friday 6-9, Saturday 5-8, Sunday 1-4. For more information please visit.... https://www.waynesvilleohio.com