Who's Playing Out: Brought To You By Hall Around Town Radio Nov., 9
Image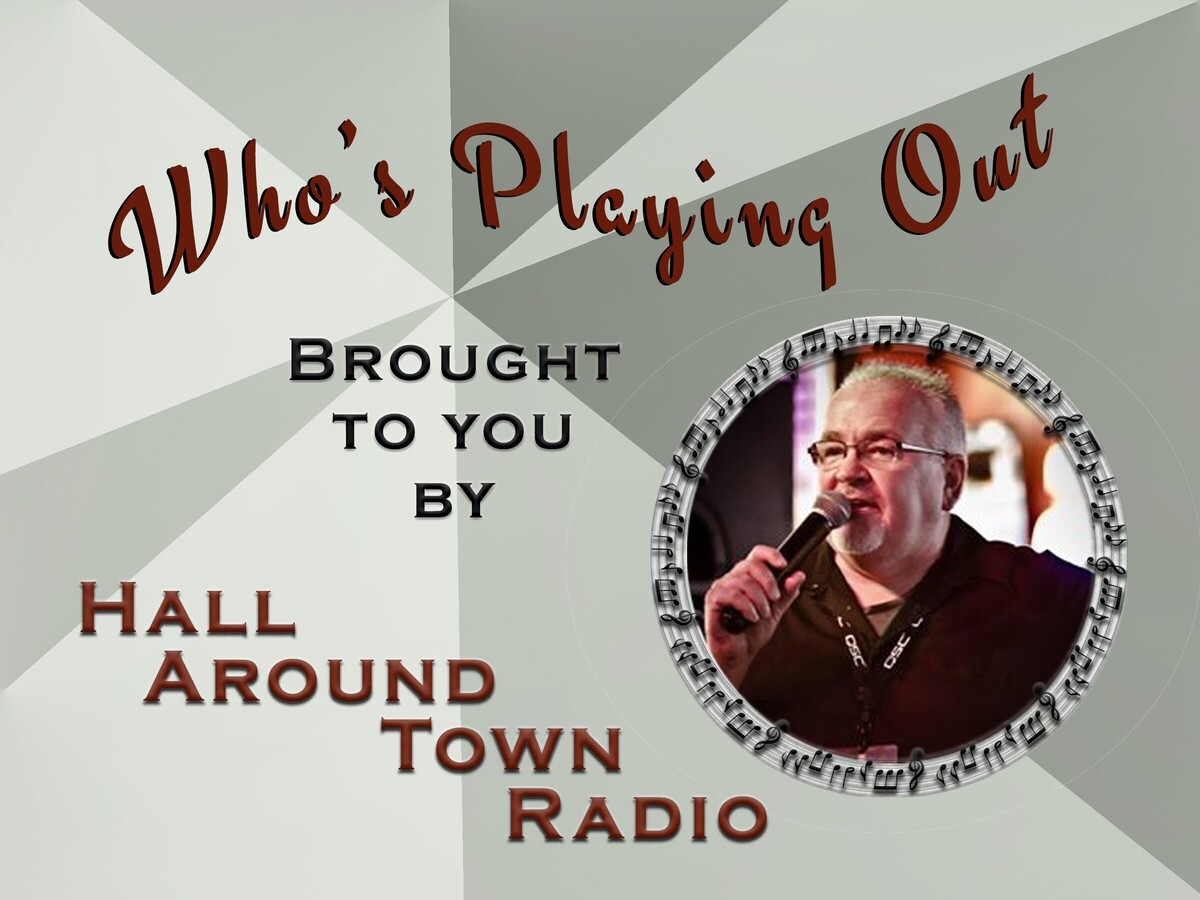 Brought to you by Scott Hall from "Hall Around Town Radio"
A little live music can turn an ordinary day into a memorable experience. The area's top musicians take center stage at some of the tri-states best restaurants and nightspots, bringing live music to our region nearly every night of the week. Make your first stop here weekly to find out "Who's Playing Out" at one of our live local music venues.
Bands and solos brought to you by our friends at Froggy's in Monroe, Ohio and Hall Around Town Radio (follow both on Facebook)
Froggy's in Monroe – Sponsor of our Thursday LIVE show on Facebook
Friday – Dirty Water Revival 8pm
Saturday – Cassette Junkies 8pm
Sunday and Monday – Football
Tuesday 7pm Frog-ingo, 7:30 Queen of Hearts – over $2500
Wednesday – Jeep Night and Karaoke with Kj Love 6 - 10p
---
Heathers "On the Patio"
Tuesdays – Heathers Bingo 7pm
Wednesdays –Name That Tune Trivia Season Final Championship with Scott 7pm
Friday the Gamut and Christmas in Springboro – 7pm
Saturday – Vynil Countdown and Christmas in Springboro – 7pm
---
Mr. Boro's Tavern – New Menu Items
Thursday - Last Call from 5:30 to 8pm Footballl at 8:15pm
Friday – Jesse Alan Band 8 to 11pm
Saturday – No Refunds at 8pm
Sunday NFL Football on Surround
Tuesday – "Quiztastic" Trivia with Scott at 7pm - All New Format
Wednesday – Queen of Hearts Drawing. 8pm $900
---
The Belle & The Bear (Montgomery) - Award Winning
Thursday "The Award Winning Jam" 7:30ish and the Faded Cow Food Truck
Friday – Rockstar at 8:30 pm
Saturday - Dv8 at 9 pm
Monday - Game Night - 6pm
Tuesday – "Singo" 7 to 9pm
Wednesday –- The Gina and Johnny Band at 7:30pm
---
Soft Rock Café
Karaoke – Thursday- 7:30 pm - Friday 8:30pm - Saturday - 8:30 pm.
---
Crooked Handle Brewing Co. Springboro
Thursday – Shane Demoss 6pm
Friday – Jake "Hambone" Davis 6pm
---
Crooked Handle Brewing Piqua
Saturday – Doug Hart at 6pm
---
Hamilton's Urban Backyard
Friday at 7pm – Lori's Secret
Saturday at 7pm – Tyler Brindley
Tuesday – Turntable Tuesday - All Vinyl with host Hollewood
Wednesday – Team Tune Trivia 7pm
---
O'Connors Irish Pub Springfield
Thursday – Karaoke in the dining room at 9pm
Friday – Back Burn at 9 pm
Saturday – Party Punch at 9:00pm
Monday – Trivia with Matt Allen 7pm
Tuesday – Corn Hole Tourney at 7pm Ryan Fyffe at 8pm
Wednesday – O'Comedy at 7pm
Wednesday - Karaoke at 10pm
---
Pohlman Lanes & Scott's Bar & Grill (Hamilton Ohio)
Family Entertainment Complex 954 Pyramid Hill Blvd., Hamilton Ohio
Friday - Heavy Juice 7pm
Saturday – Miss Jacque 7pm
Monday - The After Hours Band at 7pm
Wednesday – The Standard Country Time Band at 1pm
---
Sorg Opera House
Friday – A Mowtown Christmas at 8pm
Saturday – Captain Fantastic Detroit … The music of Elton John 8pm
Show Tickets available at Cincyticket.com visit SORG page for more info
---
Little River Bar and Grill (Oregonia)
Thursday –– DJ Songz at 7pm
Friday – Mike Soloman – "Rockin and Rollin" at 7pm
Saturday – Tadcasters at 7pm
Tuesday – Bar Bingo Queen of Hearts Drawing
---
The Blue Note Harrison
Friday – Metal Church - Opening the show it's Cincinnati's own Flatline! Pre party in the pub with The New Machine and Critical Khaos! 6pm
Saturday – Hotel California a premier tribute to the Eagles - Opening the show it's Jay Janszen & the SpyFlowers 6pm
Show Tickets available at Cincyticket.com
---
Milanos (Miami Township)
Wednesday – Live Music each week at 7pm with Paul Cullen next week
---
Miami Valley Gaming
Friday - Chuck Brisbin & the tuna project 9pm Center Bar
Saturday – DAT Band – 9pm Center Bar
---
Rex Patrick and the Country Legends Show in Germantown
No Submission 7 to 10pm - Doors open at 5:30 …
Reserve your table now 513-594-1282
---
Hidden Gem Music Club
Thursday at 7:30pm Alex Anest Organ Trio
Friday at 8pm Moontemple, Radian, Modern Witchcraft, Thunderloverat 7:30pm
Saturday –8pm Fleetwood Dreams will be performing their final show featuring "The Music of Fleetwood Mac"
Sunday at 7pm – Ronnie Jones Quartet
Tueday - Open Mic Night 7:30PM
---
Lori's Roadhouse
Thursday –Football and Line Dancing
Friday – Matt Stell with support from Marshull at 8pm
Saturday – Chris Cagle opening act Danny Frazier at 8pm
Sunday – Football
Tuesday – Line Dancing Lessons 7pm
Wednesday – Karaoke 9pm
Tickets at LRHLIVE.com
---
Moe Harrigan's Tavern
Thursday – Jeremiah Throwbridge 8pm
Friday – Jamie Combs 8pm
Saturday – John and Jordan 8pm
Sunday – Open Mic with Acoustic Junior 7pm
Wednesday – Nick Mitchell 8pm
---
The Brick Tap and Tavern
Thursday – Scott Houchens 8:00pm
Friday – TRUK at 8:30pm
Saturday – Repeat Offenders at 8:0pm
Wednesday – Doug Hart 7:30pm
---
Ricks Tavern
Friday – Doug Hart Band at 8pm
Saturday – DJ – Saturday Night Soiree including Karaoke
---
KnottyPine
Thursday – Mitch Greve at 7pm
Friday – Miss Jacque at 9pm
Saturday – Under the Sun at 9pm
---
Scotty Long / DJ Songz
Thursdays - Little River Oregonia, OH. Party 7pm!
Friday - Township Tavern 8pm-1am.
Check out his Facebook pages at Scotty Long or DJ Songz for all shows!
---
Scott Hall
Tuesday at Mr Boros Tavern for Quiztastic Tuesday Trivia
Wednesday – Heathers Name That Tune – Week 28 7pm RESERVATIONS
Weekly on Hall Around Town Radio for all your music news and needs
---
Bands, Solos, Duos and Events
Jay Jesse Johnson Band
Friday at Fretboard Brewing 7pm
Saturday at Mansion Hill Tavern 8pm
Frayed Covers
Saturday at R.J.s Paradise Pavilion Easrgate behind Jungle Jim's 7:30-9:30.
ENMY (pronounced Enemy)
Saturday at the Madison theater 3 local openers as well, solid rock show with all original music 8pm
Gina Cullen
Thursday at the Phonebooth Lounge from 7-10
Saturday at Brushrod Brew Works from 4-630pm
Wednesday at Olearys from 7-10
Donna Kennedy Band
Saturday at DC Roadhouse Middletown 8-12
The Weekend Effect
Saturday at Wings Vandalia from 9-1am.
White Knuckle Weekend
Saturday at Miamisburg Moose Friday from 8-11:30
Spungewurthy
Saturday at Kingspoint Pub – 9pm
Don't tell Steve
Saturday at Jim and jacks from 8-12
Chris Lee Acoustic
Sat., Nov 11 The Hangar Bar and Grill West Chester OH. 8pm-Midnight
Tue., Nov 14 Fairfield Pub Fairfield OH. 7pm-10pm
Whiskey Town
Fri 11/ 10 at The Hideout 8 to 12
Sat 11/11 at Dixie Station 9 to 1
Brandy Evans
Saturday - Brandy and The Beard at Jackis in Cleves from 8-11pm
Rick Kern
Friday The Eagles Project Acoustic, 8:00-10:30 Memorial Hall
Kevin Cooper
Thurs 730-1130pm: Belle & Bear Jam
Fri 9pm-1am: The Hanky Panks at Mt. Lookout Tavern
Sun 6-10pm: Eyes Up Here at Trillions
Joe Cowels
Friday - The Casual Pint Solo 7pm To 10pm
Saturday Marty's Hops And Vines Solo 8pm To 10:30pm
Rockstar
Friday at The Belle and the Bear 8:30
Saturday at C&P tavern in napoleon Indiana 8:00 p.m.
Cfg & the family
Saturday at North Second Tap and Bottle Shop 8pm
RED HOT RIOT-
Saturday at Silverton Cafe- -8:00 PM
Audio Graffiti
Friday Nov 10- Hard Rock Cincy 11-2
Saturday Nov 11- Hard Rock Cincy 11-2
Sunday Nov 12- Fountain Square Downtown Cincy for Bengals Pregame 10am-1:00pm
Dat Band
Saturday at Miami Valley Gaming 9pm-Midnight
OVERDRIVE
Saturday at the Troy Amvets 7:30PM. Members and qualified guests.
BillyRock Band
Friday at 8pm Belterra Park
Saturday at 9pm Blind Lemon
Jet Pack Academy
Friday at Trillions 8p-12a
- Vinyl Countdown -
Saturday at Jimmy B's Sports Bar & Grill 9:30-1:30
Adam West and the Beez Kneez
Saturday at Tipp Center 130-4.
The Times
Saturday at Bock Family Brewing 7-9.
Dv8
Saturday at the Belle and the Bear 8 pm -12am
Tony Bee and friends
finding Melissa acoustic.
Tuesday at Oconners Springfield. 8-11p
Shane Demoss
Until Rust
Thursday at Crooked Handle Springboro, Oh 6-9
Friday at Dublin Pub Dayton, Oh 8:30-11:30
Wednesday at Elsa's Springboro, Oh 7-10
Benny Bodine
Thursday 11/9 The Liberty Inn 6-10 West Chester, OH
Wednesday 11/15Franklin Orioles 7-10. Franklin, OH
Truk
The Brick Tap & Tavern Huber Heights Friday, November 10 8:30 - 12
Chad Applegate band
Friday at The Barrel this 8 ton12.
If you would like your band or musical act featured on our weekly podcast or shared in the Warren County Post contact us @Hall Around Town Radio on Facebook! For additional Band information follow our daily Facebook "Live at Five" program @Hall Around Town Radio
More News from Springboro