Who's Playing Out Brought To You By Hall Around Town Radio
Image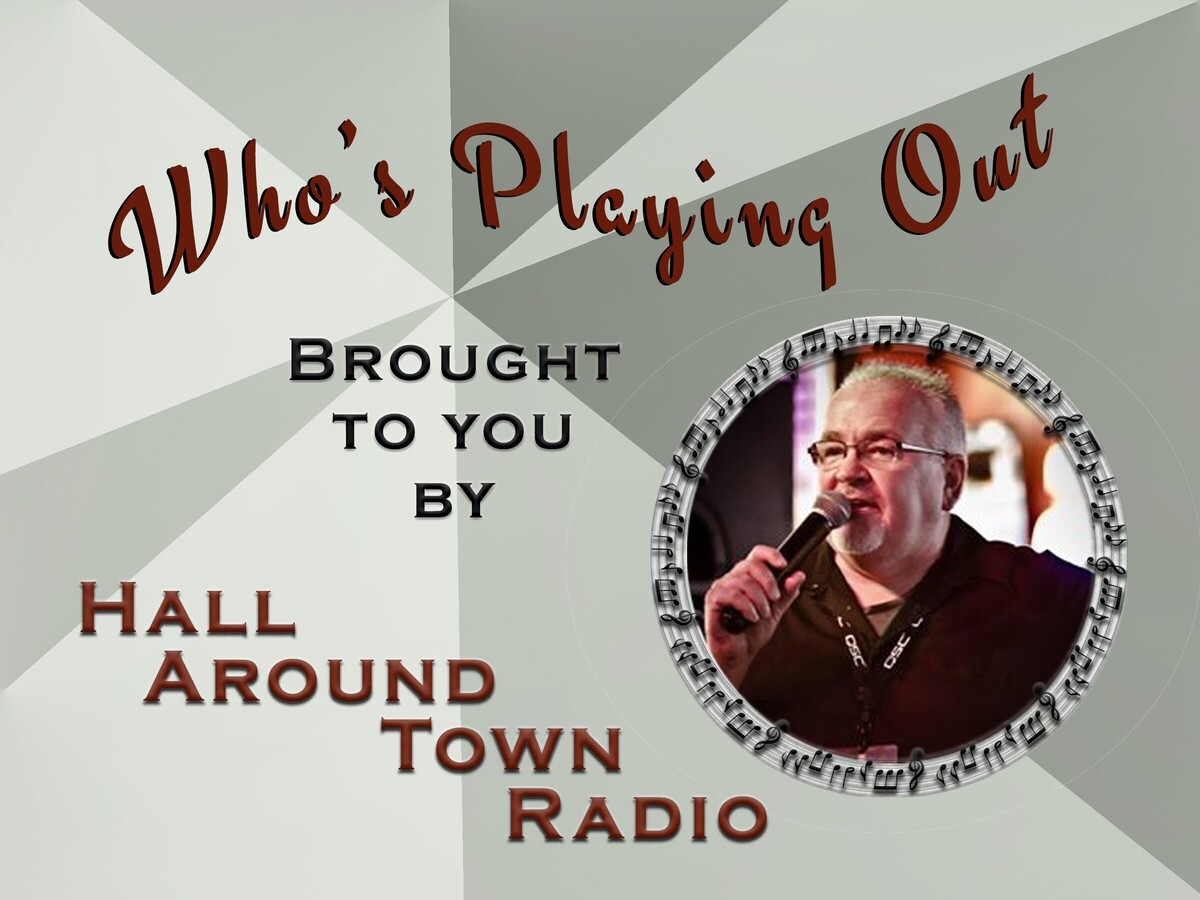 Brought to you by Scott Hall from "Hall Around Town Radio"
A little live music can turn an ordinary day into a memorable experience. The area's top musicians take center stage at some of the tri-states best restaurants and nightspots, bringing live music to our region nearly every night of the week. Make your first stop here weekly to find out "Who's Playing Out" at one of our live local music venues.
Bands and solos brought to you by our friends at Froggy's in Monroe, Ohio and Hall Around Town Radio (follow us on Facebook)

---
Froggy's in Monroe – Sponsor of our Thursday LIVE show on Facebook Now open at 11am daily.
Friday - 4-7pm Curt Cranmer Jr acoustic..
Friday - 9pm Bad Attitude
Sat- Crown Watts cancelled due to illness so still looking for a band..
Tuesday - 7:30 What's that tune Bingo
Wednesday - 8pm Karaoke with Dj Songz
Online seating reservations / tickets at www.gotofroggys.com
---
Mr. Boro's Tavern Springboro
Friday – Missing November 8 to 11pm
Saturday – Bengals vs Titans 4:30 Game on Surround
Saturday – David Thornton 8 to 11pm
Sunday – NFL Playoff Games
Tuesday – Trivia with Scott at 7pm
Wednesday – Queen of Hearts Drawing
---
The Belle & The Bear (Montgomery)
Friday – 13:30 8:30 pm
Saturday – Bengals vs Titans 4:30pm
Saturday – The Billy Rock Band 8:30 PM
Sunday – Football
Monday Game Night 6pm
Tuesday – Jamie Combs 7pm
---
Lebanon Grand Opry House
Saturday –Classic Country Dinner Show with Jessie Lyn and The Opry House Band, Thad Gutu and Taylor Campbell at 6pm
---
Sorg Opera House
Saturday – Signs of Life: The American Pink Floyd 7pm
Tickets at Cincyticket.com
---
Soft Rock Café
Karaoke – Thursday 7pm - Friday 8pm - Saturday 8:30 pm
---
Crooked Handle Brewing Co.
Friday – Ricky Veeneman at 6pm
---
Little River Bar and Grill (Oregonia)
Thursday – Karaoke with DJ Songz 7pm
Friday – Jordan Wood 7pm
Saturday – Ninety-Four.04 7pm
---
The Blue Note Harrison
Friday – Jose Madrigal "Ultimate Santana Experience" and after party with Stacy Mitchhart Band 6pm
Saturday – Opening at 3pm –– Bengals Game followed by The Eagles Project on the main stage
Tickets available at …. CincyTicket.com
---
Pohlman Lanes & Scott's Bar & Grill (Hamilton Ohio)
Family Entertainment Complex 954 Pyramid Hill Blvd., Hamilton Ohio
Friday - Rock n Bowl Dj Krutch 7pm to 11pm
Saturday 4pm Bengals Watch Party - 8pm to 12Am Miss Jacque
Monday - After Hours Big Band 7pm to 9pm
Wednesday - Standard Country Time Band - 1pm to 3pm
---
Hidden Gem Music Club
Friday – Linus Tate 8pm
Saturday – I Dig Pig – Grateful Dead Tribute 8pm
Sunday – Dayton Jazz Orchestra - Jazz 7pm
Wednesday – Open Mic Night
---
BAABS Bar and Bistro
No Submissions this week
---
Lori's Roadhouse
Thursday – Stagger Lee Band 6pm
Friday – Blake Tyler 5:30pm
Friday – Kevin McCoy Band 8:30 pm
Saturday – Bengals Game at 4:30
Saturday – Sara Avalos 9pm
---
Miami Valley Gaming
Friday- Varner Netherton Revival - 9pm Center Bar
Saturday – Leroy ellingtons Sacred Hearts – 9pm Center Bar
Scott Hall – Hall Around Town Radio
Tuesday Trivia at Mr. Boros Tavern 7pm
---
Scotty Long / DJ Songz
Saturday - The Barrel 7:30pm- close
Sunday - Legends B&G of Hamilton 9pm-close.
Tuesday - The Barrel 7pm-11pm
Wednesday- Froggys 8-12am
---
Bands, Solos and Duos
Michelle Robinson Band
Fri 1/21 at Monkey Bar 7-11
---
Tori Faith
Friday 1/21 ~ Tori Faith Band at Molly Malone's ~ 10pm-1am
Saturday 1/22 ~ Tori Faith Band at JD Legend's ~ 9pm-12am
---
Sepia Heyday
Saturday in Indianapolis with the Koffin Kats !! On punk rock night at the Melody Inn *8pm
*Indy time
---
WestSide Rhythm Section
Friday - Pirates Den 8-12am
---
Lätter
Saturday at the Triangle in Greenville 8-12pm
---
Crown Watts
Friday at MVPs - 8:00 Cancelled due to illness
Saturday at Froggys - 9:00 Cancelled due to illness
---
Audio Graffiti
Friday 8-Midnight - Hollywood Casino Lawrenceburg, In
Saturday - Tin Roof Nashville on Broadway for the Bengals Fans pre-game party Noon-Game time
Kevin Cooper
Friday - 8-11pm: Eyes Up Here at Gano Tavern
Wednesday - 7-11pm: Kevin Cooper solo at The Hangar Bar & Grill (West Chester)
---
Seiter Haus
Friday at 7PM - El Toro of Walton
---
Carey & the Nostalgia (90's band)
Saturday - 1/22 8pm-12am at The Barrel
---
Amy Sailor Band
Saturday - at The Corner Club Dayton OH 7:30p.m
---
Whiskey State Line
Saturday - 1/29 at the Madison Inn 9pm
---
Drive
Friday - 1/21 8pm at Trillions sports bar & grill. West Chester
---
Until Rust
Friday 1/21/22 Until Rust & Friends at Desperado's Huntsville, Oh 7-11pm
Saturday 1/22/22 Until Rust at Orioles – Franklin, Oh 7-10
---
Shane deMoss Solo
Wednesday at Orioles Franklin, Oh 7-10
---
Six String Hustle
Friday 1/21 7-11 Biergarten: Bier Hall Batesville, IN
Saturday 1/22 9-1 Jen's Bar & Grill Hamilton, Ohio
Tuesday 1/25 6-10 Liberty Inn Liberty Twnshp, Ohio
---
Route 88
Friday 21 Jan Wings Sports Bar Vandalia, OH 9:30-1:30
---
Missing November
Friday – Mr. Boros Tavern – 7pm
---
Gerhard Albinus Band
Friday – North Second Tap and Bottle in Hamilton (Ty Holiday with the debut of her built synthesizer)
9pm to midnight
---
The Weekend Effect
Saturday Jan. 22 at the Dublin Pub 8-11pm
---
White Knuckle Weekend
Friday 1/21 at The Barrel from 8-12
---
Kevin Mccoy Band
Friday 8pm at Lori's Roadhouse
Saturday- at Monkey Bar 8pm
---
Wesley Green
Tuesday, 25 Jan Open Mic at Heroes Pizza 6:30-10
---
Heath Bowling
Sunday 1/23 Open Mic at Good Time Charlies) 5 to 9pm Miamisburg, OH
Wednesday 1/26 Open Mic at (AJ's) 8-11pm Franklin, OH
---
Ben & Pete
Friday at Lucky Star Brewery in Miamisburg from 8 to 11 PM
---
David Thornton
Thursday, 1/20 Jayne's On Main (Miamisburg) 7:00-10
Friday, 1/21 Grainworks Brewing Company (West Chester) 7:00-10
Saturday, 1/22 Mr. Boro's Tavern (Springboro) 8:00-11
---
Don't Tell Steve
Saturday at Jim and Jacks 8:30
---
Jordan Wood
Friday 1/21 Little River Bar & Grill 8pm Oregonia
Saturday 1/22 Misery & Jen 9pm Hamilton
Monday 1/24 Misery & Jens Open Jam 8pm - ? Hamilton, OH
Thursday 1/27 Twenty Mile Tavern Open Jam 9pm Landen
---
Bryan Scott
Friday Jan 21st Saints among us Thompson house Newport KY
If you would like to have your musical act featured on our weekly podcast or in Warren County Post the contact us @Hall Around Town Radio on Facebook! For additional Band information follow our daily Facebook "Live at Five" program @Hall Around Town Radio.