Who's Playing Out Brought To You By Hall Around Town Radio
Image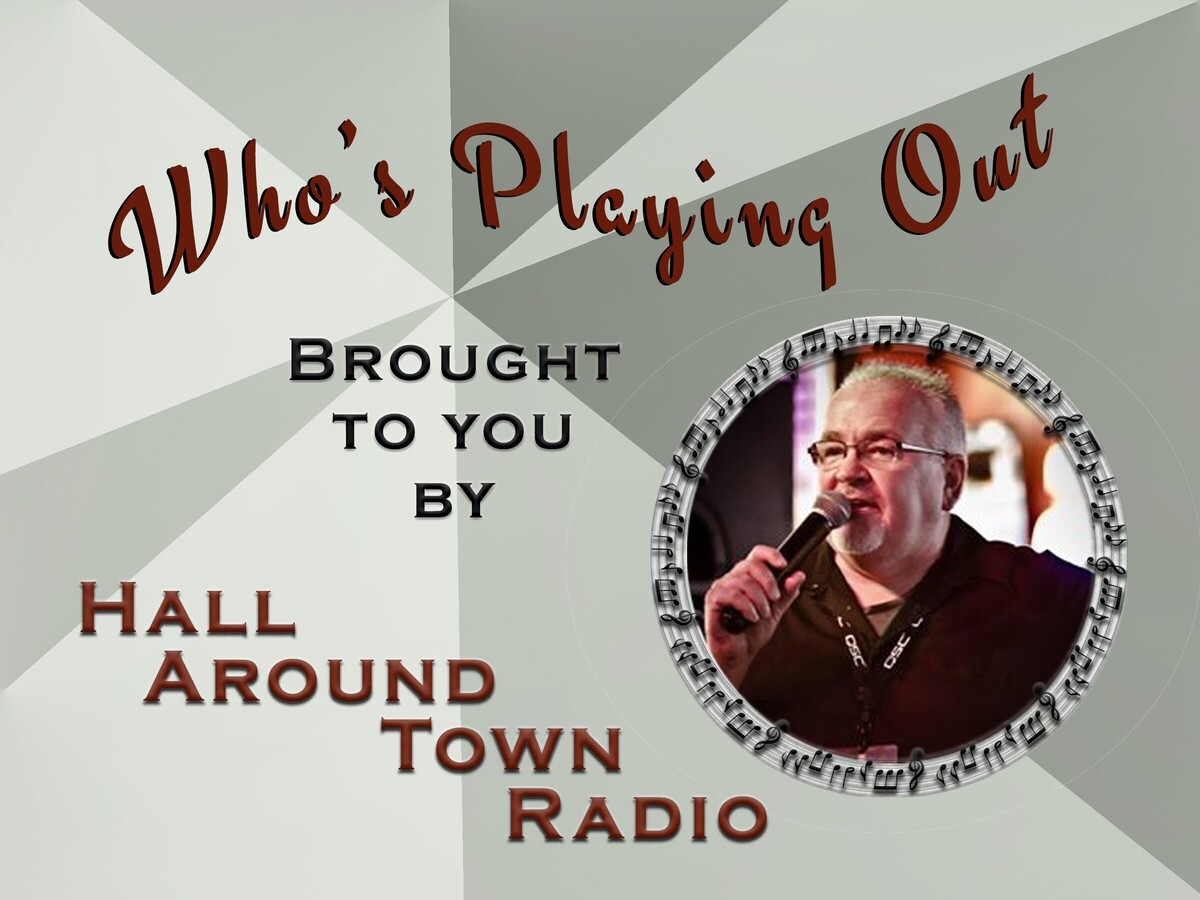 Brought to you by Scott Hall from "Hall Around Town Radio"
A little live music can turn an ordinary day into a memorable experience. The area's top musicians take center stage at some of the tri-states best restaurants and nightspots, bringing live music to our region nearly every night of the week. Make your first stop here weekly to find out "Who's Playing Out" at one of our live local music venues.
Bands and solos brought to you by our friends at Froggy's in Monroe, Ohio and Hall Around Town Radio (follow us on Facebook)
Froggy's in Monroe – Sponsor of our Thursday LIVE show on Facebook Now open at 11am daily.
Friday - 9pm - ATP
Saturday - 9pm- Jimmy's New Invention
Tuesday - 7:30 What's that Tune Bingo with DJ Angela
Wednesday - 8pm Karaoke with Dj Songz
Online seating reservations / tickets at www.gotofroggys.com
---
Mr. Boro's Tavern Springboro
Friday – Nicholas Winters and Jacob Gaither 8 to 11pm
Saturday – Jake Roberts and Dave Cornett 8 to 11pm
Sunday – Funday with Velvet Crush Unplugged 2pm
Tuesday – Trivia with Scott at 7pm
Wednesday –Queen of Hearts Drawing
---
The Belle & The Bear (Montgomery)
Friday – The Inturns 8:30 pm
Saturday – The Hanky Panks 8:30 PM
Monday Game Night - 6pm
Tuesday – Jamie Combs 7pm
Wednesday – Name That Tune Trivia with Scott 7pm
---
Lebanon Grand Opry House
Saturday – Stage and Dinner Show with Scott Luck, Jessie Lyn and the TNT Band and Heather Roush….. doors at 6pm.
Reservations by calling 513-850-1770
---
Sorg Opera House
No Music Shows this weekend
Tickets for upcoming shows (Riders in the Sky, Sweet Baby James and the Cleverlys) at Cincyticket.com
---
Soft Rock Café
Karaoke – Friday 8pm - Saturday 8:30 pm.
---
Crooked Handle Brewing Co.
Friday – Scott Houchens at 7pm
---
Little River Bar and Grill (Oregonia)
Friday – Jim Kelly 7pm
Saturday – Joey Said No 7pm
---
The Blue Note Harrison
Saturday – Kiss Army and Walk On Homeboys (Pantera Tribute) Tributes " Doors at 6PM
Tickets available at …. CincyTicket.com
---
Pohlman Lanes & Scott's Bar & Grill (Hamilton Ohio)
Family Entertainment Complex 954 Pyramid Hill Blvd., Hamilton Ohio
Friday - 7pm to 11pm Nate Jenkins
Saturday - 7pm to 11pm Gerhard Albinus Band
Monday - Big Band Swing 7pm to 9pm
Wednesday – Honky Tonk Wednesday with the Standard Country Time Band 1pm to 3pm
---
Hidden Gem Music Club
Friday – Junior and Friends – Play Jimmy Buffett 8pm
Saturday Lavender Honey, Candy Coated Dream and the Redlines – 7pm
Sunday – Bright Moments Jazz Quartet
Wednesday – Open Mic Night
---
Lori's Roadhouse
Tuesday – Line Dancing
Thursday – TBA 6pm
Friday – Locash – 9pm
Saturday – Kenny Welch Band 6pm
Saturday – Country Crossroad 8pm
---
Miami Valley Gaming
Friday- Turned Up Band – 9pm Center Bar
Saturday – Model Behavior – 9pm Center Bar
Scott Hall – Hall Around Town Radio
Tuesday Trivia at Mr. Boros Tavern 7pm
Wednesday – The Belle and The Bear "Name That Tune" 7pm
---
Scotty Long / DJ Songz
Fridays - Legends Bar & Grill Hamilton Karaoke 9-1am
Tuesday - The Barrel Springboro Karaoke Contest starting March 8th 7-11pm
Wednesdays - Froggys Monroe Karaoke 8-12am
---
Bands, Solos and Duos
Vinyl Countdown
Friday at The Monkey Bar 7-11
---
Gerhard Albinus Band
Saturday – Pohlman Lanes – 7 to 11pm
---
Boombox
Saturday - Highway House – Colerain Ave. 9pm
---
Under The Sun – Donnie Hall and Kevin Fox
Thursday- Ricks Tavern 7pm
---
Thom Stephenson
Saturday at MVP Sports Bar / Grill with Gee Your Band Smells Teriffic 9pm
Sunday – Little Miami Brewing – Solo – 4pm
---
The Times
Saturday – Devil Wind Brewing, Xenia 7 to 10pm
---
Tori Faith
Saturday ~ Tori Faith Band at the Hillsboro Eagles ~ 8pm-12am
Wednesday ~ Tori Faith Acoustic at The Fairfield Pub ~ 7-11pm
---
Crown Watts
Friday 3/4 - MVP's 8:00pm
Saturday 3/5 - KnottyPine 9:00pm
---
Dat Band
Saturday 3/5 - Monkey Bar 7-11pm
---
Kevin Cooper
Fri 3/4 930-130am: The Hanky Panks at The Oak Tavern (Oakley)
Saturday 3/5 830pm-1230am: The Hanky Panks at B&B
---
Acoustic Blue
Saturday- March 5th - at The Shift, Bright, Indiana 7pm to 11pm
---
RED HOT RIOT-
Friday - Mansion Hill Tavern in Newport -8:00 pm
---
Audio Graffiti
Friday 3/4 10:30-2:30 Tin Roof Lexington
Saturday 3/5 10:00-2:00 Tin Roof Louisville
---
Nicholas Winters
Friday- Mr Boros 7-10
---
Lätter
Friday - Wings in Vandalia 9:30-1:30
---
Brandy Conarroe
Friday - Brandy and The Beard at Newport Gaming from 8pm-12am
---
Sepia heyday
Saturday at Pandemonium in Ky March 5 kicks off at 9 with Ratakakatt and Mr Scientist
---
Whiskey State Line
Saturday at Zazou - Covington 8-12pm
---
Seiter Haus
Saturday 8PM at Southern Lanes Sports Center
---
Overdrive
Saturday at the Urbana Moose lodge 7:00pm
---
Jordan Wood
Friday - Grub Pub - Full Band 9pm Hamilton
Monday - Misery & Jens Open Jam 8pm - ? Hamilton, OH
---
Grey Days Band
Friday - Route 50 Saloon, Adyston Ohio 8 to 12
Saturday - The Game, Anderson township 6:30pm
---
Wesley Green Music
Saturday - 9eight Central Jens Bar and Grill Hamilton 8-12pm
---
The HomeGrown Band
Friday March 4th, Lucky Star Brewing 7-11
---
Kevin McCoy Band
Friday at 8pm - The Barrel, Springboro
---
Ben & Pete
Friday at Jayne's On Main in Miamisburg, 8 to 11 PM
---
Don't Tell Steve
Saturday at Mutts Brewery 8-12
---
Spungewurthy
Saturday - Wings Beavercreek – 9pm
---
Heath Bowling Music
Saturday 3/5 Dabel Eagles Dayton, OH 8-11p
Sunday 3/6 Open Mic (Good Time Charlies) Miamisburg, OH 5-9pm
Wednesday 3/9 Open Mic(AJ's) Franklin, OH 8-11p
---
Six String Hustle
Fri 3/4 7-10 Heroes Pizza Springboro, Ohio
Sat 3/5 8-12 Firewater Saloon Chicago, IL
Wed 3/9 6:30-9:30 Gano Tavern West Chester, OH
---
Until Rust
Friday 3/4 Desperado's Huntsville, Oh 7-11
---
Shane deMoss
Tuesday 3/8 Submarine House Centerville, Oh 7-1
---
Linus Tate
Friday March 4th Putters Sports Grill Liberty Township, OH 7PM
---
Linus Tate Unplugged
Saturday March 5th DeSha's American Tavern Cincinnati, OH 6PM
---
Velvet Crush Unplugged
Sunday 3/6 Mr Boros - Sunday funday Springboro, oh 2-5
If you would like to have your musical act featured on our weekly podcast or in Warren County Post the contact us @Hall Around Town Radio on Facebook! For additional Band information follow our daily Facebook "Live at Five" program @Hall Around Town Radio